According to some listings that appear to have gone up ahead of schedule, the currently untitled Super Mario Bros movie from Nintendo and Illumination will be accompanied by some tie-in figures.
Super Mario Bros Movie Figures Leaked by Early Listings
Based on these listings, we already know about one each for Mario, Luigi, Princess Peach, Bowser, and Toad. The only caveat is that no actual images of these listings have leaked as of yet, so we are uncertaint of how these new figures will appear.
Based on the placeholder image used on Amazon with each of the listings grouped under the "Super Mario Movie" category, it appears that these Super Mario figures are manufactured by Jakks Pacific. A few limited details revealed by the listings confirm that the products will have "up to 12 points of hidden articulation" and that they will all come with a "movie accessory."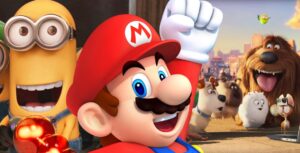 Howerver, the listings are obviously inaccurate in their details, so it remains to be seen exactly what each toy will consist of. The majority of them, for example, state that they were supposed to be released on October 1st, with the exception of the Bowser figure, which states that it will be released on February 26th. Another minor detail indicates that the Bowser figure weighs more than the others, but we'd expect nothing less from Mario's tough adversary.
Jakks already has a line of Mario figures that aren't related to the film on its website, so it's not surprising that the toy company is producing these. It's hard to imagine Nintendo letting the Super Mario movie go without some types of tie-in merchandise, and one would assume that we'll see much more of this kind of thing between now and the movie's April 7th release.