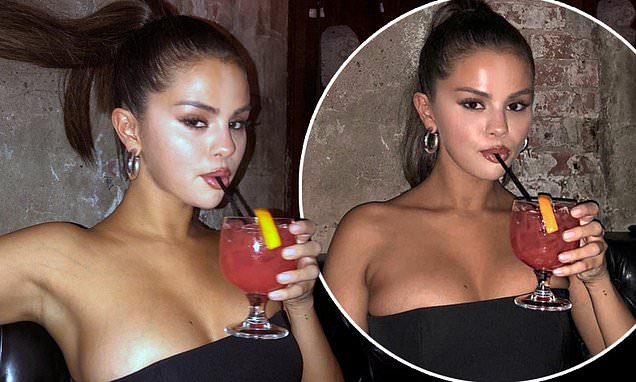 A extremely sexual throwback photo that Selena Gomez had previously removed from her account was recently shown to her admirers.
The singer bares her breasts for the camera in a very sensuous Instagram photo that she earlier deleted as "too much"
The 30-year-old star of Only Murders In The Building showed off her ample bosom while sipping a fruity drink from a strapless black top.
She gave the camera a sensual gaze while twirling her ponytail.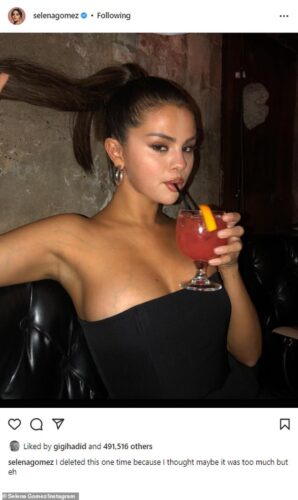 Recently featured on the cover of Vanity Fair's 29th annual Hollywood issue, Selena admitted in the caption that she had erased the photo because she felt it was "too much."
In 2019, Selena initially shared the photo online before removing it.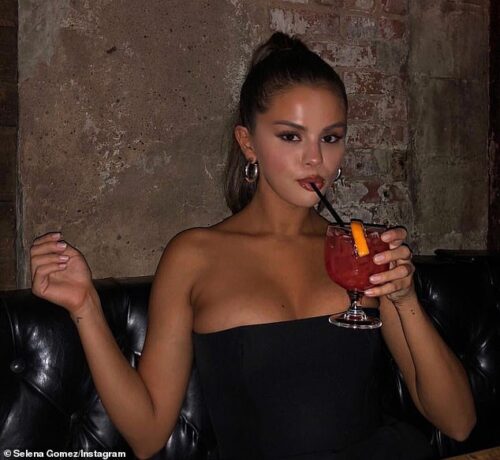 But, it seems she has reconsidered. "I erased this one time because I thought maybe it was too much but eh," she said as a caption for the photo.
Following the image's revival, supporters expressed their joy in the comments section by posting countless expressions of support.
"Never too much queen," one fan voted.
Another user pleaded, "Wooooooow, please dont deleted it again…"
One supporter said, 'THANK YOU FOR POSTING IT AGAIN."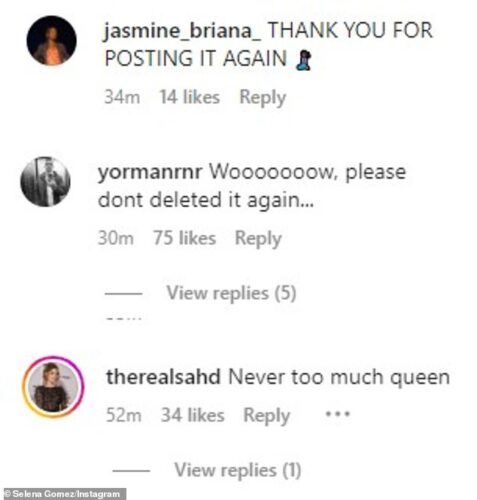 In a previous post, Selena said that she had an assistant take over her social media after being harassed by trolls during a breakup.
Gomez said she would be "constantly crying" and suffering from anxiety due to the hateful remarks she received on social media in an interview with Vanity Fair for their annual Hollywood issue.
Gomez stated it was tough to have online bullies constantly comparing her to her ex.
Since then, she's developed a "system" in which her aide acts as a buffer between herself and the criticism by making the posts in her name.
"I never got the chance to go to an actual high school. The world was my high school for the longest time, and I started getting inundated with information that I didn't want,' she explained. 'I went through a hard time in a breakup and I didn't want to see any of the [feedback]—not necessarily about the relationship, but the opinions of me versus [someone] else. There'd be thousands of really nice comments, but my mind goes straight to the mean one."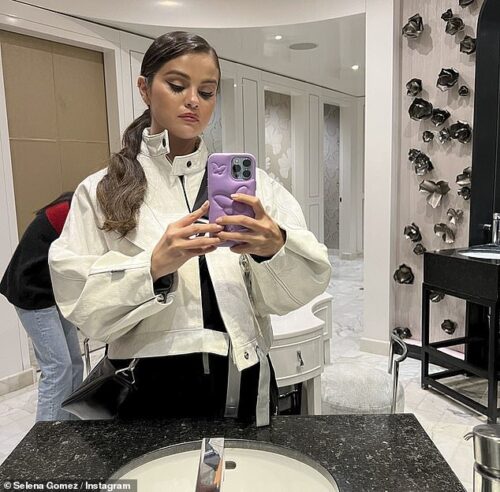 Selena enumerated the cruel acts of online trolls, such as writing lengthy articles about her and labeling her as "ugly or stupid."
"People can call me ugly or stupid and I'm like, Whatever. But these people get detailed. They write paragraphs that are so specific and mean. I would constantly be crying. I constantly had anxiety… I couldn't do it anymore. It was a waste of my time."
While Selena recognizes the value of social media and its ability to help her "connect with fans," she has limited herself to just one app on her phone since TikTok is so much simpler.
'The only thing I have on my phone is TikTok because I find it to be a little less hostile. There are wonderful things about social media—connecting with fans, seeing how happy and excited they are and their stories. But usually that's filtered through [for me now]. I created a system. Everything I do I send to my assistant who posts them. As far as comments, my team will put together a few things that are encouraging."