Salma Hayek's fame extends far beyond her film roles and directorial efforts. She has become a style icon throughout the years, and her wit and humor have gained her many followers.
Salma Hayek has gone through many different hair and makeup styles over her career. We've seen her as a blonde, a redhead, a brunette, with bangs, straight hair, and everything in between. Take a look back at Salma's best hairdos here. Enjoy!
List 10 of Salma Hayek's favorite hairstyles
Long wavy black hairstyle with dark blonde highlights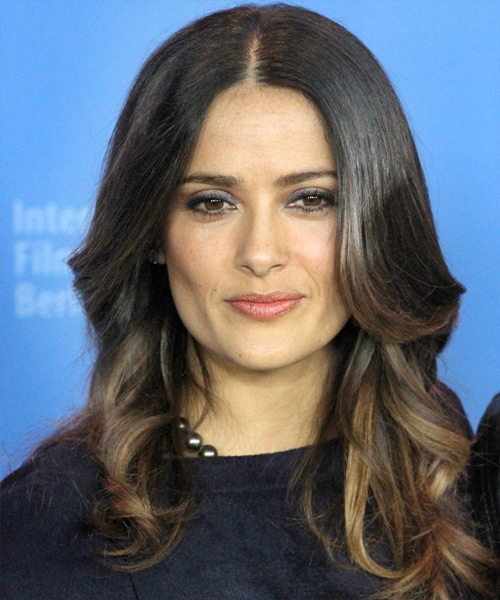 The beautiful hair here have been blow-waved smooth, with a touch of movement given to the ends, for a sensual and alluring style. This elegant hairstyle is a breeze to recreate at home and works especially well with round faces. Split ends can be avoided with regular trims.
Long straight black hairstyle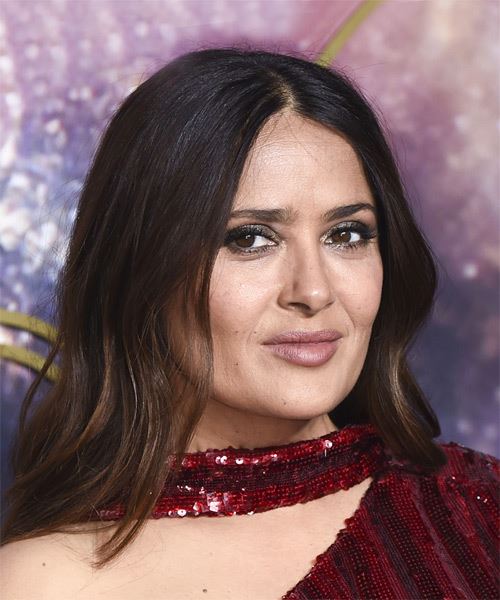 Salma Hayek is a goddess!
Her hair frames her face evenly on both sides thanks to the parting down the middle. Her curls frame her face and highlight the color of her hair as they shift throughout the day.
When curling your hair in the morning or before an occasion, make sure you curl it tightly. Because curls drop as you move during the day, this will ensure that you have waves in your hair at the end of the day.
Her hair color is soft and gorgeous. You can either hide the color or show it off with your haircut. This is the advantage of a two-toned look.
Long curly black mocha hairstyle with brunette highlights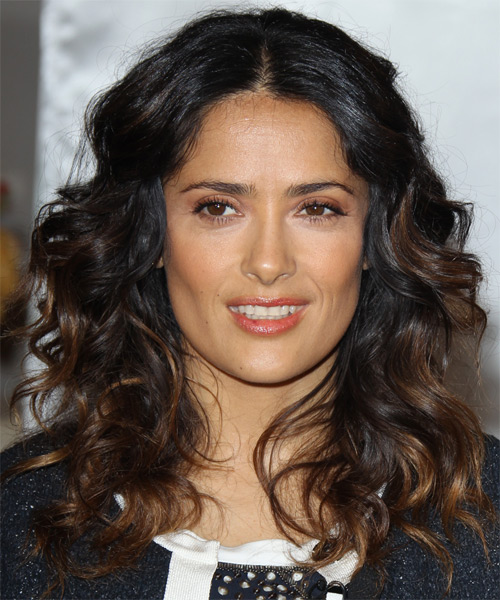 Curls through the sides and back of these full tresses provide width and volume, making this a great style for those with a long face. Those with thick hair or the ability to use a curling iron or rollers would benefit most from this style. Just a dab will keep things in place and make them shine.
Medium straight dark brunette hairstyle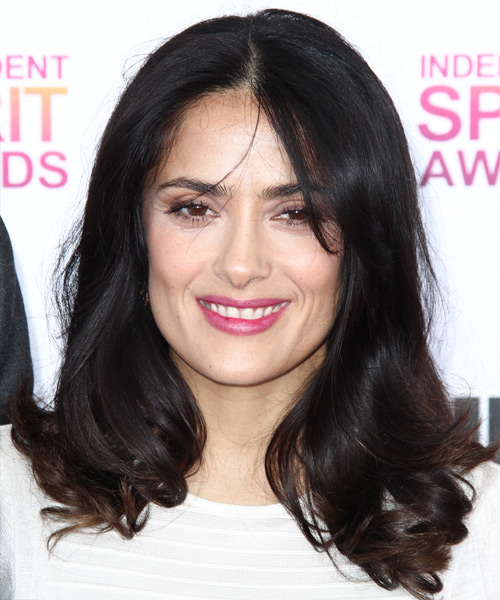 This cut is perfect for round faces since it features only long layers around the perimeter, which emphasize the hair's natural movement and the subtle contours. This chic style is great for day or night, but it requires frequent cuts every four to six weeks to keep it looking and feeling its best.
Long wavy dark brunette hairstyle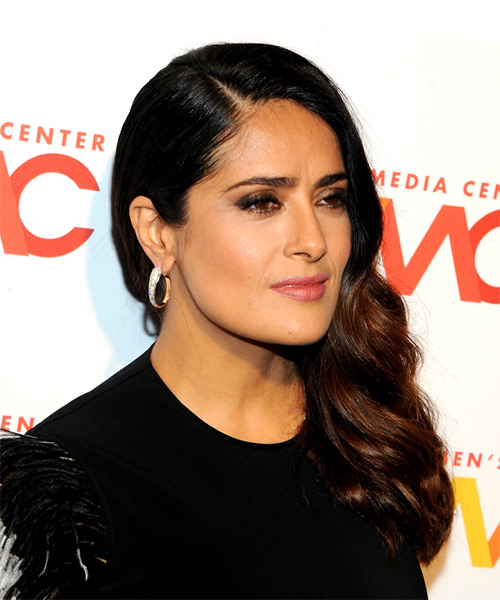 Salma Hayek's greatest features are highlighted by her beautiful, curly hair.
Gorgeous, huge curls are styled all the way through the tresses' middle sections to their ends, giving the look a lot of volume and motion.
This style can be replicated with the correct products and equipment. Trimming your hair every 4 to 6 weeks helps keep it looking thick and healthy and prevent split ends.
Medium straight brunette bob haircut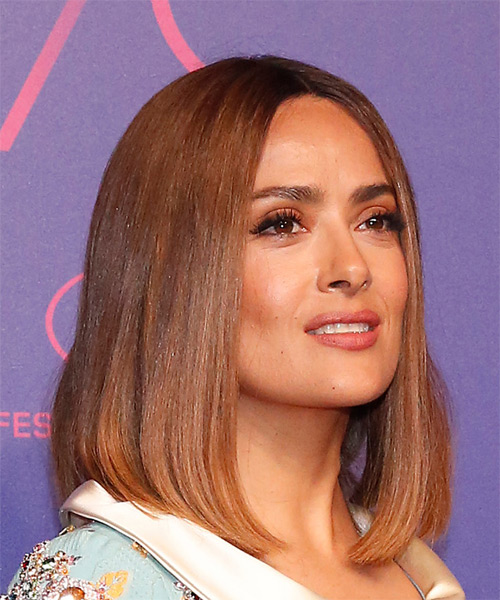 Salma Hayek enjoys wearing sensual and sophisticated hairstyles that complement her outspoken attitude. She dresses up her modest bob with glossy caramel locks that offer drama and intrigue.
These thick chocolate hair have been cut to shoulder length to perfectly frame the face and jaw line.
This beautiful hairdo, ideal for an oval face shape, can turn heads at any occasion and is simple to recreate at home with the appropriate equipment. Regular trims are required to keep this do's form and split ends at bay.
Medium straight blonde bob haircut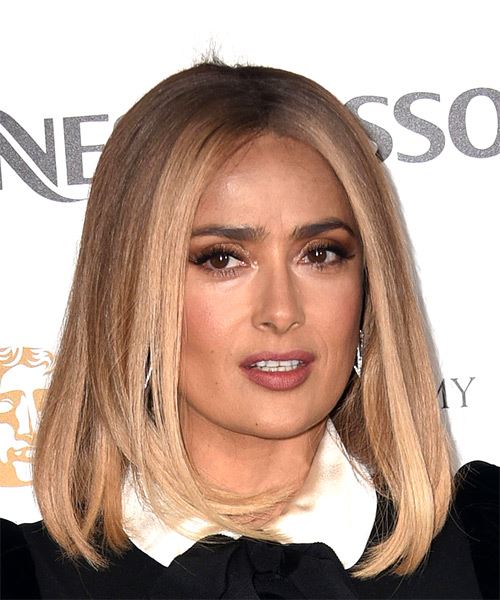 Salma Hayek is stunning with her hair styled in a shoulder-grazing pageboy hairstyle.
The traditional under-blowout frames her face and jawline, but the movement-inducing blunt edges keep things fresh.
This sleek and attractive cut requires only a trim every 4 to 6 weeks and little styling product to keep it in place and bring out its natural shine. Salma's blonde hair, which she dyed a beige color, will also require maintenance on a daily basis.
Medium wavy black bob haircut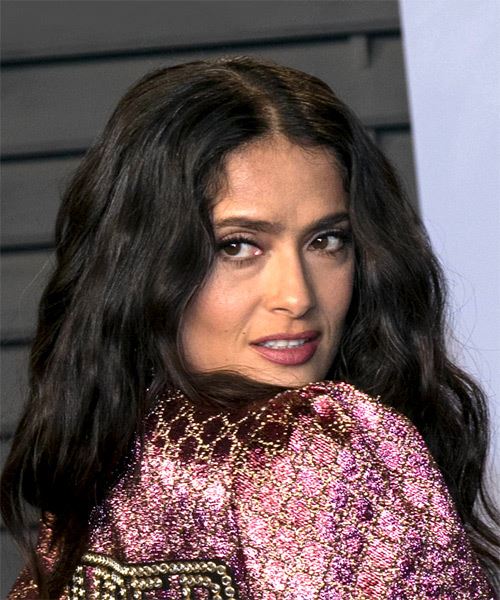 Salma Hayek's bob is a great choice for those with wavy or curly hair because it is low maintenance and highlights the beauty of your natural texture. This style requires no styling time and may be worn to work or out.
This style brings out the best in Salma's dark hair, but she'll require regular touchups to keep the color at its best. This hairstyle requires frequent cuts to keep it looking its best.
Long wavy black hairstyle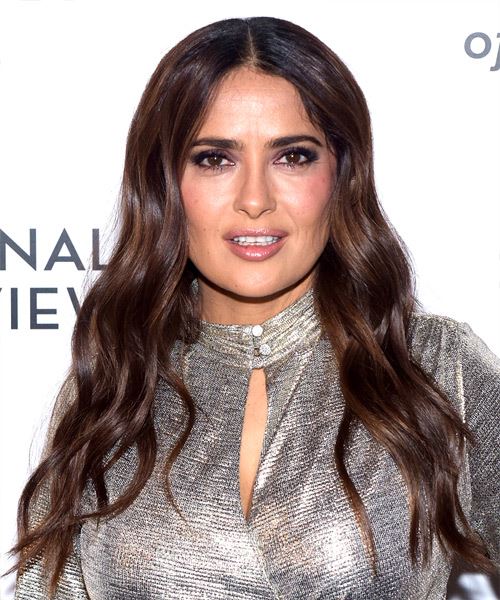 Salma Hayek is still stunning.
Her hair is a good length for versatility in styling, yet short enough that she can easily maintain it in a variety of looks. The soft waves in her hair frame her face well, making it appear to be the ideal oval form.
To maintain healthy ends and the contour of your cut, you should have a haircut around every six weeks.
Salma Hayek shoulder-length crimped hairstyle with curls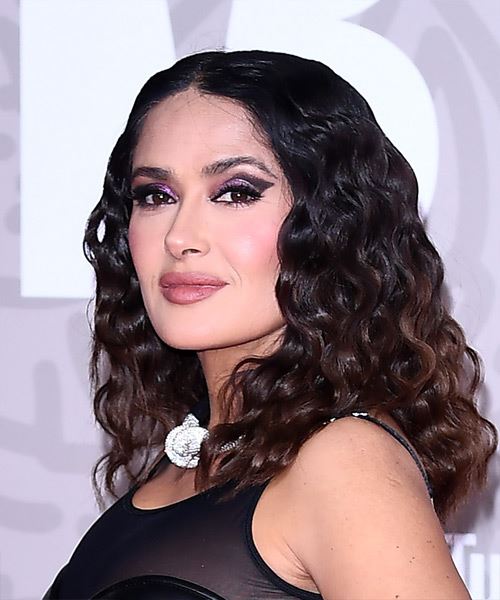 We are loving Salma Hayek's resurgence of the crimped hairstyle.
This is an upbeat aesthetic, and in these troubled times, we could all use some cheer.
You can see that she has applied gel to her roots so that her curls may frame her face and her part will remain in the centre all night long. This is the hairstyle to go for if you want people to think your hair is thicker than it actually is.
RELATED: