Saffron Barker posed for racy Instagram photos on Monday night at Soho Farmhouse, displaying her incredible figure in a black bikini.
Saffron Barker poses for hot photos in a black thong bikini at Soho Farmhouse
YouTuber star posed in a thong bikini top and bottom on a wooden balcony at the exclusive country club in rural Oxfordshire, baring her pert posterior to onlookers.
The long blonde hair of the former Strictly Come Dancing star was pulled back into a neat half up ponytail.
Saffron stood on her tiptoes and flicked her leg behind her, her face painted heavily to emphasize her beauty.
With a radiant grin on her face, the influencer draped a warm brown bathrobe over the balcony.
This comes after Saffron and Tom Malone's New Year's Eve costume matching sparked dating rumors in Brighton.
They dressed as Danny Zuko and Sandy Olsson from Grease, complete with leather T-bird jackets, and appeared on E4's The Real Dirty Dancing last year.
Tom, formerly of Gogglebox, posted a photo of the happy couple cuddling on Instagram.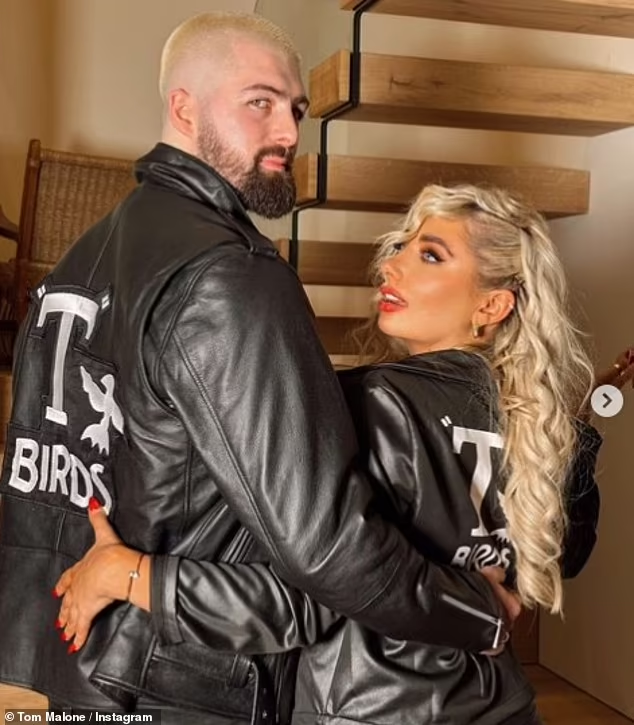 'Just a couple T Birds and a Karate Kid. New Years was a madness.' he wrote as the photo's caption.
Tom's post was met with a hand over the mouth emoji from Saffron, who then reposted the image to her own account.
To find out if Tom has broken up with girlfriend Bryony Briscoe, fans took to the comments section.
A Saffron representative, however, stated that she and Tom are just friends.
About Saffron Barker :
Saffron Barker is a YouTuber from Brighton who has been making videos since July 2015. She lives at home with her mum, dad, three brothers and eldest brother's girlfriend. Saffron Barker Vs. Real Life is her first book