At the age of 30, the most problem about which women worry is the sign of aging skin with wrinkle.
Indeed, preventing the signs of aging is always better than curing them. So I always remind you to use sunblock regularly since the ages of 20s because sun is the cause of wrinkles and brown spots. If you do not prevent them, then at 30 years old, you will receive the severe consequences.
Besides, using a dermatological solution Solvaderm Stemuderm anti-aging cream, exfoliation periodically is also a good way to prevent wrinkles in the long term
The use of food also has a positive effect in preventing wrinkle. You should eat a lot of vegetables, supplement vitamin E with peanuts, almonds and kinds of vitamin C with fruits to protect your skin. To me, a glass of orange juice per day is essential to get a healthy skin and body full of vitality.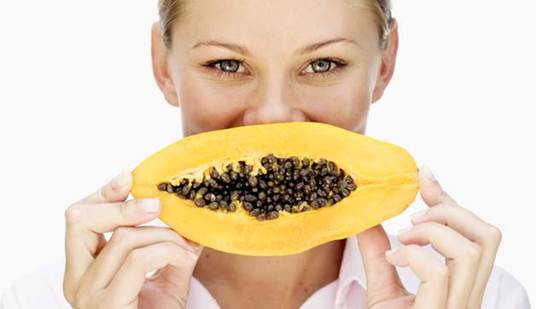 Papaya contains lots of vitamins and nutrients helping prevent aging.
In this summer, you should use papaya, a kind of fruit containing lots of vitamins and nutrients helping prevent aging. Potassium, fiber, folate pantothenic acid and magnesium will make the skin smooth and healthy. In addition, papaya contains carotenoids, flavonoids, vitamins A, C, and E which help antioxidant, against free radicals destroying the skin's collagen production.
Papaya is also considered as a natural skin care product; you can learn a simple way for beauty care with papaya. The effect will surely be surprising.
Exfoliation with papaya
Papaya helps to exfoliate dead skin cells thanks to a natural enzyme helping loosen the layer of dead cells and eliminate them. Thus, the old skin layer will not be stuck in the hair follicle, obstructing the pore. That is also the reason why many anti-aging exfoliation creams use papaya. It works very well to reduce the formation of new wrinkle. Use one spoon of mashed papaya, then apply to face and massage gently. After 5-10 minutes, rinse with warm water, you will feel the skin smooth and youthful.
Anti-aging papaya mask
The natural acids in papaya help to remove dead skin cells, nourish the skin, make skin smooth and younger. To make papaya mask, use 2 tablespoons of mashed ripe papaya, then mixed with 1 tablespoon of aloe vera gel. Apply the mask to face and relax for 5 minutes. Do not leave it for long time because this mask dries quickly, so it becomes difficult to cleanse. The best way is to use a clock for time checking. Then rinse with warm water to cleanse your face.
The natural acids in papaya help to remove dead skin cells, nourish the skin, make skin smooth and younger.
Anti-tan papaya mask
Women at 30 also face the sign of tanned skin beside ugly wrinkle. To solve both problems, you should use the combination of papaya and yogurt. Lactic acid in yogurt can help moisten and lighten the skin quickly. With this mask, replace ripe papaya by unripe one will bring better effect. Use 2 tablespoons of mashed papaya and 2 tablespoons of yogurt to cover the face in 10 minutes. This method can be used to treat sunburnt skin twice a week. Remember to limit sun in treatment period. And if you have to go out, do not forget sunblock, and wear broad-brimmed hat to prevent skin from sunburn.