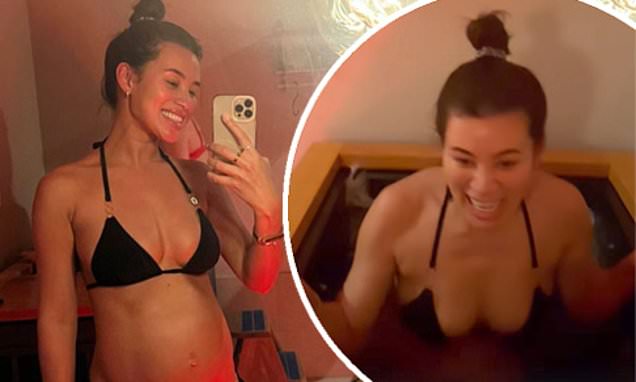 Pregnant Montana Brown, who is pregnant, has taken an icy dip while wearing a black strappy bikini that shows off her baby belly.
Pregnant Love Island actress Montana Brown shows off her baby bump in a black strappy bikini as she enjoys an icy dip
The 27-year-old former Love Island star is expecting her first child in December with partner Mark O'Connor, and she has posted a sweet video montage of her early pregnancy.
Since then, she has regularly updated her 1.2 million followers on her pregnancy progress until the final nine months before she gives birth.
In order to make a brief appearance at the spa on Monday afternoon, the expecting mother donned a black halterneck bikini with gold embellishments from her own swimwear line, Swim Society.
Many people get relief from aching muscles and swelling by dipping into an icy bath, and she was about to give it a try.
Montana smiled broadly as she posed for the mirror in her bikini and wrote, "A lil preggo ice plunge and by ice plunge this is what I mean…."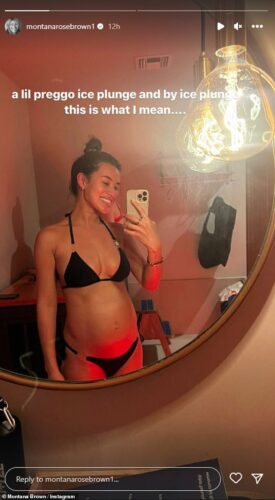 Here's a video of Montana gritting her teeth in response to the sudden chill of the water as she dips her midsection in for the next story.
She quickly jumped out of the tub to get back into the warmth and posted next to the video, 'This totally counts don't take it away from me', as she hastily got right back out of the bath to return to some warmth."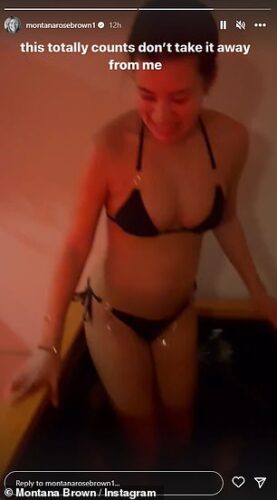 The news comes after Montana posted a series of photos to Instagram documenting the growth of her baby belly.
She took a picture of herself in her underwear last week, celebrating her 21st birthday, and the result was a photo of a smiling young woman in her bedroom.
She had taken the photo nine weeks earlier, around the 12 week mark, when her bump appeared slightly less noticeable and she was wearing a white bra and black leggings.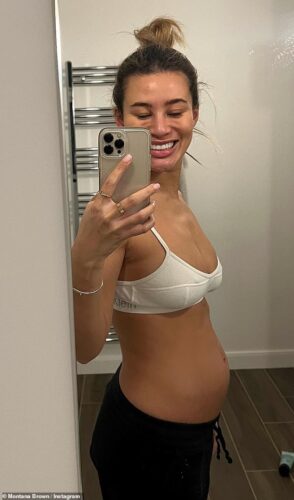 The reality star also posted a photo of herself that appeared to have been shot when she was only six weeks pregnant.
She wrote, "21 weeks ➡️ 12 weeks ➡️ 6 weeks. Also sorry I don't have the energy for matching undies and Polaroids… I'm not that organised."
She updated her 1.2 million Instagram followers on the good news on Christmas Eve.
The TV star announced her pregnancy with a video montage that showed her and her boyfriend laughing and smiling while looking at the positive pregnancy test.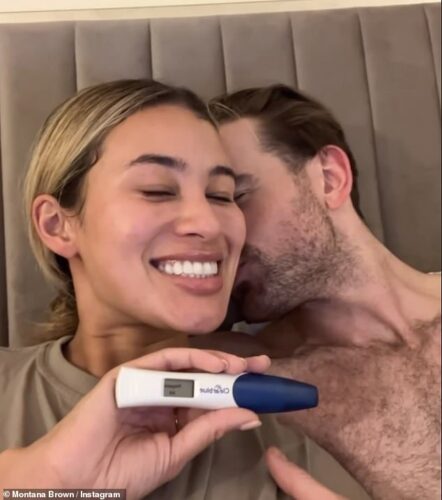 She wrote, "Baby O'Connor coming next summer [white heart, baby emoji]."
The post also included clips of the reality star getting an ultrasound and cuddling up to Mark on the beach while he held her growing baby bulge.
Unknown to anyone, Montana was spotted picking up a baby and carrying her about before she scribbled "Baby O'Connor" in the sand.
In early 2021, sources told that Montana and Mark were dating after initially meeting at Mark's gym.
A mutual friend says that Mark has an educational background in real estate, having attended both Cardiff University and Henley Management School.
"He played rugby for Chiswick and Wales 1st Teams as a prop, and has a proprietary interest in Forge Gym London. That's likely how he met Montana.
'He used to be out of shape and is now very much in shape. He's a very wild bloke to go on a night out with, drinks a lot. Very good fun to be with."
Despite her gratitude at being pregnant, Montana has been struggling with morning sickness, as she described last month.
Montana took to Instagram to reveal that her morning sickness had returned despite her earlier assurances that it had passed.
She said: "For some reason, for the past few days, I have randomly been more sick than I have been previously."
"I was on a work call, on a Zoom, on Friday. This lovely lady is mid-sentence, and I was like, "Hold on, I'm gonna be sick and I'm gonna faint."
"I just felt really, really lightheaded and just felt like I was gonna fall on the floor."
"But yeah, just feeling a bit more nauseous, which is really annoying actually."
Montana added that she is actively looking for a hospital to give birth in.
"But, more advancements, we're still looking on the hospital front, lol. she said."
"We loved UCLH but it's not midwifery-led and I'm quite set on midwifery led, so we're looking local, looking at other London ones, so that's my task for this week as well."