Pregnant Laura Anderson proudly displayed her growing baby bump in a series of humorous poolside photographs while vacationing in the Maldives beach.
Laura Anderson enjoying a Maldives beach in a skimpy bikini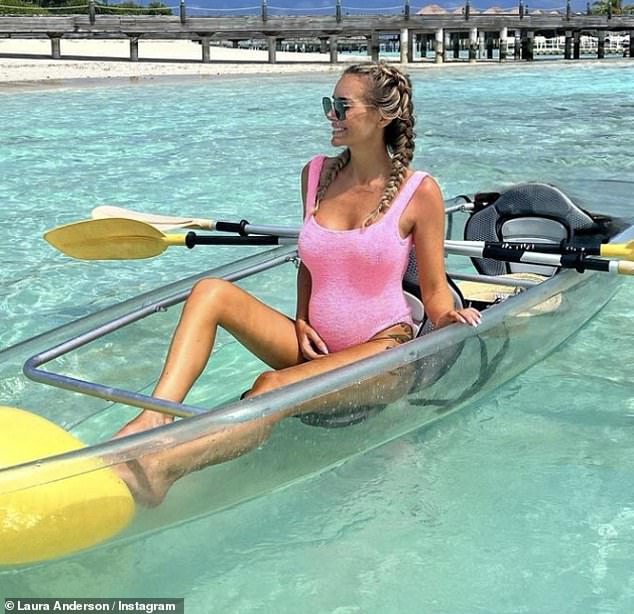 Laura donned a hot pink swimsuit and went kayaking in the Indian Ocean paradise while posing for a photo.
The pregnant reality star held her belly and gazed off into the distance.
The stunning woman wore her hair in two French braids and a pair of black sunglasses.
She simply wrote "Kayak for one" as the caption for the image.
Laura shared a series of fun poolside snaps in the Maldives earlier this week, showing off her beautiful pregnant silhouette in a brown bikini.
She accessorized with a pair of pink Ralph Lauren sliders and shielded her blue eyes with a pair of square, oversized sunglasses.
The blonde beauty posed with her hair down and a coconut water in her hand by the pool and the ocean.
Now that Laura has announced the baby's gender and name, she's sharing vacation photos from a trip to the beach.
Although Laura promised to share the news in "due course," she clarified that this is not yet the case.
Laura gave an interview to Goss.ie and said: 'I know what I'm having and I have a name.
'I will share in due course… I've already done a small [gender reveal party], but I've not shared it publicly yet. But I will soon.'
The reality star has been keeping her 1.5 million followers up-to-date on her pregnancy with the birth of her first child with actor husband Gary.
She and the Hollyoaks actor she met on the set of last year's Celebs Go Dating have broken up and both have been posting cryptic messages on their social media accounts in recent days.
Laura posted the following to Instagram while taking a selfie on the train to her hair appointment: 'I've just been thinking.
'Why is it in society that when a man says he wants children he's seen as brave, courageous, loving. But when women say they want children they're seen as desperate, needy, users.'
Early in the month of February, Laura said that she and ex Gary Lucy are "definitely not on good terms" because of the recent drama surrounding their breakup.
They had just announced that they were expecting their first child together earlier this month after a whirlwind romance, when news of their separation suddenly broke.
And when asked about the possibility of a reconciliation between them, she was swift to deny it during an Instagram Q&A.
Laura replied, "No," and then added, "I hope once baby is here," implying that she and the Hollyoaks actor might be able to co-parent.
READ NEXT: