In Pokémon Scarlet and Pokémon Violet, you can now change your character's eye shape, mouth shape, and other features to make them look the way you want them to. Of course, you can change your hairstyle, hair color, and brows at salons, so look your best on your Treasure Hunt! Here's our list of Pokemon Scarlet and Violet clothing options, including hairstyles, hair colors, accessories, and facial customization.
Pokemon Scarlet and Violet facial features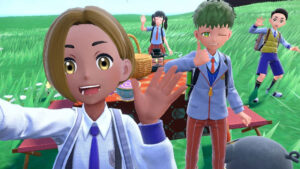 This time, it appears that we will be able to add more facial features than just hair changes. Unfortunately, beards are still not permitted, but we can now give our trainers freckles!
As usual, we have the option of wearing color 'contacts' to change the color of our trainers' eyes. So far, we've seen purple, red, ultramarine, and black, in addition to the natural colors we see in nature.
There are numerous eyelash and eyebrow styles to choose from, allowing us to completely change the look of our trainer.
Pokemon Scarlet and Violet hairstyles
Scarlet and Violet follow suit, with each generation of Pokemon games adding more hair options than the previous. Game Freak hasn't revealed all of the names or options available in the salon menus, but we've seen some in the latest trailer's menu screen. These are some examples:
Standard short cut
Typical side braid
Side fade
Short bob
Long and straight
Side part
Slicked back
Long bob
Ponytail
Medium curls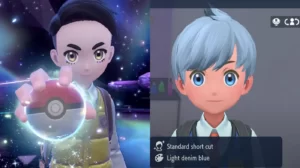 Pokemon Scarlet and Violet hair colors
Black
Gold
Dark brown
Ash brown
Light brown
Platinum blond
Pink brown
Wine red
Green
White
Pokemon has always had a basic range of hairstyles, and the majority of them appear to be from generation 9. When a trainer goes to get their hairstyle changed in the most recent trailer, we see the colors listed above. There are probably more on the list, but those are the ones we know about so far.
Dark brown
Ash brown
Light brown
Platinum blond
Pink brown
Wine red
Green
White
Pokemon Scarlet and Violet clothing options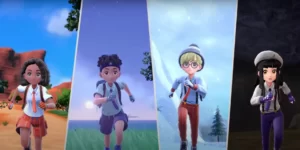 So far, the Naranja and Uva Academy uniforms have been the most frequently seen outfits in Scarlet and Violet. There appear to be two main types, with some interchangeable items such as backpacks and tops. There is a short-sleeved shirt and shorts version, as well as trousers with a long-sleeved top. In addition, a blazer appears.
There are also a few different tops and bottoms styles, as well as a variety of accessories such as caps, beanies, berets, and various styles of glasses.