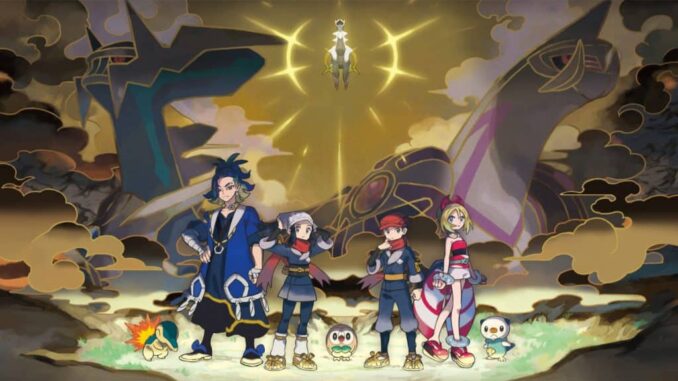 The second Pokemon Legends Arceus update, 1.0.2, has now arrived for the Nintendo Switch game. It's just a small update, so it shouldn't take long to download; for reference, it took us about 30 seconds.
Pokémon Legends: Arceus Update Version 1.0.2 Patch Notes
Fixed an issue that sometimes made it difficult to catch Cherrim.
Fixed an issue where, while offline, the screen could freeze after trying to pick up a lost satchel by throwing out a ball that contains a Pokémon.
Fixed an issue where players could obtain certain Pokémon twice instead of once only as intended, prohibiting the player from obtaining other certain Pokémon. The relevant Pokémon will appear for players who were unable to catch those certain Pokémon due to this issue.
Fixed an issue where a certain event would not occur during a particular Mission, preventing the scenario from proceeding as intended.
Pokemon wiki :
Created by
Satoshi Tajiri
Ken Sugimori
Junichi Masuda
Original work
Pocket Monsters Red and Green (1996)
Owner
Nintendo
Creatures
Game Freak
Print publications
Short stories
Pokémon Junior
Comics
See list of Pokémon manga
Films and television
Film(s)
See list of Pokémon films
Short film(s)
Various Pikachu shorts
Animated series
Pokémon (1997–present)
Pokémon Chronicles (2006)
Television special(s)
Mewtwo Returns (2000)
The Legend of Thunder (2001)
The Mastermind of Mirage Pokémon (2006)
Television film(s)
Pokémon Origins (2013)
Theatrical presentations
Musical(s)
Pokémon Live! (2000)
Games
Traditional
Pokémon Trading Card Game
Pokémon Trading Figure Game
Video game(s)
Pokémon video game series
Super Smash Bros.
Audio
Soundtrack(s)
Pokémon 2.B.A. Master (1999)
See also list of Pokémon theme songs
Miscellaneous
Theme park
Poképark