In Pokémon GO, Roggenrola will have its own Community Day in September, which means an entirely dedicated Sunday. To take advantage of the Community Day, you must first obtain the Roggenrola Rock 'n' Roll Special Research story.
How to get the Roggenrola Rock 'n' Roll Special Research
When a major event in Pokémon GO goes live, there is usually a ticket associated with it that Trainers can obtain. This includes events such as the Pokémon GO Fest in 2022, as well as any other Community Days that go live each month. Tickets vary in price, but community research is always the same.
They cost around $1.00 each and are available from the Pokémon GO store. To get there, tap the Poké Ball symbol in the bottom right corner of the screen and navigate to the shop section. When you open the shop section, the most relevant tickets will be at the top. The Roggenrola Special Research is named as Rock 'n' Roll.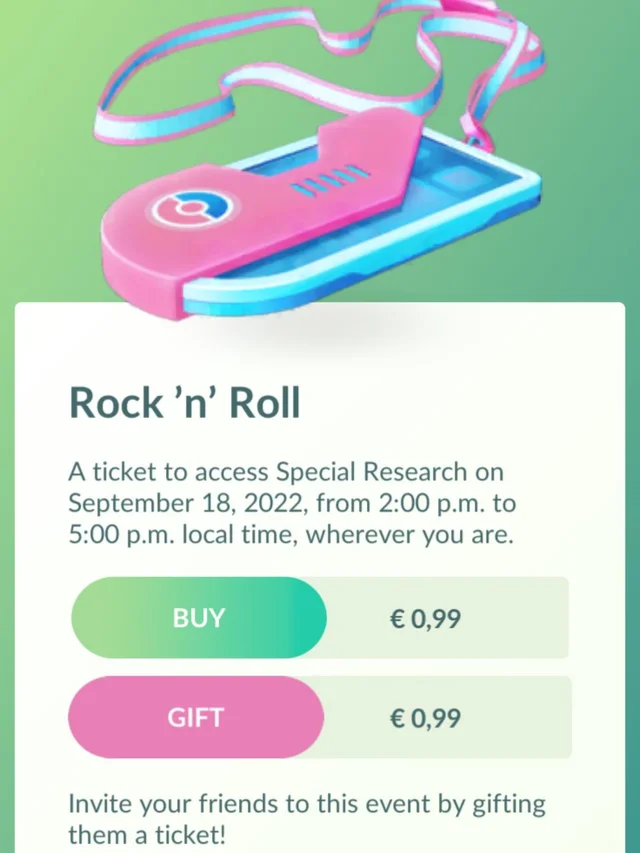 Purchases for the Roggenrola Community Day research will be accepted until the event's conclusion on September 18 at around 5 o'clock. The same day at 2:00 p.m. local time, you can begin taking part. You have three hours to finish the Rock 'n' Roll story's tasks.
The Roggenrola story will be available to you as Special Research in Pokémon GO until you finish it. In the future, catching a Roggenrola might be challenging, but it will happen eventually. Due to the increased chance of Shinys and candy, it is best to finish them the day of the event.
Along with all of the wild Roggenrola spawns, rewards will also provide you with guaranteed Gigaliths and Boldores. It's a great time to complete your Pokédex.
About Pokémon Go
Pokémon Go
Developer(s)
Niantic
Publisher(s)
Niantic
Director(s)
Tatsuo Nomura
Artist(s)
Dennis Hwang
Yusuke Kozaki
Mieke Hutchins
Composer(s)
Junichi Masuda
Series
Pokémon
Engine
Unity
Platform(s)

iOS, iPadOS, Android

Release
Genre(s)
Augmented reality, location-based game