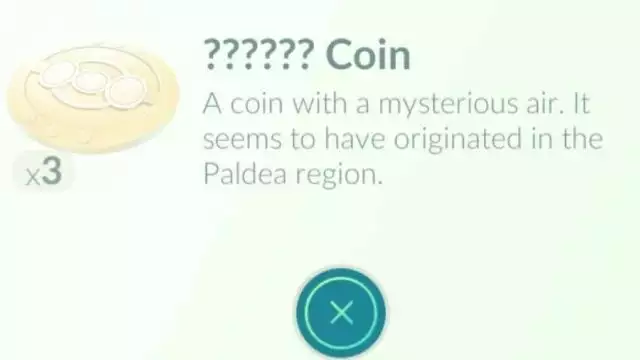 What is the Pokemon GO Gold Coin?
The Pokémon GO Gold Coin is a new item that appeared in the game on November 5, 2022 just after the hours of the Community Day Classic event starring Dratini.
Also known as the Paldea coin, this name does not come from any visible markings linking the region, but actually appears in the item's description.
Something very strange is happening after Dratini Community Day today. Did you see the new Golden PokéStops yet? What on earth is going on here? pic.twitter.com/ABs9xR9fE0

— Pokémon GO Hub (@PokemonGOHubNet) November 5, 2022
How do I get the Pokemon GO Gold Coin?
Acquiring these mysterious Gold Coins is simple and involves spinning one of the different Golden Pokestops displayed randomly on the Trainer's map. Spinning these Gold Pokestops can earn you one of two things: a Gold Coin or a bonus reward .
Also, the first time you do this will also trigger Professor Willow's interaction with Pokémon Scarlet and Violet's Jacq. The characters discuss the presence of Gold Coins in Pokémon GO, and even though Jacq is in a hurry to get out, Willow will leave you with further searching.
What does the gold coin do in Pokemon GO?
So far, nothing. The ?????? coin in Pokemon GO is just a little trophy to say "I was there."
About Pokémon Go
Pokémon Go

Developer(s)

Niantic

Publisher(s)

Niantic

Director(s)

Tatsuo Nomura

Artist(s)

Dennis Hwang
Yusuke Kozaki
Mieke Hutchins

Composer(s)

Junichi Masuda

Series

Pokémon

Engine

Unity

Platform(s)

iOS, iPadOS, Android

Release

Genre(s)

Augmented reality, location-based game