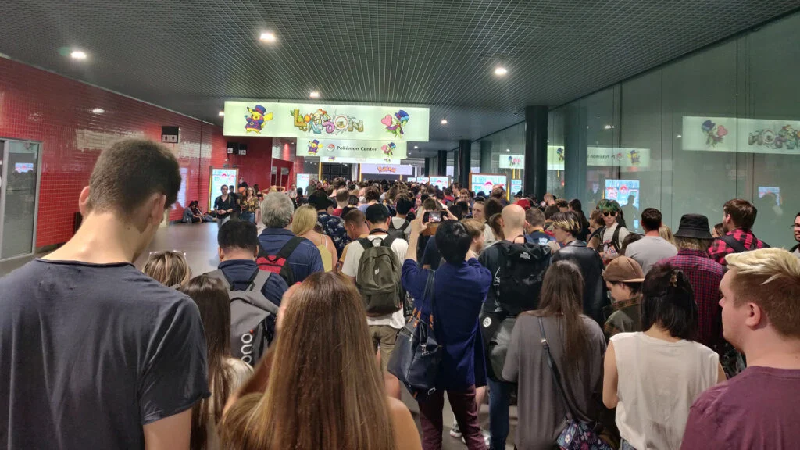 The Pokémon Center Pop-up Store opened today at the ExCel Center in London and will remain open through Sunday, August 21, for the duration of the Pokémon World Championships.
The Pokémon Company has revealed that the Pokémon Center store will feature two exclusive plush toys that will only be available for the duration of the World Championships in London.
A Pikachu plush and a Roserade plush, each sporting black beefeater outfits, will be on sale during the event and are likely to sell out quickly.
Social media is full of photos and footage of the queues. Here's a sample, including a video of the queue as it stood earlier this afternoon:
Me: Well I wont be a dick and try and hang around before my Pokemon Center timeslot, I'll just go at my time.
Pokemon Center: Hey, have you considered going and f*cking yourself? All appointments must join the big queue anyway. pic.twitter.com/UizU67gZJg

— DJGigabyte (@DJGigabyte) August 17, 2022
The row for the pokemon center at worlds LMAO pic.twitter.com/EHqxGSrEx3

— Jimray3 (@Jimray3mta) August 17, 2022
https://twitter.com/calvinconnor12/status/1559873384984584193
Good thing we had an appointment system for the Pokémon Center 😶 pic.twitter.com/i4x51vFZc6

— Nico Alabas (@carrypotter_1) August 17, 2022
The Pokémon center has been one of the most poorly managed things I've ever seen. Nobody has the right information and we've been told different things by different people. #pokemonworlds

— Gio™ (@the_one_gio) August 17, 2022
Great #pokemoncenter reservation system @PokemonNewsUK. Our slot was 15 mins ago and we've still gotta get through this damn queue 🙄 pic.twitter.com/0qw73edVBi

— Steph (@pkmntrnrsteph) August 17, 2022
Got back from #pokemoncenter London at worlds
Was there hour b4 opening time 4 reservation at 12
Mad queues, staff were trying their best, but the reservation/virtual queue system isn't good enough with queues getting out of hand quickly
Any questions about anything reply or DM pic.twitter.com/U3cprKxTFp

— Matthew Shafik/MJShafik TL40x10 GBL Rating 3810🏅 (@MJShafik_) August 17, 2022
Day 5 in the Pokemon Center line, the end is still nowhere in sight. I've lost my mind, I watched a man eat his own arm just to survive. Others died of the bodyheat. When will the purgatory end. I wish for a release. The sweet release

— Sabre (@Sabrewoif) August 17, 2022
Pokemon wiki :
Created by
Satoshi Tajiri
Ken Sugimori
Junichi Masuda
Original work
Pocket Monsters Red and Green (1996)
Owner
Nintendo
Creatures
Game Freak
Print publications
Short stories
Pokémon Junior
Comics
See list of Pokémon manga
Films and television
Film(s)
See list of Pokémon films
Short film(s)
Various Pikachu shorts
Animated series
Pokémon (1997–present)
Pokémon Chronicles (2006)
Television special(s)
Mewtwo Returns (2000)
The Legend of Thunder (2001)
The Mastermind of Mirage Pokémon (2006)
Television film(s)
Pokémon Origins (2013)
Theatrical presentations
Musical(s)
Pokémon Live! (2000)
Games
Traditional
Pokémon Trading Card Game
Pokémon Trading Figure Game
Video game(s)
Pokémon video game series
Super Smash Bros.
Audio
Soundtrack(s)
Pokémon 2.B.A. Master (1999)
See also list of Pokémon theme songs
Miscellaneous
Theme park
Poképark