Piers Morgan tries to guard his co-worker Schofield Holly and Wiloughby after they have a problem that related to the Queen queue-jumping scandal.
Piers Morgan protects Holly Willoughby and Phillip Schofield out of the queue-jumping scandal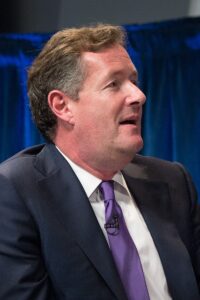 While the others queued for several hours to pay their love and respect before the late Queen's coffin, the This Morning stars have a statement that they were there "exactingly for the purposes of reporting on the event."
"Full disclosure, I am a good friend with Holly, and I feel very sorry, she is absolutely distraught I think about the reaction," Morgan said that on his Talk TV show Uncensored.
"All hell broke loose about this, they have been subject to, I think, a ridiculously over-the-top campaign."
"It may have been a misjudgment. I said myself on this show, I don't think anyone should have been jumping the queue full stop, whoever you are, unless you are a world leader and there is a time issue."
"20,000 people have signed a petition to have them fired. Of course, they shouldn't be fired, it's ridiculous.
There are about 32,000 individuals signed a petition for the dismissing of Willoughby and Schofield from tv news.
There was a statement on social media: "We would like to clarify something. We asked Phillip and Holly to be part of a film for this Tuesday's programme.
"They did not jump the queue, have VIP access or file past the Queen lying in state – but instead were there in a professional capacity as part of the world's media to report on the event."
The petition's creator said, "ITV should be ashamed of exploiting the situation… it's about the TV show being toxic and these presenters being given privileges that deprive others and humiliate their own viewers in the process."
"Like hundreds of accredited broadcasters and journalists, we were given official permission to access the hall. It was strictly for the purpose of reporting on the event for millions of people in the UK who haven't been able to visit Westminster in person" Willoughby stated on the show.
"The rules were that we would be quickly escorted around the edges to a platform at the back. In contrast, those paying respects walked along a carpeted area beside the coffin and were given time to pause.
"We of course respected those rules however we realize that it may have looked like something else and therefore we totally understand the reaction.
"Please know that we would never jump a queue."
About Piers Morgan
Born

Piers Stefan O'Meara

30 March 1965 (age 57)

Surrey, England

Education

Chailey School
Priory School, Lewes
Harlow College

Occupation

Broadcaster
journalist
writer
television personality

Years active
1985–present
Employers

News of the World (1994–1995)
Daily Mirror (1995–2004)
First News (2006–2007)
CNN (2011–2014)
MailOnline (2014–)
ITV (2009–2021)
The Sun (1989–1994, 2022–)
TalkTV (2022–)

Television

Britain's Got Talent
America's Got Talent
The Celebrity Apprentice
The Dark Side of Fame with Piers Morgan
Piers Morgan On…
Piers Morgan's Life Stories
Killer Women with Piers Morgan
Piers Morgan Live
Good Morning Britain

Spouse(s)
Children
4
Relatives
Rebecca Loos (second cousin)