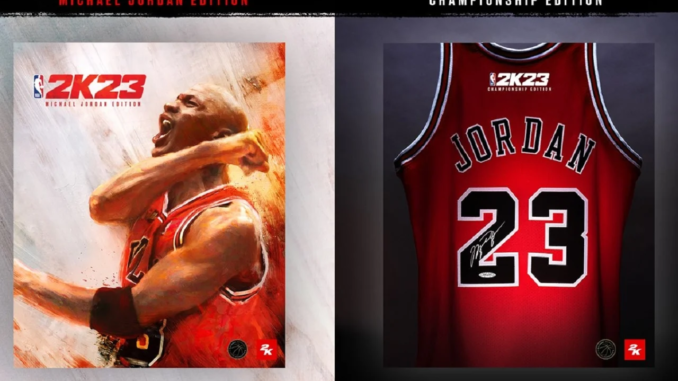 How To Pre-Order Nba 2k23 ?
It is not available to purchase at the time of writing, but will be purchasable later today. You can pre-order NBA 2K23 from the game's official website starting July 7.
NBA 2K23 price ?
The leaked price of the NBA 2K23 Standard Edition is $70. The Michael Jordan edition is reportedly $100 and the Champions edition is $150.
Championship Edition #NBA2K23 $150

Michael Jordan Edition $100

Devin Booker ( Standard edition) 70$

— NBA 2K23 Leaks & Intel  (@2KIntel) July 5, 2022
Covers for the Michael Jordan and Champions edition have been revealed, while Devin Booker's has possibly been leaked.
No other way to do it for 2️⃣3️⃣

Introducing our #NBA2K23 Cover Athlete Michael Jordan

🏀Michael Jordan Edition
🏆Championship Edition

Pre-order starting 7/7 pic.twitter.com/WwVTynbK2x

— NBA 2K (@NBA2K) July 5, 2022
Pre-Order Bonuses For Michael Jordan edition :
Dual-Gen entitlement – PS4 and PS5, Xbox One and Series X/S
100K Virtual Currency
10 MyTEAM Tokens
Ruby Michael Jordan MyTEAMCard
23 MyTEAM Promo Packs (Receive 10 at launch plus an Amethyst topper pack, then 2 per week for 6 weeks)
Free Agent Option MyTEAM Pack
Diamond Jordan Shoe MyTEAM Pack
Ruby Coach Card MyTEAM Pack
10 Boosts for each MyCAREER Skill Boost type
10 Boosts for each Gatorade Boost type
4 Cover Athlete T-Shirts for your MyPLAYER
MyPLAYER backpack and arm sleeve
Custom-design skateboard for MyPLAYER
One 2-Hr Double XP Coin
Pre-Order Bonuses For Champions edition:
12-Month NBA League Pass subscription
Michael Jordan Themed Go-Kart
10% XP Boost on MyTEAM and MyCAREER Season Progression
Dual-Gen entitlement – PS4 and PS5, Xbox One and Series X/S
100K Virtual Currency
10 MyTEAM Tokens
Ruby Michael Jordan MyTEAMCard
23 MyTEAM Promo Packs (Receive 10 at launch plus an Amethyst topper pack, then 2 per week for 6 weeks)
Free Agent Option MyTEAM Pack
Diamond Jordan Shoe MyTEAM Pack
Ruby Coach Card MyTEAM Pack
10 Boosts for each MyCAREER Skill Boost type
10 Boosts for each Gatorade Boost type
4 Cover Athlete T-Shirts for your MyPLAYER
MyPLAYER backpack and arm sleeve
Custom-design skateboard for MyPLAYER
One 2-Hr Double XP Coin
#NBA2K23 Championship Edition preorder bonuses pic.twitter.com/nGnSsyg2OS

— NBA 2K23 Leaks & Intel  (@2KIntel) July 5, 2022