Mely showed off her mother's bum on TikTok in the hopes of inheriting the curvaceous genes, but people are skeptical that her mother's figure is not entirely natural. Most people say look like Kim Kardashian.
"My mum's got an amazing Kim Kardashian booty…" – Tiktoker Mely shared
Mely, who has over 24,000 followers on the app, claims in a video where she shows off her beautiful figure in a floral bodycon dress that she is overshadowed by her mother's beauty. She and her mother celebrated her mother's Kim Kardashian-like curves, which no one thought were natural.
Mely had her mother turn around in the video, which received over 511,000 likes, to reveal her Kardashian-esque backside and an hourglass figure that stole the show.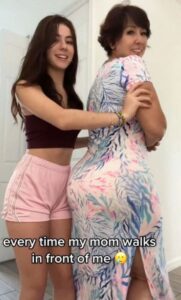 In the video, which was set to the song "Lil Uzi Vert" she wrote: "Every time my mom walks in front of me."
In the caption, she added: "Must be nice. Pass them genes please."
Her daughter's fans flocked to the comments in awe of the mother's figure, claiming she is well aware of her own beauty.
One user commented: "Look at that smirk. She knows she got it. I love moms."
Another said: "I swear mums always have the biggest."
Others expressed their surprise that it was natural, citing the "Brazilian Butt Lift" plastic surgery procedure, in which excess fat is transferred from one part of the body to the backside.
"What implants did you use?"- one user stated.
A fourth compared her to Kim Kardashian, who, despite denying it, is suspected of having buttlift surgery.
"Kim K who?" asked one fan.
Another said "I don't understand it's just normal to show our mum's ass now?"