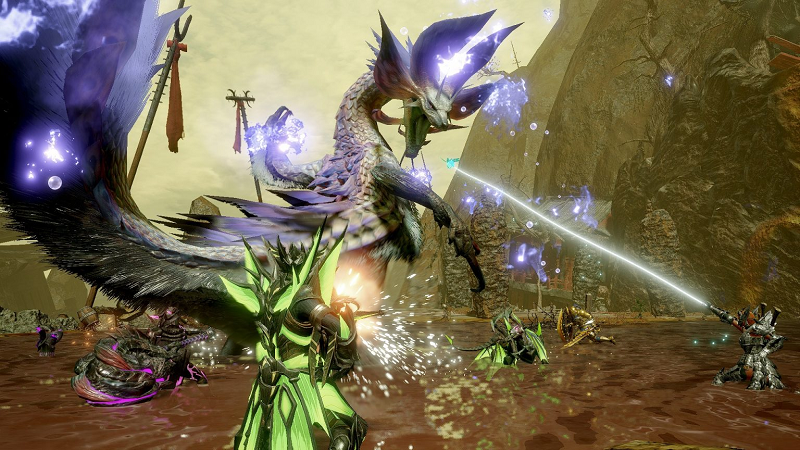 Monster Hunter Rise: Sunbreak title update 2 : release date
The second free content update for the new expansion will be released on September 29; news confirmed at Tokyo Game Show 2022.
Here's a rundown on what is coming in the new update:
New monsters

A rare species and subspecies make their appearance, among others!
Make sure you're suitably prepared!

Anomaly Research Quests

New monsters, including Risen Chameleos!
New A6★ Anomaly Quest rank!
Anomaly Investigations now go up to Lv. 120!

Event Quests

Available every week!
Complete Event Quests to gain special rewards!

Layered weapons are now available!

Almost all weapons up to Free Title Update 2 (Ver.12) can be used as layered weapons!
Pick you favorite weapon design to spice up your hunting life!

Layered weapon designs are available as paid DLC as well!

A variety of DLC has been added, including the "Lost Code" layered weapon series (all 14 weapon types)!
Monster Hunter Rise: Sunbreak title update 2 trailer

Later in the year, you can expect Title Update 3 to drop sometime this winter, adding more special species monsters and more boosted monsters. Capcom said that more updates will be available in 2023.
Monster Hunter Rise wiki :
Monster Hunter Rise is an action role-playing game developed and published by Capcom for the Nintendo Switch. It is the sixth mainline installment in the Monster Hunter series and was released worldwide in March 2021. A Microsoft Windows version was released in January 2022. An expansion, Monster Hunter Rise: Sunbreak was released on June 30, 2022 for both platforms.
Developer(s)
Capcom
Publisher(s)
Capcom
Director(s)
Yasunori Ichinose
Producer(s)
Ryozo Tsujimoto
Designer(s)
Katsuhiro Eguchi
Programmer(s)
Kazunori Sawada
Artist(s)
Hiroshi Sato
Writer(s)
Hiroshi Yamashita
Composer(s)
Satoshi Hori
Series
Monster Hunter
Engine
RE Engine
Platform(s)

Nintendo Switch
Microsoft Windows

Release

Nintendo Switch
March 26, 2021
Microsoft Windows
January 12, 2022

Genre(s)
Action role-playing
Mode(s)
Single-player, Multiplayer