Maya Jama recently admitted that she got into serious trouble at her BBC radio presenting job when she showed up to work dressed as a sexy mermaid after a heavy Halloween night of partying.
Maya Jama was 'reprimanded' by BBC executives for dressing as a seductive mermaid when she reported for duty
The 28-year-old host of Radio 1 returned to the studio after celebrating Halloween with friends.
Maya's purple shell bra and sequined maxi skirt from 2019 were the focal point of attention as she left the house in her mermaid costume.
As Maya danced the night away, her incredible figure was on full display; the skimpy bra left little to the imagination, and the sexy split in her skirt showed off her limitless legs.
However, it appears that her costume choice was not well received by BBC management, as she was unable to change before reporting for duty.
She shared her thoughts with British TV host Jonathan Ross on his talk show: "I got in a little bit of trouble. When I was at Radio 1 I got in a small bit of trouble. Halloween, I didn't change out of my Halloween costume and I went straight into radio the next day. I had about half an hour of sleep.
"It was a shell-t**ted mermaid costume with a big long glittery tail and green dreadlocks and I had loads of stuff on my face. I didn't think it through, walking through the BBC at 8am with all the BBC news people like, 'What the f*** is going on here?'"
Maya also explained how she achieved her signature walk from Love Island by saying: "You do a normal strut about three or four times. You have to 'sexy it up' a little bit.
"Me and my friends the night before I went had a big girls' night and they were like 'Ok, show us how you're going to walk.'
"As soon as I got there and all the camera crew was there, I was like, 'I can't do it…' but you do it four or five times and they choose the best bits."
She has recently been seen on a night out with Leonardo DiCaprio, who she was also seen with weeks earlier, fueling any dating rumors that may have been brewing.
This past month, the actor was in London for the BAFTAs and Fashion Week, and she was spotted out with him both nights.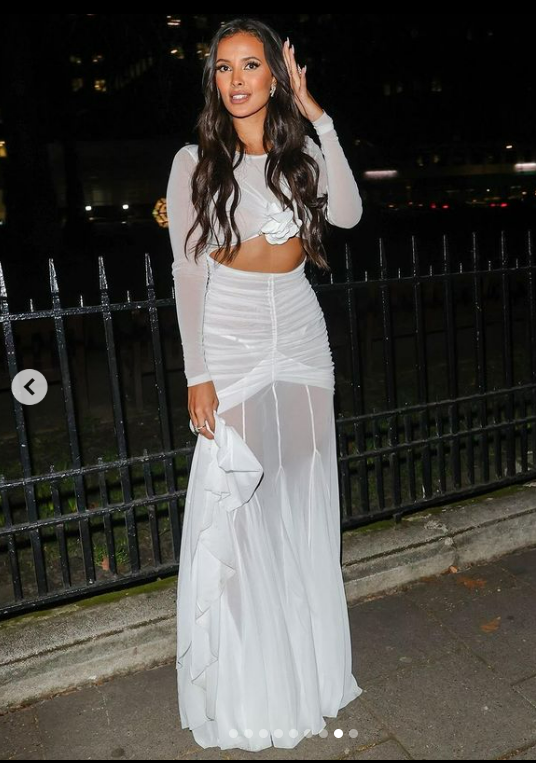 Leo and the new Love Island presenter went to his pre-BAFTAs party at Chiltern Firehouse, where they met stars like Jamie Foxx, Neelam Gill, and Taron Egerton.
Not long after Maya left, at 3:30 a.m., Leo also left, but he kept his head low and wore a mask.
They attended the BAFTA afterparty hosted by Annabel's members' club and sponsored by British Vogue and Tiffany & Co.
On Monday morning, early, Leonardo was seen leaving the same after party at Annabel's through the back door.
READ MORE :