During her recent trip to Mexico, she was spotted getting close to an American toyboy, and the two seemed very comfortable with one another.
Maura Higgins looked stunning in new photos from her extravagant trip to Dubai
The Love Island contestant gave fans more glimpses into her relaxing getaway, and she gave off the vibe that she was having the time of her life.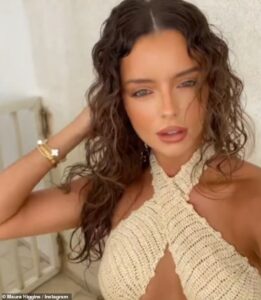 The reality star slipped into an enviable crochet cream co-ord that accentuated her tanned curves and showed off her stunning figure.
At Verde Beach in Dubai, Maura wowed onlookers in a crochet skirt and a cutout top that revealed her toned midsection.
The Irish beauty sparkled as she arranged her curls for a seductive wet look.
She wrote in the post's caption: 'Endless holidays'
Rumors about Maura Higgins' love life have recently been reignited after photos surfaced of her cuddling up to an American businessman in Mexico.
Earlier this month, the Longford star was spotted in Tulum, Mexico, cuddling up with Yisroel Solomon, 24, and giving him a passionate kiss.
Yisroel is a New York native and a graduate of marketing who currently works as a transfers manager for a cryptocurrency firm. He attended and graduated from high school in Los Angeles in 2015.
Photos the two took at Taboo Tulum, including a selfie that the 32-year-old former Love Island star re-posted to her 3.6 million followers, sparked romance rumors between the two.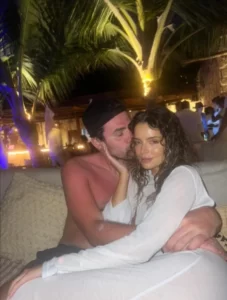 They shared a romantic dinner, during which Yisroel leaned in for a kiss on Maura's cheek as she sipped her red wine from a wineglass belonging to the Longford lady.
On Friday, Maura will be on The Late Late Show's Valentine's Day special, and viewers will be watching to see if she tells host Ryan Tubridy about her holiday romance.