Catwalk makeup has never been so experimental and makeup artists can now use stick-ons, appliqués, sprays and much more to create flawless beauty looks all in just seconds. The latest makeup trend – graphic eyeliner – has been spotted all over the catwalks and even some brave stars have given the look a go for the red carpet (Rita Ora). Yes, this is one to reserve for a night out and it can be quite over the top, but a statement cateye flick never looks bad.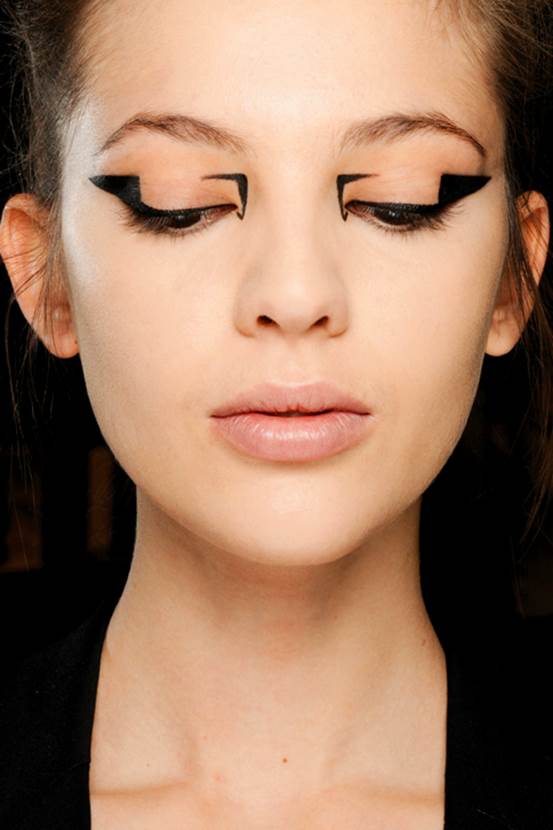 To get the look, invest in a great liquid eyeliner with a thin tip that makes precise application easier. Try your best to stencil or visualize your desired shape, starting off with a classic cateye and give the look a twist by adding extra elements. If you have a wobbly hand, you could try to use thin strips of clear tape to first map out the design around your eye. Keeping the eye closed, then all you have to do is fill in the gaps you've left to create a look that will now have flawless edges. For maximum effect, make sure the colour used is fully saturated – apply some extra eyeshadow in the same shade if your eyeliner isn't powerful enough to get that deep, graphic look.
Get inspired by hitting up Youtube's vast tutorials on the subject or check out some of our images to try the look out yourself. Don't be afraid to experiment and try out unique shapes, colours and finishes to make this look your own.