Throughout her career, pop icon Madonna has undergone numerous transformations, each one accompanied with a new hairdo. She's always had attention drawn to her hair, whether it was her Marilyn Monroe–inspired curls or her '80s wild child style.
Read on to find out more about each Madonna hairstyle, or browse the gallery above to see some of our favorites. I wonder how many you can recall from across the years.
List 9 of Madonna's favorite hairstyles
Long wavy light honey blonde hairstyle with light blonde highlights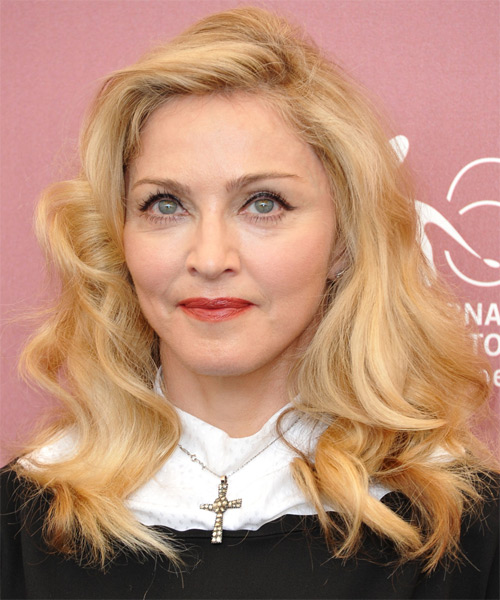 These golden tresses have been fashioned into big, beachy waves, making for a timeless style that works especially well with long faces. This look can be replicated with little effort and little hold and shine product.
Medium straight black bob haircut with blunt cut bangs
This hairstyle is medium length and has a blunt end that rests comfortably on the shoulders. The hefty bangs are a great finishing touch to this look, framing the top of the face with a short, blunt cut. Straight hair works best with this style, and regular cuts are required to keep it looking great.
Medium curly golden blonde hairstyle with light blonde highlights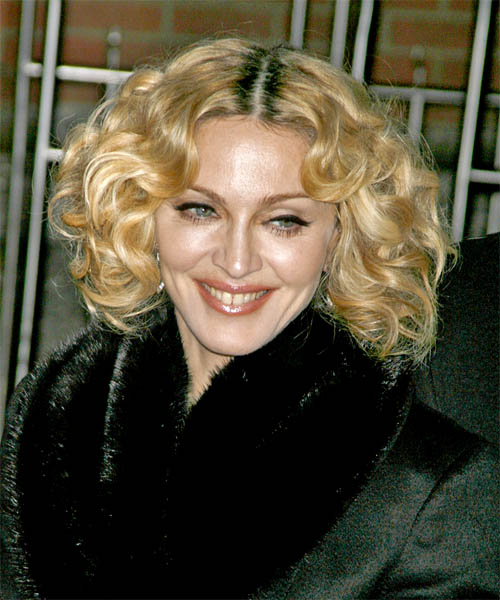 The full-bodied haircut Madonna sported at the New York special screening of "Revolver" caused flashes to go off. Her hair was cut to a uniform length, and lengthy layers were added to the back and sides to give it volume. Front and side layers were trimmed from the center of her face and blended down to frame her face beautifully.
Medium straight light blonde hairstyle with dark blonde highlights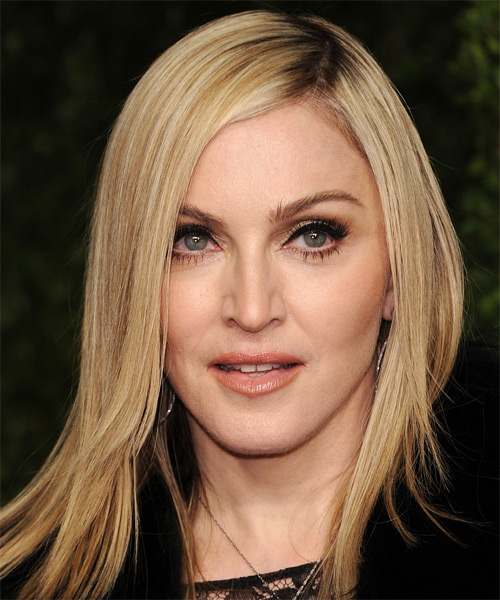 Straight and flat blowouts highlight the choppy, layered cut of this chic 'do. This sleek style is ideal for folks with a long face who want to play up their facial length with a deep side part. Maintaining a healthy look and feel to your hair is as simple as getting regular cuts.
Long curly golden blonde hairstyle with light blonde highlights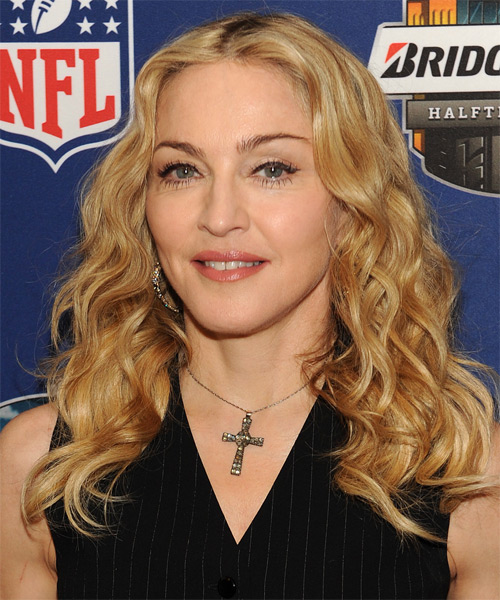 This golden mane has long, layered cuts that frame the back and sides, where it sways and moves with the tide. This carefree style is ideal for people whose hair already has a slight wave to it and can be kept looking fresh with a cut every four to six weeks. Only a small amount of hold and shine product is required.
Short wavy layered golden blonde bob haircut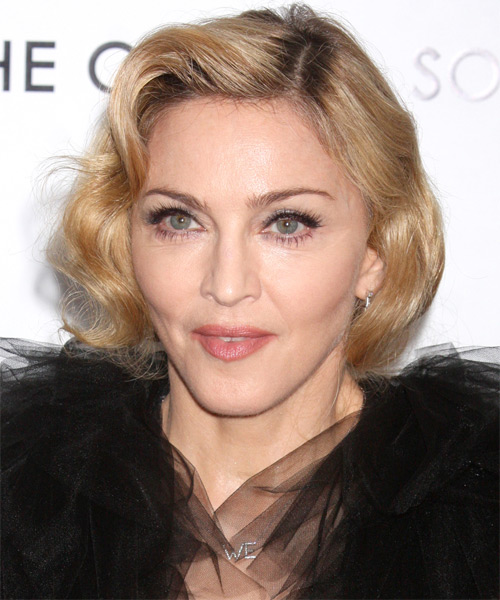 The short, elegant cut is styled in delicate waves, giving it a timeless look and feel that's perfect for a formal event. You can achieve a similar look by using a blow dryer or hot rollers and some sort of hold and shine product. This cut works best on oval, rectangular, or long faces.
Long wavy light golden blonde hairstyle with light blonde highlights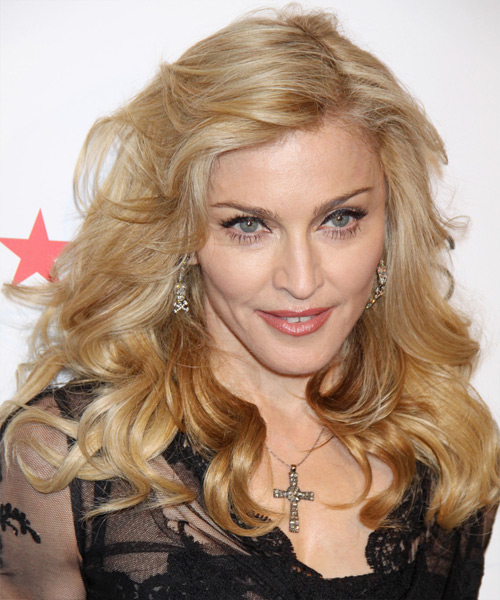 The basic concept behind this style is fullness and flamboyance. The volume and shape are enhanced by the waves, which are free to move thanks to the medium to long layers cut along the back and sides. It's a terrific style for framing a long face, but you'll need some sort of styling aid to keep your hair in place and make it shine.
Long straight updo hairstyle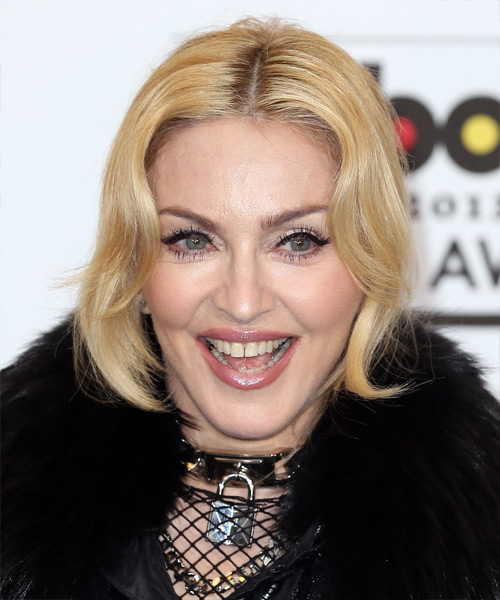 This timeless look is suitable for any occasion, with light blonde locks pulled back, twisted into a french roll, and pinned to the head. The top and front are left out to soften the face and finish off this classic style beautifully.
Long curly golden blonde hairstyle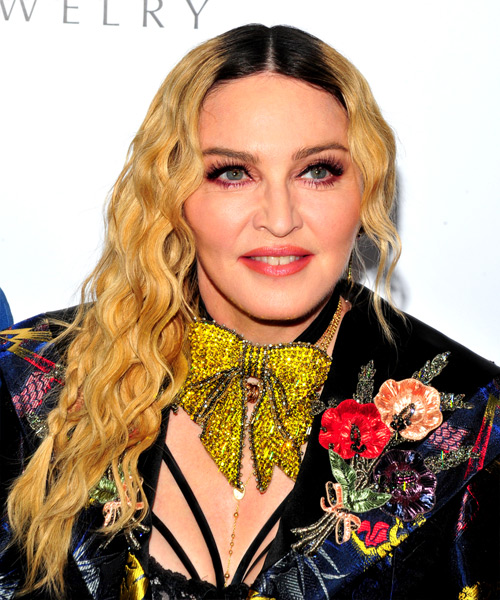 Madonna's powerful bone structure and dramatic, expressive facial features are accentuated by her soft, wavy hair. This long hairstyle has modest movement and structure thanks to the addition of soft curls and braids to the sides and back.
A few simple styling products are all you need to recreate this laid-back 'do. In addition to avoiding split ends, regular trims help hair look and feel its best.
READ ALSO: