Lottie Moss wore a baby blue two piece as she exited the PrettyLittleThing boutique in London on Thursday, revealing a peek of her toned midsection.
Lottie Moss, who recently ditched fillers and announced plans to remove her facial tattoo, flaunts her toned midsection in a baby blue two-piece
Lottie walked around Oxford Circus in a fuzzy blue patterned two-piece consisting of a crop top and tiny shorts, which showed off her great legs.
She wore her hair in a half-up, half-down manner, with two strands pulled forward to frame her face.
Meanwhile, she applied foundation over her "Lover" tattoo below her eye, swept on some lip gloss, and brushed on some rose blush.
The star continued to wear tones of blue for her accessories, including a chic navy manicure, a baby blue backpack, and, later, a pair of colorful sunglasses.
Lottie said on Tuesday that she had her fillers dissolved, which caused her a great deal of discomfort.
She posted on Instagram that she had paid another £450 to the doctor for the surgery, on top of the £450 she had already spent on filler.
The OnlyFans model said she didn't anticipate her face getting more puffy when the filler faded and she went back to her normal appearance.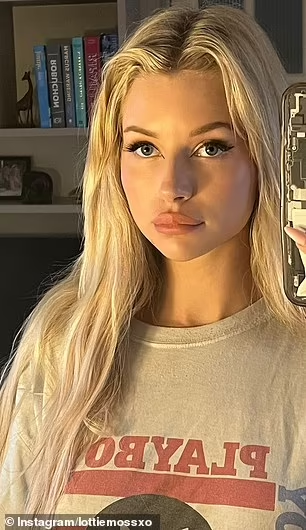 "I can't laugh because it hurts like a f*****g b***h' Lottie continued. I don't know why. I said to [the surgeon] "would it hurt throughout the day?" and he replied it wouldn't.
"I can't laugh because it hurts so badly. Now I look even more demented than when I went into the doctor's office."
The actress, who underwent the lip filler in 2019, wore sunglasses for the clip while bemoaning the high cost of the procedure and its subsequent dissolution.
She told Sebastian Shakespeare at the time that she got a boob job, "I told my family about my boobs, but I didn't about my lips."
"With boobs, my mum [Inger] always knew that I felt uncomfortable and so it was very easy to say that I was going to get them done."
She agreed, saying, "For sure, I wish I'd got mine done."
Lottie also said, "My lips were actually something that I slightly regret."
"I did it because I was following the crowd. I didn't need it."
Lottie, who four months ago got the word "Lover" tattooed below her eye while drunk, has now sworn to have the tattoo removed.
The OnlyFans star, who previously said she hoped "the world would learn to love" the tattoo, has revealed to close pals that she plans to get the ink removed using laser surgery in the hopes that this will usher in a new chapter in her life.
In December, Lottie, a model, admitted that she got intoxicated and woke up with the Lover tattoo, advising her followers, "Don't drink alcohol kids!"
She then justified the tattoo, saying it was a means for her to express herself after years of "being so controlled," and that it symbolized her newfound freedom.
Now that Lottie is clean, sober, and focused on the future, she wants to cover up the "Lover" tattoo she had right below her eye because, in retrospect, it represents a horrible moment in her life.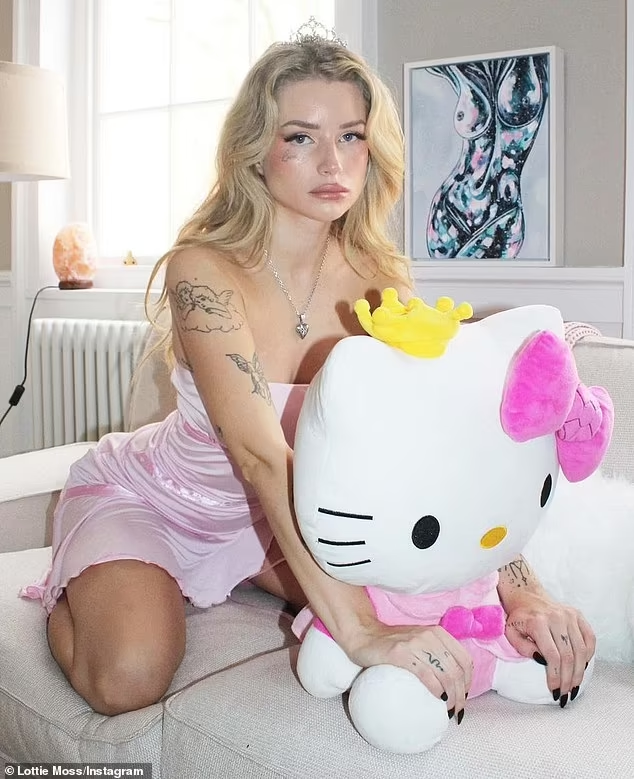 Lottie, a source said, "Lottie is planning to have laser tattoo removal."
"She fully embraced her Lover inking but now she just wants it gone and has been covering it up with makeup for events and photoshoots."
"For her now, it signifies a time in her life when she wasn't as strong, but she's begun a new chapter since and wants the tattoo, which is a reminder of a darker time, removed for good."
The tattoo was done when Lottie was on vacation in Bali; she is the half-sister of supermodel Kate Moss.
She stated the word "Lover" represented the time she had spent getting to know herself again and learning to love who she is, even though the decision had been made on the spur of the moment.