Having the right footwear is a key component of any outfit. Click here for a list of some stylish and popular sandals to buy in 2019.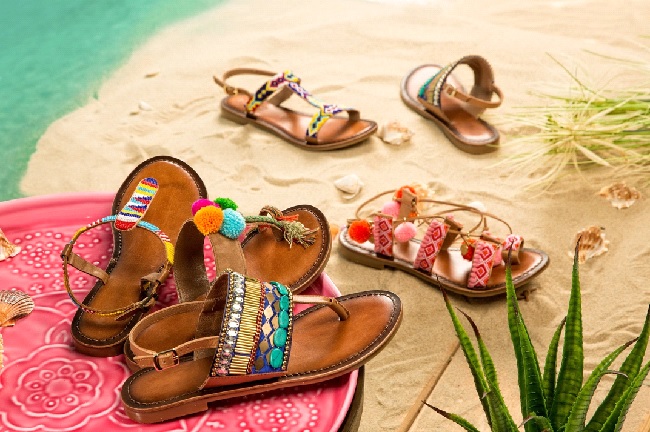 Did you know that the US imports over seven pairs of footwear for every person living within it?
It's such a big market you'll never run out of options. If you want something breathable to wear, you'll need to get the most popular sandals around. 
Don't worry if you don't know what to look for. In this post, you'll learn some of the trendiest flip flops that will keep you in style. Read on and find out more:
Big-Toe Sandals
Fashion has a big obsession with toes. You can trace this back to Maison Margiela when they launched their calfskin boot back in the 80s. For this year, the big toe design made a strong comeback with a lot of designers making toe-strap shoes.
These popular sandals looked chicer with a sleeker design. It's possible since it placed a lot of emphasis on your toe. If you don't have a pair, you can start shopping for some and pair them up with your jeans and sweaters.
Barely-There Sandals
In this season, you'll need a pair of thin, strappy heels or flats. With minimalist styles popping up in various fashion runways, barely-there sandals are now everywhere. You'll find a lot of major brands making elegant sandals that you can both use for work and special events like weddings.
If you plan to get these sandals, make sure to buy and try out various styles. With this, you'll find the pair you're most comfortable with. It might place some strain to your wallet, but the investment is worth it.
Feathered Sandals
Spring runways got dominated by heels and flats with feathered designs. A lot of onlookers noted that the feathered sandals became the highlight of the outfits as models made their rounds down the catwalk. The best part is that the plumage isn't located on a single spot alone.
What this means is that your feathered sandals can have feathers on the heel or line it on the straps. Regardless of its location, all these designs look stunning.
Teva-Inspired Sandals
People who laughed at your Tevas will now become silent as you deliver the last laugh. Its style became the summer footwear's solution to the stereotypical ugly dad sneakers. It's great since it has crisscrossing Velcro straps that can secure your feet without compromising comfort.
Some designers made utilitarian sandals with platforms while others used iridescent straps. Famous ones even incorporated real Tevas into their fashion presentations. With that, it's high time to get a pair and start becoming more fashionable.
Embroidered Sandals
When you think of intricate embroidery, the images of jewelry boxes and heavy gowns appear. But with the recent fashion shows, you can now use these designs for your sandals. It's the type of design that combines aesthetics and fashion to make unique footwear.
This trend starts with sandals, but it's expected to appear on other footwear such as boots and mules.
Sculptural Heels
This year is the time for fashion to embrace the unique sculptural heel sandals. They're available in different geometric shapes most people remember back in elementary school. The heels are a work of innovation since it showcases architectural feats.
With these sandals, you can give off a sense of wonder into your outfits, regardless of whether it's for work or partying. To make the most out of your pair, keep your look simple and let these capture everyone's attention.
Buckled Sandals
With buckles, your traditional sandals will have more edge, even the more feminine ones. Famous designers used sandals with three buckles and sent them down the runway. One even pushed the boundary and went with four rugged straps instead.
It's understandable if you aren't ready to get your foot caged in with these sandals. To make it easier for you, you can choose the single-buckle options instead. Otherwise, take note that you should give yourself a few minutes in the morning to put multiple-buckled sandals on.
Nautical-themed Sandals
Another rising trend is seaside-themed sandals. First seen in a spring 2019 collection, this design started spreading like wildfire after that. Lots of designers started releasing woven sandals with nautical details, paired with skirts and other flowing dresses.
Wearing these sandals makes you want to take a vacation to the Caribbean. The best part is that you won't need to wait until next year's season to get rope sandals. Lots of online outlets sell these pairs, so make sure to pick them up before your next tropical getaway.
Do you want footwear made from high-quality materials with excellent arch support? If so, click the link and learn more about Flojos. They're perfect for beach use and night outs.
Animal-Print Sandals
No matter what season, you'll always see animal-printed items on the runway. The best part is that they're often reworked using different types of footwear. Right now, it's great to go back to the classic prints like leopard while pairing them with a pointy-toe design. 
Wearing these animal-print sandals has this unique effect for onlookers. If you don't have anything with leopard prints, you can start by getting a pair of these sandals. You can't go wrong with these since it goes well with almost any outfit.
Get the Most Popular Sandals Today!
If you're not sure what to pick for your footwear, this list is a great place to start. These popular sandals trends will ensure that you stay fashionable and comfortable at the same time. Don't hesitate and start investing in these since they're not expected to go away any time soon.
In the end, always make sure that your choice is something that aligns with your fashion statement. But why stop here? 
It's always better to look for something else. With that, we encourage you to read more of our posts and find discover more interesting guides today.