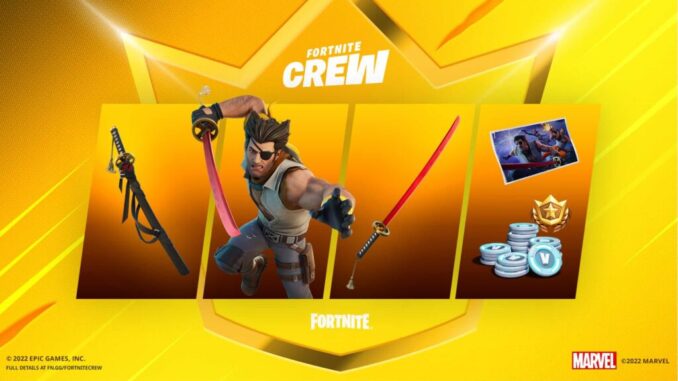 Since then, Epic Games released the concept of the Crew pack, which has many perks ranging from getting a new skin to getting 1,000 V-Bucks every month. All of this would cost $11.99 USD per month. There are now 21 Crew Packs released since December 2020 .
Fortnite August Crew Pack – New Wolverine Skin
Epic Games have officially put out a tweet stating that a new Wolverine Skin called "Wolverine Zero" will be gracing us on 1st August 2022.
They call him Patch 👑

Wolverine Zero drops into the Fortnite Crew on August 1, 2022. https://t.co/rYjF0KOigu pic.twitter.com/sbr9d6EY8u

— Fortnite (@FortniteGame) July 28, 2022
Fortnite Crew Pack list :
21. Wolverine Zero – August 2022
20. Phaedra – July 2022
19. Mecha Strike Commander – June 2022
18. Southpaw – May 2022
17. Sayara – April 2022
16. Tracy Trouble – March 2022
15. Aftermath – February 2022
14. Snow Stealth Slone – January 2022
13. Cube Assassin – December 2021
12. Sierra – November 2021
11. Chaos Origin – October 2021
10. The Burning Wolf – September 2021
9. Summer Skye – August 2021
8. Loki – July 2021
7. Cuddle Team Master – June 2021
6. Deimos – May 2021
5. Alli – April 2021
4. Llambro – March 2021
3. Vi – February 2021
2. Green Arrow – Jan 2021
1. Galaxia – December 2020
Fornite Wiki
Fortnite
Genre(s)
Survival, battle royale, sandbox
Developer(s)
Epic Games
Publisher(s)
Platform(s)
Windows, macOS, Nintendo Switch, PlayStation 4, PlayStation 5, Xbox One, Xbox Series X/S, iOS, Android
First release
Fortnite: Save the World
July 25, 2017 (early access)