Liberty Poole, a Dancing on Ice contestant, set pulses racing with a jaw-dropping performance while wearing a plunging white suit as she told fans she "ain't playing this year."
Love Island's Liberty Poole flaunts her braless figure in a daringly plunging white suit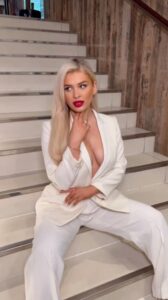 You can read also: First Love Island beauty revealed to be a student and model before she departs for South Africa
Liberty Poole of Love Island looked stunning in a plunging white suit as she took to Instagram.
The blonde bombshell who appeared on the dating show in 2021 turned up the heat in her tailored ensemble, putting on a stunning display.
Liberty, 23, was seen walking elegantly down stairs while ditching her bra for the alluring shoot in a short video clip she posted on Instagram.
As she sat on the steps, the reality TV star gave a number of sultry looks down the camera lens, displaying her curves to her online fans.
Liberty caused fans to sweat as she flaunted her business look while wearing a striking bold red lipstick that elevated her look.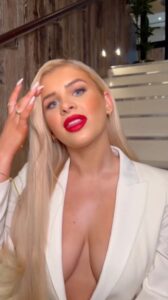 She 
captioned 
the 
video 
with: 
"2023 
Boss 
mode 
is 
enabled.
"Independent , Strong and knows what she wants we ain't playing this year let's go."
Fans rushed to the comment section after seeing her alluring performance.
"You look sizzling Liberty," one social media user said.
Another admirer wrote, "Wowzers your so beautiful," and another added, "You are so attractive and sexy."
Meanwhile, a fourth person commented, "Think she forgot her bra haha."
Read more: Maya Jama has revealed that she is "fighting for life" ahead of her Love Island hosting debut
Last month, Dancing on Ice star Liberty made headlines when she described being followed by a stranger while shopping.
Jumping onto her Instagram stories, the TV star was visibly shaken, warning her followers to be cautious.
She described the incident as follows: "There was this guy and as soon as he saw me, you know when your gut instinct is telling you something is up, and he basically looked me up and down and then all of a sudden was on his phone."
"Then he was following me and looking at me in the aisles and I said to the guy inside, 'look I feel off about this guy in there just to let you know."
"When I was doing my shopping he went outside and waited in his car and then I said to the security guard, 'please can you walk me to my car.'"
She continued: "By the time he saw me ask the security guard, basically he left so I thought it was safe, so I walked up to my car and he followed me to my car.
"The star went on to say that when the man approached, a terrified Liberty yelled "f**k off!" loudly.
"Just making girls aware if you have a gut instinct or you think something is off, please just be safe, " she concluded.