Posted by admin

on February 19th, 2020


PSA: It's 2020 now, which means that you can officially kick anyone out of your life who thinks that graphic tees are childish. Okay, maybe that's a little overdramatic–but it's a new year, and you don't need that kind of negativity in your life.

Besides, the naysayers are just flat-out wrong about graphic tees, as evidenced by the many stylish celebrities who wear them. How can anyone not be completely obsessed with graphic tees after seeing how stars such as Gigi Hadid, Rihanna and Diane Kruger look effortlessly cool in them? These three style icons are in their 20s, 30s and 40s, respectively, which is further proof that graphic tees can be worn flawlessly at any age.

If you're ready to wear your Rolling Stones t-shirt or Jaws-inspired hoodie like they do in Hollywood, you've come to the right place. We've rounded up a few of our favorite graphic tee-wearing celebrities who let their shirts do all the talking.
Olivia Culpo – Graphic Tee + Leather Jacket
Think you can't pull off your Star Wars graphic tee shirt as an adult? Fashion influencer Olivia Culpo begs to differ. The 27-year-old style maven hit the streets wearing a vintage Power Rangers graphic tee and looked totally amazing while doing it. Her secret? Wearing a leather jacket and a leather mini skirt with her graphic tee, which definitely added some much-needed edginess to her ensemble.
Trust us, no one is going to think your '90s-inspired graphic tee is childish when the rest of your outfit is putting out serious heavy metal vibes. To make your outfit look more feminine, take your style cue from Culpo, who subtly softened her rock-and-roll look with chic loafers and ladylike jewels.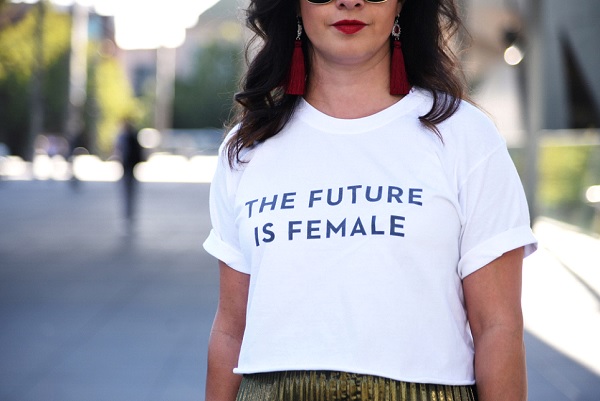 Gigi Hadid – Graphic Sweatshirt + Oversized Blazer + Bike Shorts

We can thank Gigi Hadid for making a lot of things cool again: Cozy pullover fleece, sporty sliders and knee-length shorts, just to name a few. Another item we can add to the list? Graphic tees. The supermodel is constantly photographed wearing graphic t-shirts and sweatshirts, which gives us plenty of style inspiration on how we should wear our own statement-making shirts.
In a particularly bold style move, the supermodel stepped out in NYC last summer wearing a graphic tee, an oversized blazer and bike shorts for a street style look that just seemed to work. Well, for her, that is. We're not sure how well this look translates outside the Big Apple, but hey—don't let your fashion dreams be dreams.
Rihanna + Graphic T-shirt Dress
Rihanna is another celebrity who is clearly obsessed with wearing graphic tees. It makes sense. The Barbadian singer and businesswoman is known for her bold sense of style. What better way to make a style (and sometimes, political) statement than by wearing a graphic tee?
One of her favorite ways to wear the trend is to don a graphic t-shirt dress and pair it with trendy sneakers or boots. Another style tip to steal from RiRi? Completing the look with a classic camel trench coat. Combining timeless pieces with a trendy graphic tee is practically guaranteed to land you on the best-dressed list.
Cara Delevingne – Graphic Tee + Trousers + Red Pumps
Cara Delevingne has been wearing graphic tees long before they came back in style. The British model and It girl loves her graphic tees so much that she has been known to wear them on the red carpet. One look we particularly love? In 2013, Delevingne expertly mixed casual and dressy pieces by pairing her graphic tee with slim-fit trousers and red pumps.
The result was a flawless red carpet look that stood out from everyone else. Delevingne sported a bold lip to match her shoes, which somehow worked without making her outfit seem too busy. Want to steal her look? Swap tailored trousers for black skinny jeans, cuff the sleeves of your graphic tee and you'll be ready to hit the streets in high style.
Diane Kruger – Graphic Tee + Skinny Jeans + Heels
Diane Kruger is another star who has a long history of sporting graphic tees. The German actress has worn them to Coachella (a natural place to rock a graphic tee), on her way to the gym and even while she was pregnant, proving that no wardrobe is complete without a statement-making shirt or two.
If you want to take notes from Kruger's style playbook, keep your look simple. Try pairing your graphic tee with your trendiest pair of skinny jeans and complete the look with strappy heels. That's it! You're out the door looking every bit the fashionable celebrity.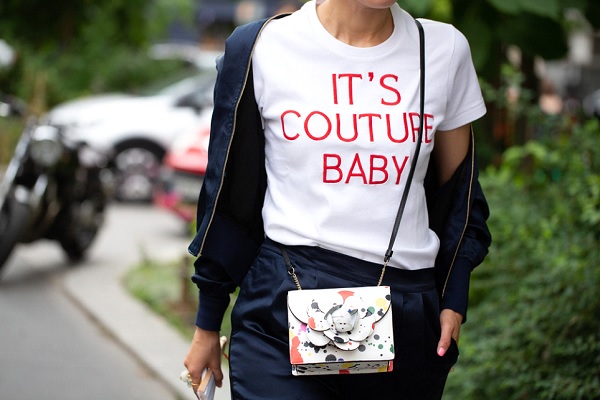 Kendall Jenner – Graphic Tee + Light-Wash Jeans + Accessories
Sure, some of Kendall Jenner's outfits are a bit "out there" for lack of a better word. But when it comes to graphic tees, we could all take a style tip or two from the reality-star-turned-model. Jenner frequently wears her graphic tees with trendy, light-wash jeans and retro kicks to maximize the laid-back vibe of her ensemble.
When the Keeping Up with the Kardashians star wants to go edgy with her look, she pairs her vintage band tees with head-to-toe black and lets her shirt act as her statement piece. Lucky for everyone, both looks are ridiculously easy to copy.
Alessandra Ambrosio – Graphic Muscle Tee + Denim Mini Skirt
International model Alessandra Ambrosio may be more well-known for her stunning red carpet looks, but it's her off-duty style that has us in awe. The Brazilian beauty has been spotted walking the streets of L.A. in a Tom Petty and the Heartbreakers muscle tee and everyone's favorite summertime staple: The denim mini skirt.
The secret to Ambrosio's effortless style? Keeping her look casual and put-together with trendy slip-on sneakers, simple jewelry and a cool pair of shades. Follow her lead by keeping the rest of your outfit simple. Then, just let your graphic tee take center stage and speak to your impeccable sense of style.
Category:
Fashion