Fans were shocked when Kylie Jenner posted a series of revealing selfies wearing nothing but a black bra.
Kylie Jenner's photos in a black bra went viral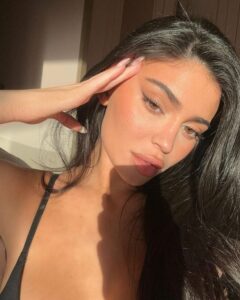 Kylie propped an arm on the sofa and leaned to one side, finger in her mouth, for the first photo. Her dark brown hair fell to her shoulders and framed her face beautifully as she played up for the camera.
She accentuated her natural beauty with a simple cat eye and nude lipstick.
The star of "Keeping Up with the Kardashians" posed for a selfie while wearing a simple black bra that highlighted her assets.
Kylie shifted her body for the second shot, bringing the camera in close as she pushed her cheeks back with her hand.
The third photo really turned up the heat, with the sun glinting off her cheekbones as she stared down the camera.
As Jenner reinserted her finger into her mouth, the camera was positioned at a low angle to highlight her curves.
Kylie's last photo only captured a glimpse of her face before she covered it with her hands to avoid being photographed while she basked in the sunlight.
She uploaded them to Instagram with a caption that read: "Don't be f***ing ruuuude."
The Jenner sister's sultry lingerie shoot received a flurry of positive feedback from admiring fans.
Kind words from a fan: "mama mia 🔥🔥🔥 truly radiating beauty"
Another added: "The queen has spoken 👑😍"
Lastly, a third person merely stated: "I'm so happy you posted this showing the hair on your face 🙌 much love and appreciation for this one"
She just posted a bunch of photos of herself in a skimpy bikini at the pool, and she is absolutely killing it.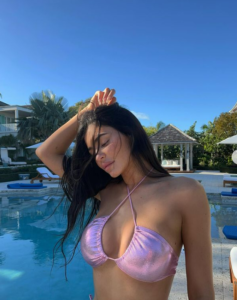 There have been over 10 million likes on Jenner's Instagram photo, in which she appears to be wearing no makeup to draw attention to her flawless complexion.