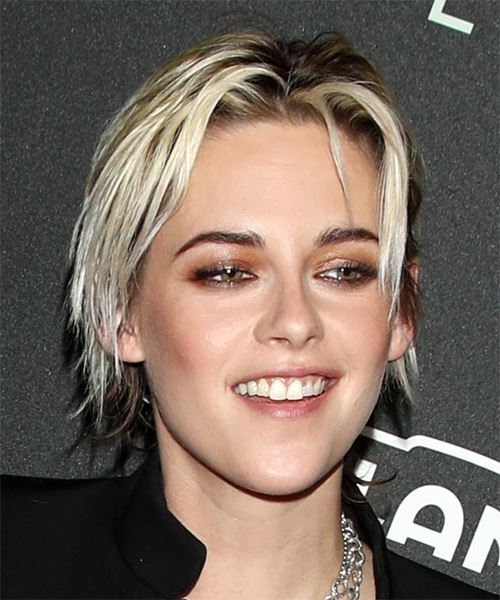 Since her breakout role as Bella in the Twilight series, Kristen Stewart has been a fan favorite, and not only for her acting chops or her ability to switch up her hairstyles on the regular. We've seen Stewart experiment with hair length, color, and style for over a decade now, and she always manages to pull it off with a cool, confident air. Read on to see 12 of Stewart's best hairdos from across the years.
List 12 of Kristen Stewart's favorite hairstyles
Long straight auburn brunette hairstyle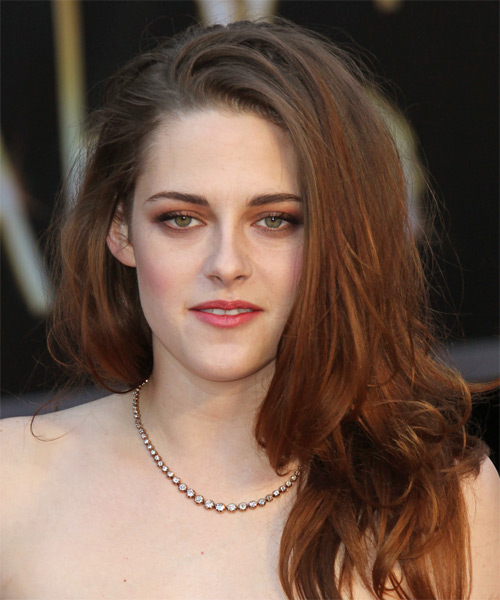 This laid-back do is perfect for softening the look of a long face because to the jagged layers cut into the sides and back. Regular trims every 4 to 6 weeks and a touch of styling product are all that's required to maintain this low-maintenance look.
Black and blonde two-tone pixie haircut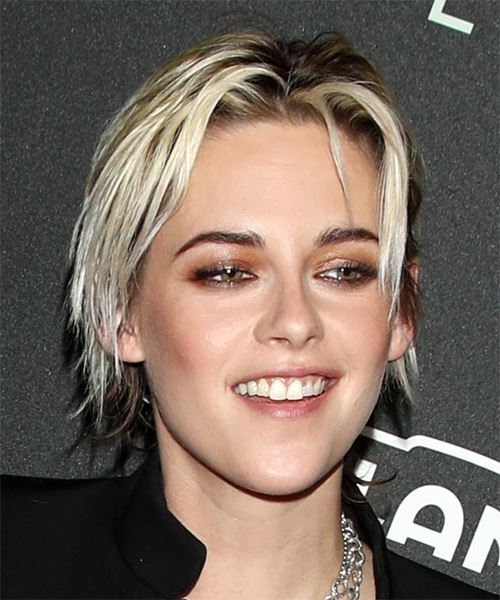 If you have short hair or a pixie cut, take a cue from Kristen Stewart and try out this chic style.
This cut is great since it requires minimal effort in the morning. Simply straighten your hair and let it fall as it may throughout the day. This cut, rather than any at-home styling, is responsible for the style's structure. So, if you're looking for a low-maintenance cut, this is it!
To keep your pixie cut in good condition and your hair looking its best, you should get a haircut every four weeks.
Short straight dark brunette hairstyle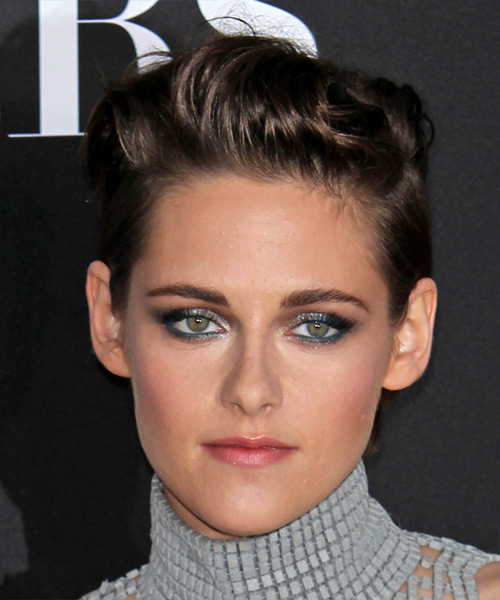 This style is all about keeping things short and easy. While the back and sides are short and sleeked, the top is kept long so that it can be styled up to add height and definition. This makes it a great hairdo for any event when you want to draw attention away from your round face. To maintain this style, you'll need to use product and have frequent trims.
Short savy light platinum blonde updo hairstyle with side swept bangs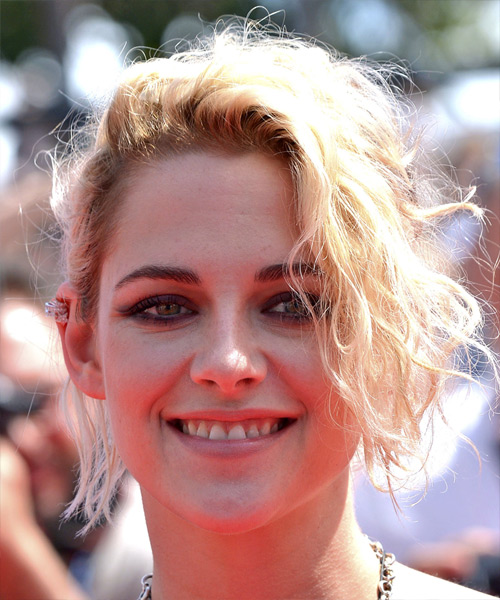 Kristen Stewart's short curly hair is full of body and volume.
This asymmetrical cut is ideal for framing a long face since the rear is tapered into the head while the sides are cut unevenly. This full-bodied hairstyle is simple to maintain with frequent cuts every 4-6 weeks and the application of a styling cream to control flyaways.
Long straight blonde hairstyle with side swept bangs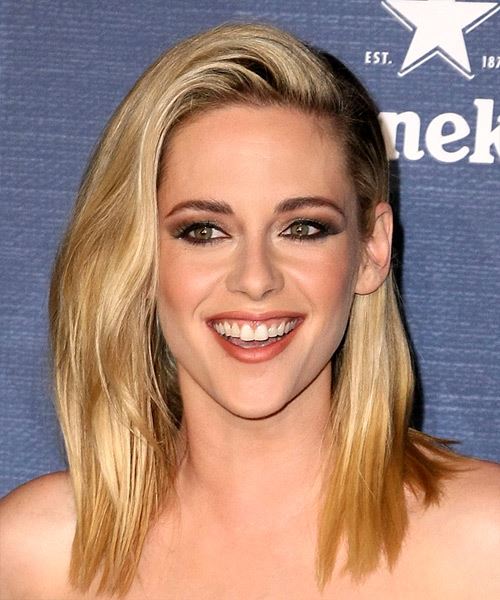 Kristen Stewart has been known for wearing her hair in a uniform style; if it serves her well, why change it?
Her hair is always sleek and straight. Before you straighten your hair, you must protect it from the heat by applying a heat-resistant serum. You can use the serum with your hair iron without worrying about damage from the heat. Apply hairspray once you're done styling your hair so it stays in place. In addition, it will prevent your hairdo from resulting in annoying flyaways.
A side part will draw attention to your strong facial bones. A blunt cut is great for getting rid of split ends and maintaining healthy hair. It's a wonderful touch that her hair is tucked behind one ear. You can draw attention to your lovely cheekbones by tucking your hair behind your ears.
This quick-and-easy hairdo is appropriate for just about any scenario.
Light platinum blonde pixie haircut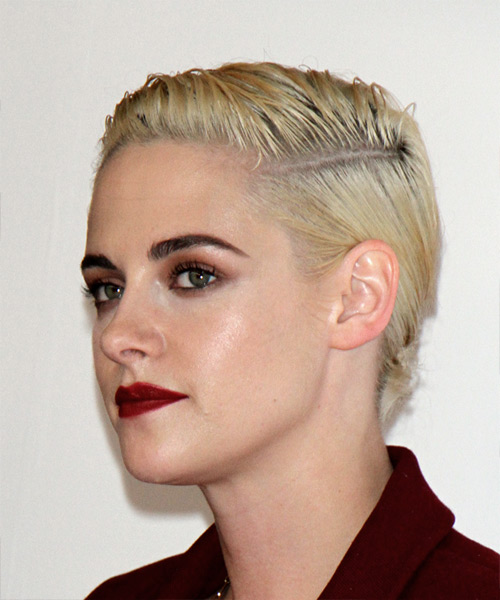 Kristen Stewart's short and stylish haircut makes her look really elegant.
This style emphasizes a short, bold cut. This bleached cut is sleek because the back and sides are tapered into the skull. The bangs are worn away from the face and the top is left somewhat longer and smoothed down to contour to the head.
Short wavy light blonde hairstyle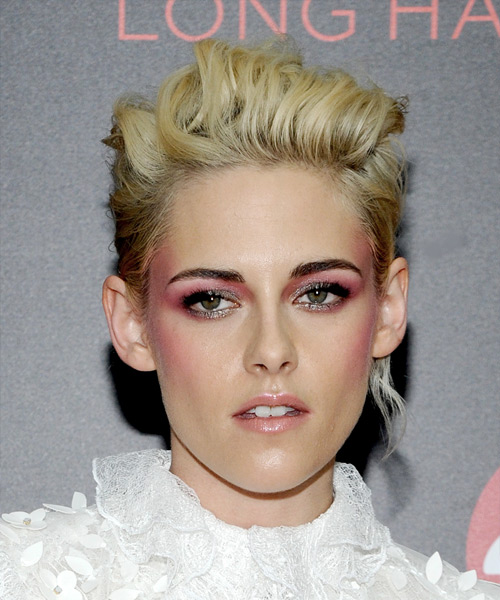 Here, Kristen Stewart sports an updo fit for a black tie event. These platinum tresses have been slicked back and smoothed high on top for volume. This chic updo is most flattering on round or oval faces.
Short straight dark brunette and light blonde two-tone hairstyle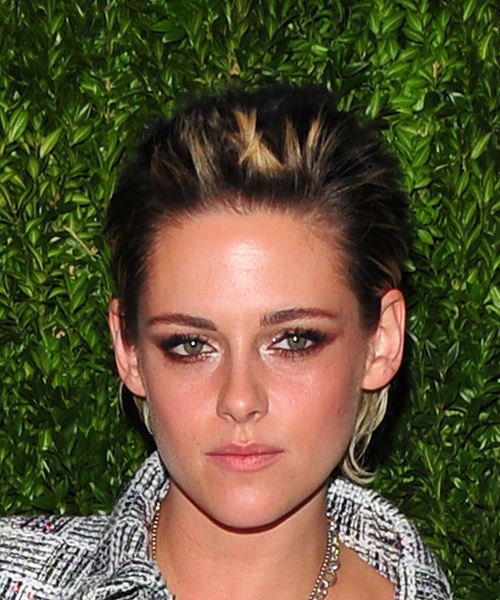 Kristen Stewart flaunts a chic new hairstyle, and it looks great on her. This stylish hairstyle has a short, close-to-the-head rear and a long, sleek front. To keep this gorgeous style in place all day and night, a strong hold product is required. To get the desired volume and height, backcomb the roots near the crown. Every four to six weeks, you should have a trim to keep your hair in check.
Short wavy brunette mohawk hairstyle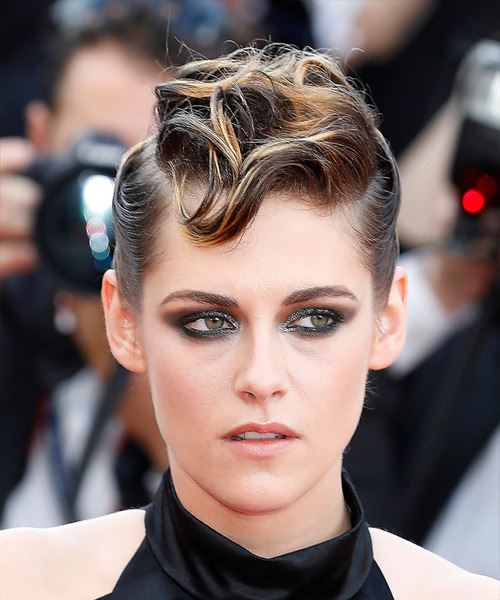 Kristen Stewart's attention-grabbing hairstyle has the sides slicked back and near to the head, but the top is left long enough to curl and style back. Women with an oblong or diamond facial shape who wish to draw attention to their cheekbones can consider this cut. To keep this style in place all day or night, a strong hold product is required, and regular trims are recommended to keep the ends healthy.
Medium wavy layered dark blonde bob haircut with blonde highlights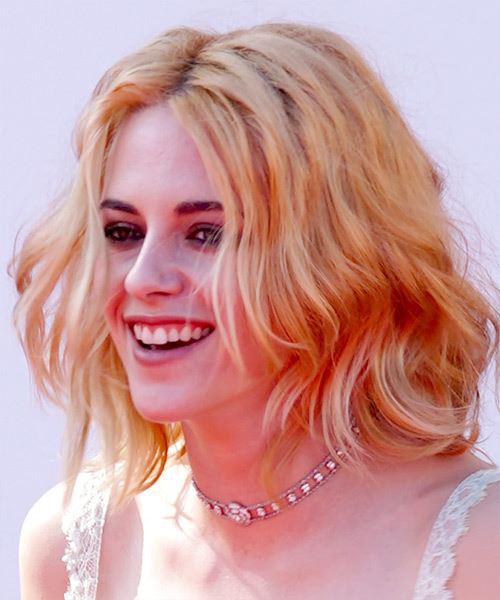 This is the new look she debuted at the 78th Venice Film Festival to play her legendary role.
The bob is an excellent length since it falls somewhere in between being too long and too short. Her bob, which she has parted down the middle, frames her face and neck in an attractive manner from all angles. The light curls around her face are a great way to round out her beautiful features. If you want your bob to look great, you should get a trim every four weeks.
Long wavy light brunette hairstyle with side swept bangs and light blonde highlights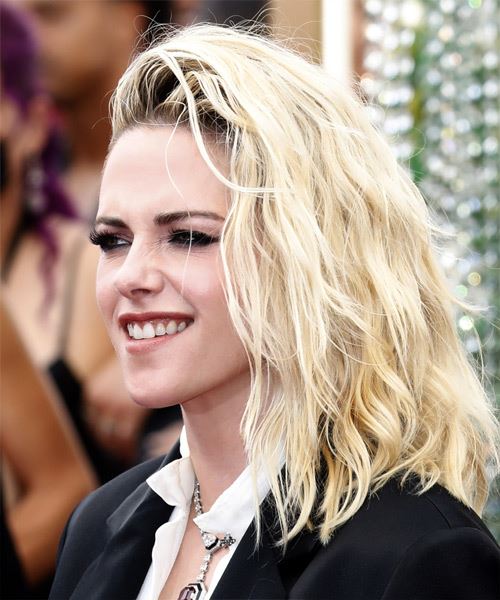 Kristen's hair is long and wavy, making for a stylish and seductive bob cut. One part of her hair is pushed back, and this makes the other side frame her beautiful neck and face. The waves give the whole thing a sense of volume and bounce.
READ NEXT: