Kim Kardashian reveals intriguing Instagram incident on Sunday (October 29, 2022): "That time I showed up to a birthday dinner in full costume when it wasn't a costume party!"
Kim Kardashian dressed up as Mystique at Tracee Ellis Ross' party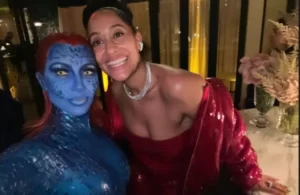 Kim Kardashian only found out Tracee Ellis Ross's 50th birthday party wasn't a Halloween party when she arrived as an X-Men member.
The SKIMS founder dressed up as Mystique from the superhero franchise, along with Olivia Pierson, 33, and Natalie Halcro, 34, who dressed up as Magik and Selene, respectively, not realising the 'Blackish' star hadn't mandated a fancy dress code.
The 42-year-old reality television star wrote on Instagram in a selfie with her blue body paint and red hair and the birthday girl in a glamorous red outfit: "That time I showed up to a birthday dinner in full costume when it wasn't a costume party!"
Kim had previously delighted fans by debuting her costume, which featured her donning a skintight blue bodysuit with a scaly finish to portray the shapeshifting assassin.
With blue face paint, bright yellow contact lenses, and a red wig, the former 'Keeping Up With the Kardashians' star completed her transformation into Mystique, who has been played on screen by Jennifer Lawrence and Rebecca Romijn.
"It looks really cool like this," she said in an Instagram video.
Kim later tweeted a video in which she thanked Marvel and urged fans to urge the entertainment company to "make it happen."
Kim's efforts were lauded by another fan: "Can't imagine how hard you had to get into this costume. Reminds me when you starved yourself for Marilyn Monroe dress. Always going all out."
Kim also showed off her nine-year-old daughter North's costume, a detailed alien outfit she designed herself.
'The Kardashians' star also shared a photo of herself and hip-hop mogul Diddy, 52, dressed as the Joker for Halloween.
"Never broke character," she wrote.
Kim also wished Tracee, the daughter of Motown legend Diana Ross, many happy returns, calling her a "beautiful soul."
"Happy Birthday to the most beautiful soul @traceeelliseross," she added.