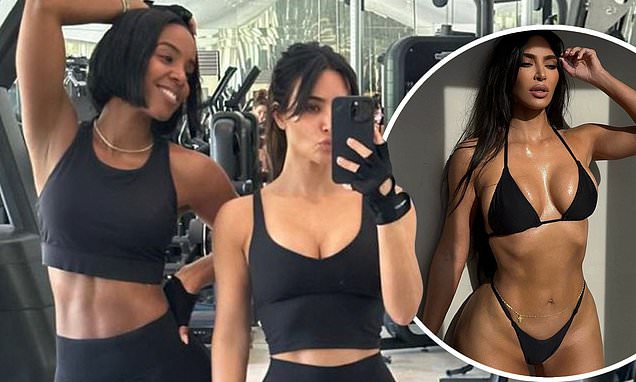 Kim K now has a celebrity workout partner…
Kim Kardashian works out with Kelly Rowland, a former member of Beyoncé's band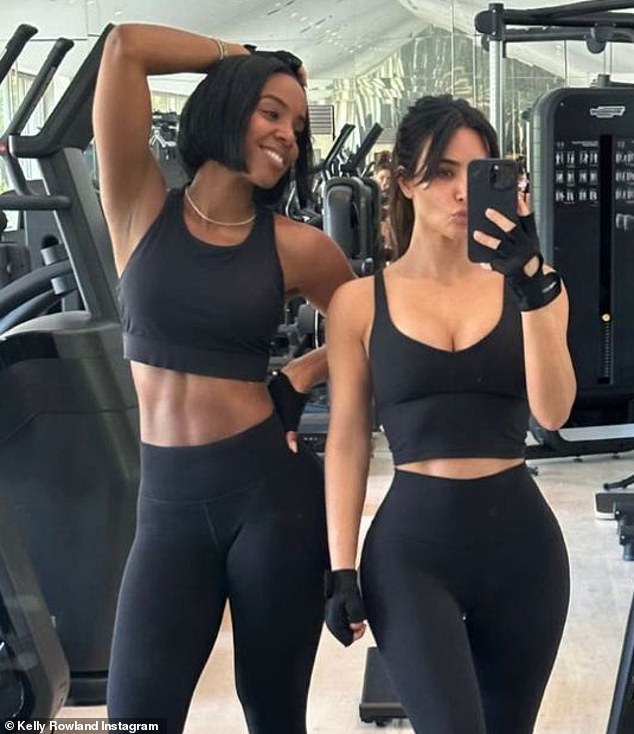 On Thursday, the 42-year-old reality TV star said that she was working out with singer Kelly Rowland, who was in the all-girl band Destiny's Child with Beyonce.
Kim's new trusted trainer, Senada Greca, led the ladies in their workout.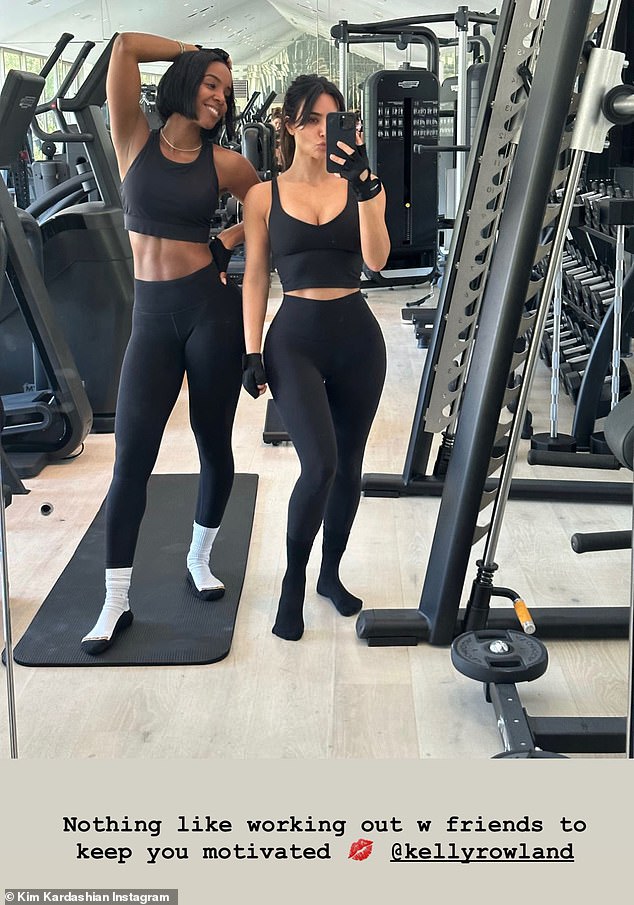 Both Kim and Kelly made the most of their trim figures in black workout clothes.
Both Kim and the singer worked out for two hours, as is customary for her, lifting weights and stretching.
The author of Selfish affixed the words "Nothing like working out with friends to keep you motivated" to her picture.
In yet another photo, Kim can be seen laboring alone.
'Flip flop workout, don't judge, we're getting strong at Senada Greca,' wrote the ponytail wearing Kim over an image of her at a machine.
The black slides she was wearing over black socks were the subject of the flip flop remark.
I find the connection to Kelly to be intriguing.
Kelly and Beyoncé were once a part of the singing duo Destiny's Child.
Kanye West, Kim's ex-husband, reportedly had a fight with Jay-Z, Beyonce's husband, leading to what appears to be a chilly relationship between Kim and Beyonce.
Something obviously went wrong between Kanye and Jay, because they don't seem to be close friends any longer.
There have been multiple photos taken of Kim and Beyonce together, but it never looked like they were close friends.
In a gym earlier this week, Kardashian was seen working out for two hours.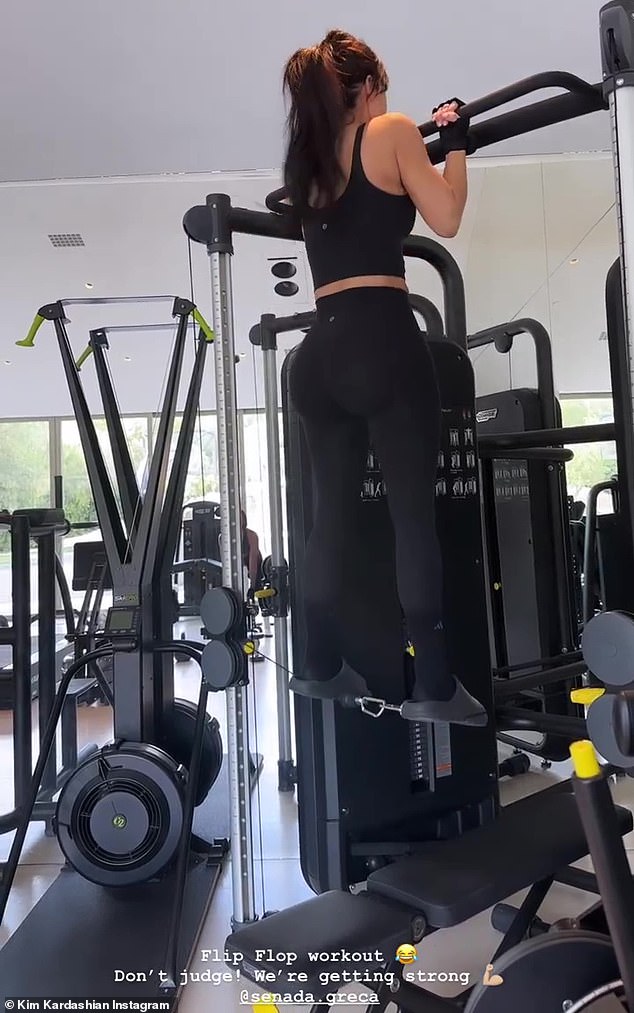 The jet setter was lifting heavy weights in the gym after returning from a stint as a fashion model in Europe.
Star leaned back as she lifted a barbell with the words "80 Iron Grip" engraved on one side.
The reality star was modeling the same tank top with leggings to show off the incredible results of her workout routine.
The Skims creator further disclosed that she had spent two hours in a workout session with Senada, the 40-year-old creator of the CrushIt app.
The ex-girlfriend of Saturday Night Live alum Pete Davidson said she had 'jet lag' after returning from Europe, where she had attended the Dolce & Gabbana fashion show and filmed episodes of The Kardashians.
'Nothing like a 2 hr workout w Senada Greca to get my jet lag back on track,' she wrote over one of the photos.
'Finishing off strong is the best feeling ever to check a good workout off of the daily schedule,'
This time last week, she was working out with Senada while wearing a bra top.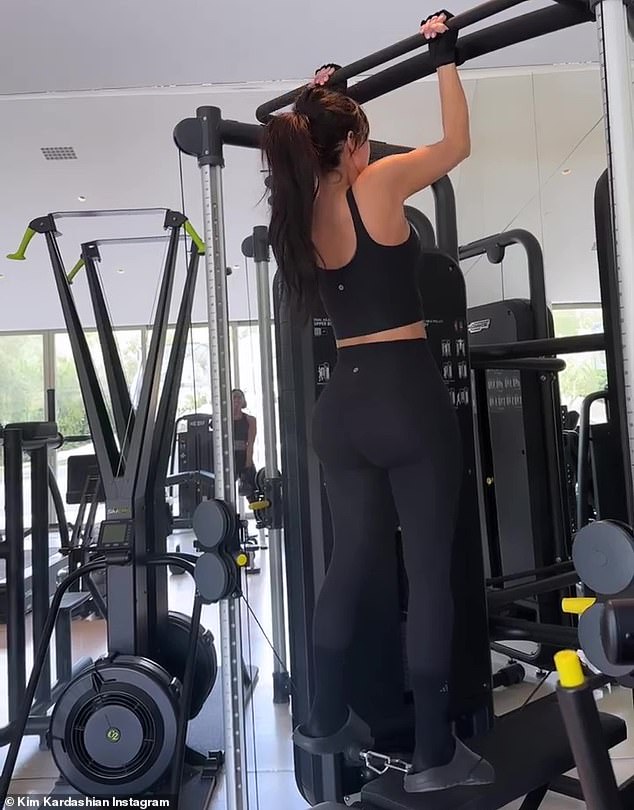 'I mean look at these gainz we've been making,' she wrote something on the Instagram story.
This month, Senada posted a picture of the two of them together and praised The Kardashians star for her hard work.
'The hardest working woman in the room!' she said.
'Yes you heard that right! It's my honour to be training with Kim and to see the person that she truly is: hard working, dedicated, consistent and caring,' she said.
'She puts in the work for 2 hours and never complains even when I push her past what she would think are her limits.
'I know the strength that lays within her, and now, together, we're working on Kim stepping into her strength.
'So excited about this journey.'
Kim wrote in response to the praise, 'I'm so excited for our journey. Stepping into strength with you.'