Khloe Kardashian posted a mysterious message on Valentine's Day, alluding to her acrimonious breakup with Tristan Thompson and proclaiming, "the pure hearted win in the end."
Ex-boyfriend Tristan Thompson "liked" Khloe Kardashian's stunning bikini shot on Valentine's Day, prompting the reality star to write, "the pure hearted win in the end"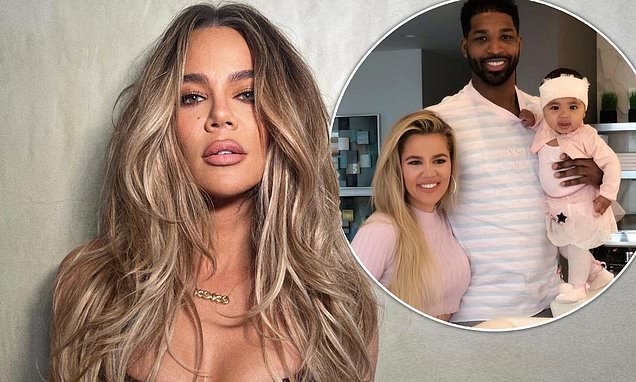 Following in the footsteps of her sisters Kim Kardashian and Kylie Jenner, the 38-year-old reality TV star celebrated Valentine's Day as a single woman and documented the outpouring of love and support she received on Instagram.
But Khloe also posted a mystery phrase in which she appears to refer to herself as having a "pure heart," which stands out among the images of stuffed animals, shopping bags, and heart-shaped balloons.
She tweeted the quote to her 294 million followers, with the caption, "Not to spoil the ending for you, but the pure hearted win in the end, remember that."
After Tristan Thompson, with whom she shares a 4-year-old daughter named True, "liked" a sensual swimsuit photo of hers, she seems to be giving him the finger.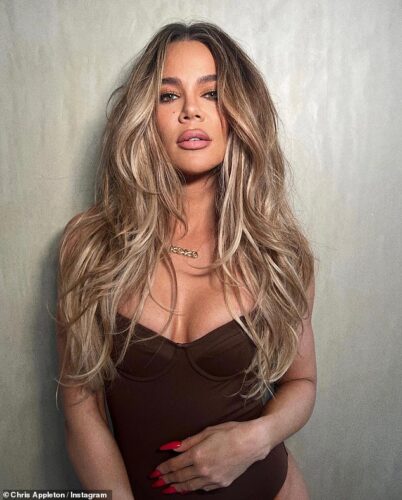 Another post from Valentine's Day was a note of appreciation to her mother Kris Jenner for the lovely assortment of Valentine's Day presents she had delivered.
Kris, as an expression of her affection for her third-oldest child, filled the kitchen countertop with two large teddy bears, packets of sweets, red roses, and several heart-shaped balloons.
Khloe expressed her gratitude to her mother by posting,  "No one greater than my mommy. Lovey you are the most thoughtful in all the land."
In a series of sizzling Instagram posts, Khloe can be seen posing in a metallic silver bikini with a plunging triangle top and high-waisted string bottoms, leaving nothing to the imagination.
On Monday, she caused a stir on the internet by posting a sizzling photo of her toned body to Instagram.
She cupped her hands over her head to hide her highlighted hair, slid on some shades to hide her eyes, and turned her head to the side to reveal her chiseled profile.
Khloe also seemed to respond to fan speculation by posting two oblique comments to her Stories immediately after sharing the photos.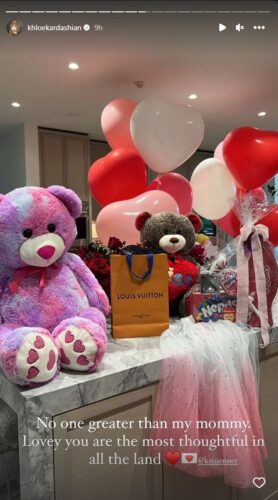 You can't mend every falsehood and rumor, nor can you defend yourself every time something is said about you.. just be excellent, reads the first quote.
And then she passed on another that said, "What other people think of you is none of your business."
Khloé Kardashian, who recently broke up with Tristan, used Twitter to set the record straight about her dating life on Monday.
After being asked by a fan, "Who's your man currently?" the reality TV star opted to dish the dirt.
"Who has time for a man lol I have a 6 month old baby and True and I are sickly codependent on one another. Ha! I secretly love it. No but for real…. No man right now…. He's in my prayers too ha"
They continue to co-parent amicably, and Khloe was by Tristan's side when he lost his mother, Andrea, to a sudden heart attack in Toronto at the beginning of this month.
Khloe has resorted to Instagram to preach the gospel of letting go of toxic people and doing what you know is right for you.
She wrote, "Just a reminder that there's so much more that we still don't know about ourselves and that's what makes life so beautiful."
One never knows who they might meet or what they might get enamored with in the coming year, so don't rule out the possibility of discovering your new favorite band or the love of your life.
You might discover a new favorite shade of green, or you might develop an unhealthy obsession with a dish you used to despise.
Life has a way of altering us. Changes in our lives allow us to develop into better people. Each fresh set of circumstances we encounter makes us a different person. It's very lovely.
The reality star then made a more direct reference to the breakup, writing,  "stop feeling bad for doing what's best for you."
The words "I spent enough time on things never felt right" appear to be directed towards her ex. Right now, I'm tuning in to my inner voice.
Other Quotations Khloe wrote about moving on from past "wounds" and avoiding people whose "energy is off."
As one wise guy put it, "The real flex is, how many of your wounds can you turn into wisdom."
Another added, "I respect a person who knows their energy is off and keeps their distance because they don't want to transfer it onto you. I don't think some people understand how real that is."