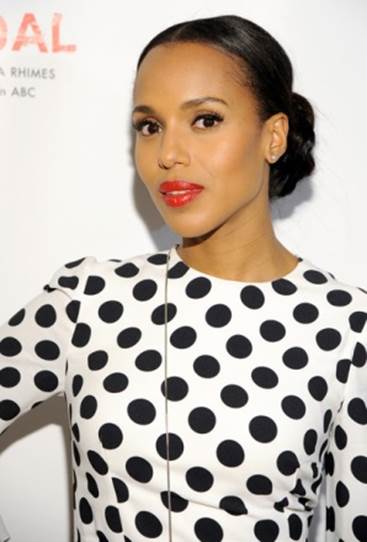 Actress Kerry Washington, who plays Olivia Pope in hit tv show 'Scandal' has opened up on how her style varies from the popular character. Kerry comments that when she's hitting the red carpet, her style is much more playful and colourful than anything Olivia would wear. Kerry adds that she loves wearing daring pieces and doesn't mind if it's not to everyone's taste. She explained that Olivia's style is very different and her character usually wears simple neutrals:
"Red-Carpet Kerry wears a lot more colour and pattern than Olivia does. She makes bold choices. When I was pregnant, I showed up at the SAG awards in a bare-midriff gown by Prada. I knew some people were going to hate it, but I thought it was super cute and really fun. Olivia, meanwhile, sticks to a more neutral palette in pastels by designers like Dior, Ferragamo, and Escada."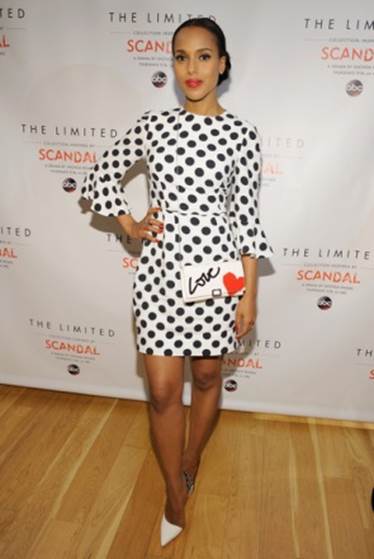 Kerry also recently stated that her character's style popularity has come as a big surprise. After the show aired for the first time, she was excited to see people reacting to Olivia's wardrobe. She commented on the fashion influence the show has had so far:
"After the first couple of episodes aired, people started posting on Twitter things like ,'I have a job interview today, and I'm trying to dress like Olivia Pope.' Olivia's had a huge influence." Kerry was so encouraged that she now designs a line inspired by her character's style 'The Limited Scandal' clothing collection which is created with the show's costume designer Lyn Paolo.