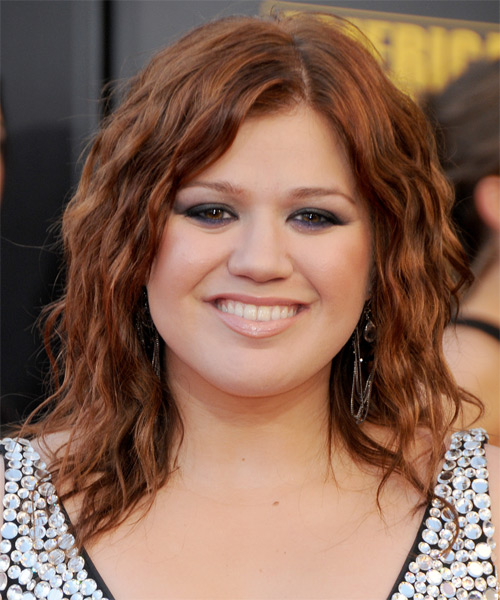 Kelly Clarkson rose to prominence after she triumphed on the original series of American Idol. Kelly's gorgeous new hairstyle and positive attitude make her a stage goddess. Her style has always been vibrant and fun, but she wanted a new look for the performance. Now, then, let's discuss some of her most recognizable hairdos.
List 8 of Kelly Clarkson's favorite hairstyles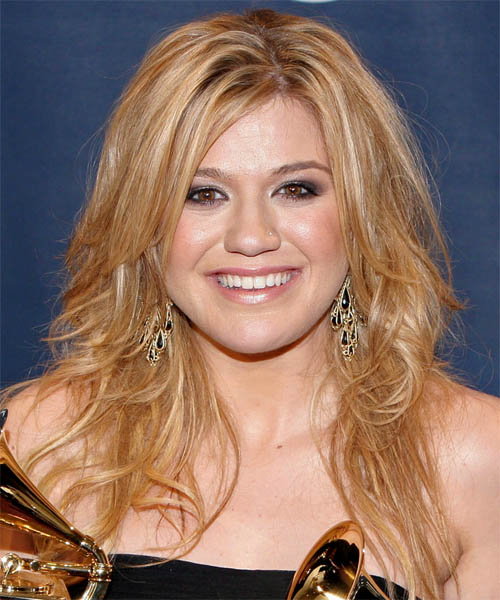 This stunning performer is just glowing at this year's Grammys. The top and sides have been layered jaggedly to accentuate the wave and create body around the face, and the length has been left below shoulder level. With frequent trims, this cut is low-maintenance.
Medium straight layered strawberry blonde bob haircut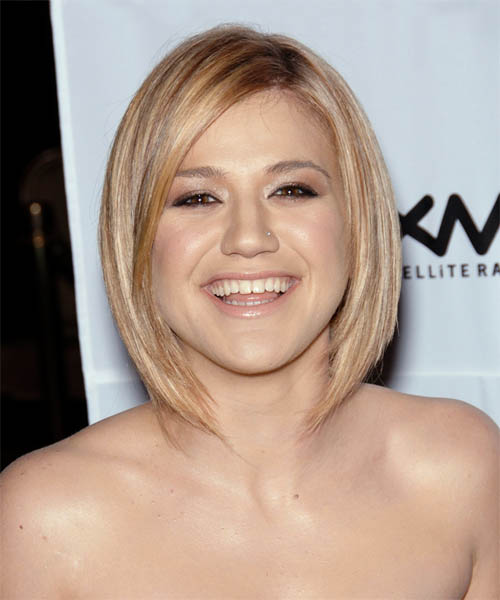 Kelly's inventive concave-style bob is perfect for Clive Davis's traditional pre-Grammy party. If your hair is medium in thickness or finer and naturally straight, this style is ideal for you.
Long wavy brunette and blonde two-tone hairstyle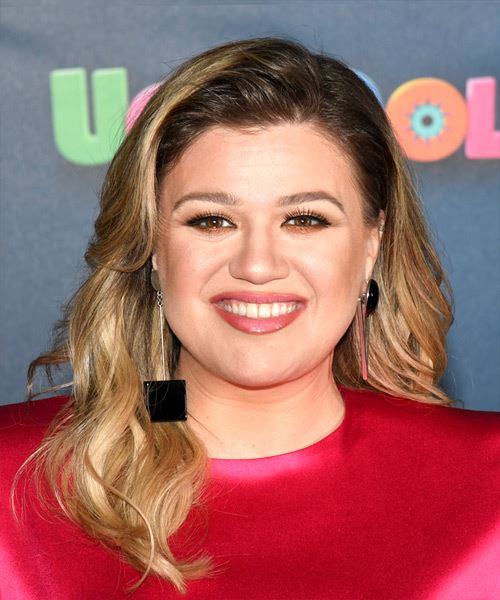 Kelly Clarkson is flaunting a hairdo that works wonderfully with strong features.
The side half softens the angles and serves as a framing for her pretty face. This cut is great because it flatters your face and doesn't take too much time in the morning to put together.
She looks really stunning with her hair curled into soft waves that frame her face. The curls additionally diminish the sharpness of her face and eye contours.
Medium straight bob haircut with blunt cut bangs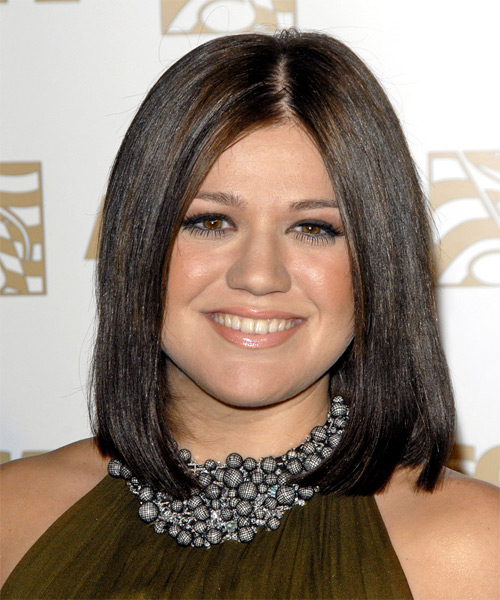 Kelly made quite an entrance in this glitzy ensemble at the 24th Annual ASCAP Pop Music Awards.
Her middle-parted, shoulder-length bob had straight, harsh edges that gave it a clean appearance.
Kelly's sides were cut to fall slightly over her forehead, a flattering and effective way to visually reduce the width of a wide face. This cut does not have layers shaved off the ends to make it appear fuller.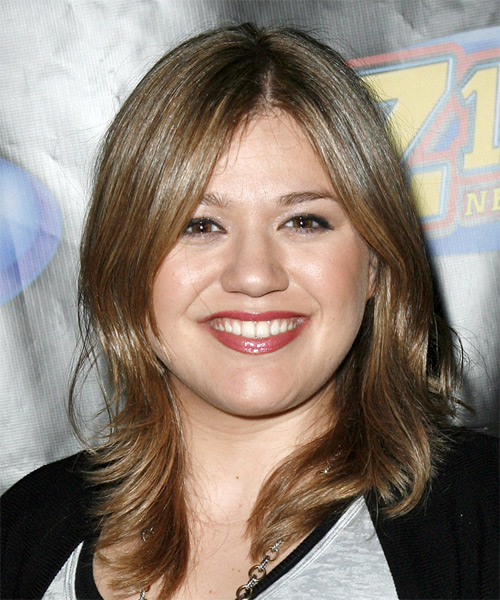 Kelly Clarkson looked great with her outfit. Her layers were about the right length, so her bangs could rest gently against the side of her cheek. She looked stunning with the finishing touch of subtle highlights.
Medium straight blonde bob haircut with light blonde highlights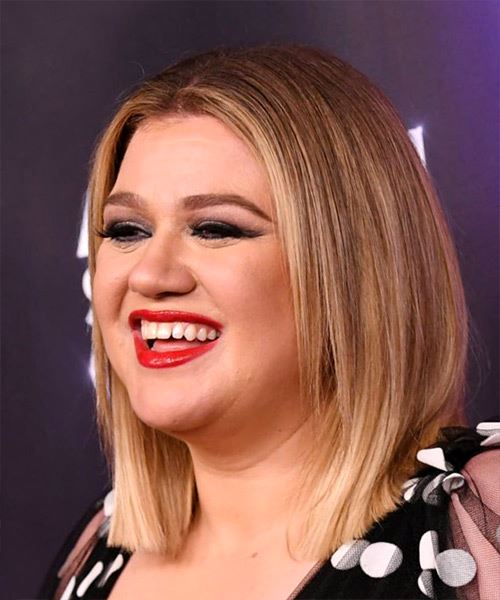 Kelly Clarkson looks stunning with her medium-length, blonde bob hairdo. This cut and length works well with a variety of facial shapes, including the heart, diamond, and triangular.
A blunt cut is low-maintenance and great for eliminating split ends and improving overall hair health. With a central part, her hair can fall freely to either side. Your hair will then frame your face evenly on both sides. The contours of your face will be smoothed out as a result.
Medium wavy mahogany brunette hairstyle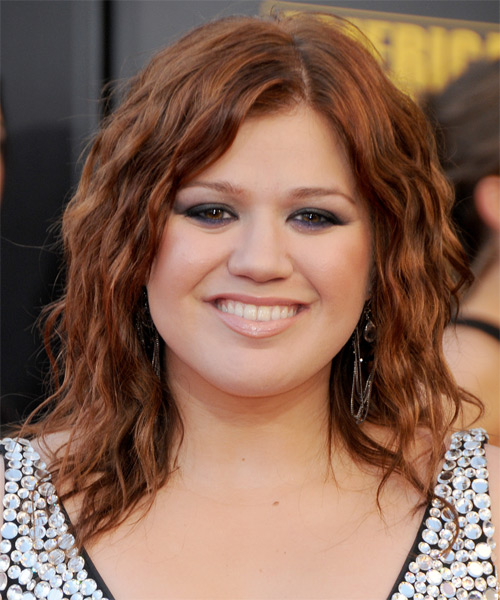 The gentle, flowing waves in this copper chestnut cut are accentuated by the choppy layers along the sides and back. You'll need some sort of styling product to keep your casual hairstyle in place and shiny, but it's worth it if you have fine to medium hair.
Long wavy light blonde hairstyle with side swept bangs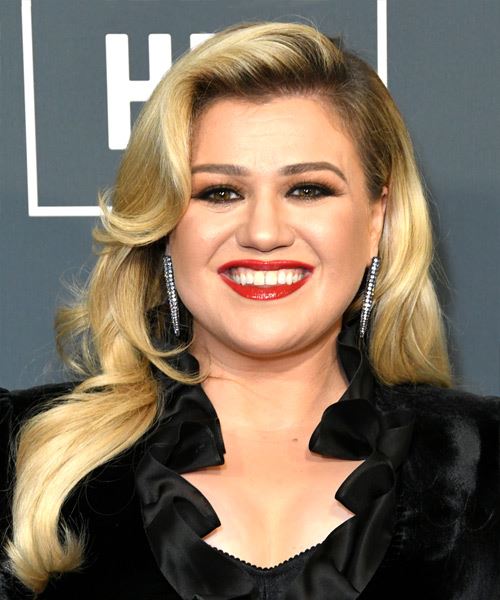 You're going to enjoy recreating Kelly Clarkson's elegant go-to haircut for special occasions.
The side parting in her hair softens the sharp angles around her face. Her face appears longer and slimmer with her hair pulled back. The curls in her hair give it body and movement. Remember that your curls will fall throughout the day, so you'll need to style them tightly.
You'll need a substantial amount of hairspray to keep the style in place during the entire event. You should get a trim every four weeks at the absolute least if you want your ends to stay healthy.
READ NEXT: