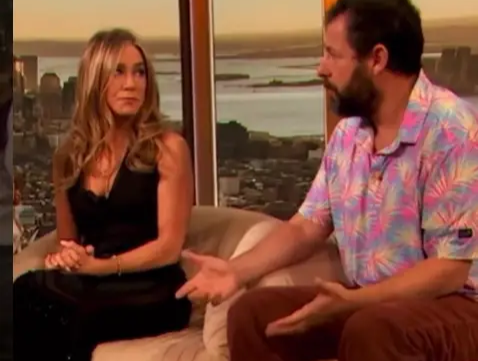 During a dispute about supercars, Jennifer Aniston walked out of an interview with Adam Sandler, leaving him hanging.
Jennifer Aniston walked out of an interview when her co-star was pleading with her, 'don't do this!'
The conversation between the Friends star and Adam Sandler about her new Netflix film Murder Mystery 2 quickly deteriorated, leaving Adam to clean up the mess.
Jennifer, who was wearing a breathtaking off-the-shoulder black gown for the interview with USA Today, was shocked when Adam Sandler admitted he had bought supercars for his co-stars on the Grown Ups set.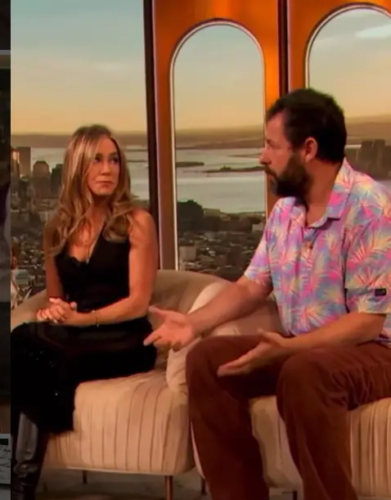 Now it looks like Jen passed up the opportunity to get a sleek new ride.
After filming the comedy in 2010, Adam shocked Jennifer by admitting he bought Maseratis for Kevin James, Chris Rock, and David Spade as gifts.
Adam, clearly anxious, cracked: "You didn't get the Maserati yet?" before vowing: "When you get home tonight!"
Jennifer couldn't help but ask: "You bought your co-stars Maseratis?"
Before Adam began reeling off a very specific scenario, telling her: "You want to know the truth with Jennifer? I bought her three Ferraris. Every time I wheel it up there, some guy comes out and goes, 'Hey, get that out of here', and I'm like, 'No, no, this is a gift'."
But Jen was having none of it, and she got up from her seat, shook her head, and stormed out on the interviewer and her co-star.
Adam was not one to be deterred, so he continued: "And the guy goes, 'Let's go, keep it moving'. So I ghost ride it down the hill."
He was eventually reduced to pleading off-camera with Jennifer: "Jennifer, don't you do this to me! You got three Ferraris!"
Fortunately, Jennifer went back to her seat and reassured him: "It's okay, it's all right. I don't need fancy things."
This comes after Adam made it clear he doesn't enjoy Jen's particular style of kissing.
He told USA Today that she should "keep her mouth closed", "It was so wide! Every time, she'd come with a big, wide mouth, and I'd be like, 'Whoa-ho-ho-ho-ho, whoa! What are we doing?'"
Jennifer, on the other hand, has requested that Adam "learn to grease the beard up a little bit" so as to protect her delicate skin.
On The Project TV, the couple admitted, "it's always a little uncomfortable" to kiss each other on camera.
Adam added: "I'll always say sorry before and after!" as his co-star giggled: "You apologise for the entire day, the night before, the day after."
SEE MORE :