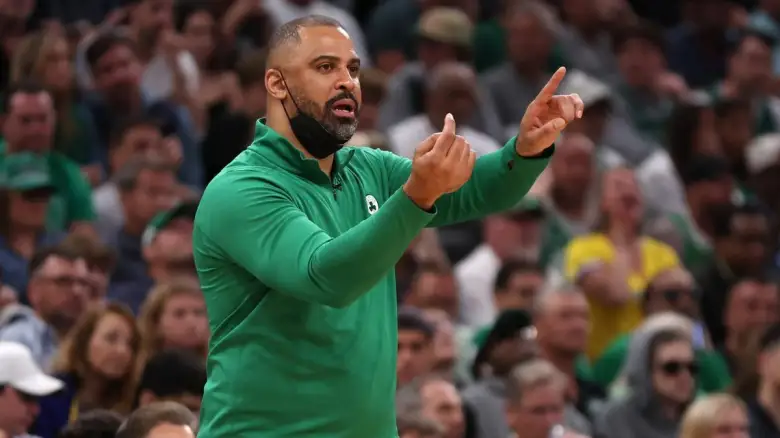 Ime Udoka allegation relating to a Twitter 'sleeping around' drama. The accusation leveled against Ime Udoka prompted the Celtics to conduct an internal investigation.
What exactly is the Ime Udoka allegation?
The Boston Celtics revealed by Twitter that Head Coach Ime Udoka will be suspended for the entire 2022-23 season, just days before training camp begins. Furthermore, a choice on his future with the team will be made at a later date.
— Boston Celtics (@celtics) September 23, 2022
Details are gradually being disclosed. Shams Charania of The Athletic discovered new developments in the ongoing investigation on September 23.
"Some members of the Celtics organization first became aware of the relationship in July, sources said. At that time, team leadership was led to believe by both parties that the relationship was consensual. But sources said that the woman recently accused Udoka of making unwanted comments toward her — leading the team to launch a set of internal interviews."
When Charania first broke the story, he claimed that Udoka's infringement was the result of an "improper intimate" and "consensual relationship" with the staffer, which may or may not have contributed to Udoka's suspension for the season
Celtics coach Ime Udoka had an improper intimate and consensual relationship with a female member of the team staff, sources tell @TheAthletic @Stadium. It's been deemed a violation of franchise's code of conduct.

— Shams Charania (@ShamsCharania) September 22, 2022
When he reported that Udoka would likely be suspended for the season on September 22, Adrian Wojnarowski echoed that the relationship was mutual.
Boston Celtics coach Ime Udoka is likely facing a suspension for the entire 2022-2023 season for his role in a consensual relationship with a female staff member, sources tell ESPN. A formal announcement is expected as soon as today.

— Adrian Wojnarowski (@wojespn) September 22, 2022
Following the official announcement of Udoka's suspension, Udoka issued a public declaration via Malika Andrews' Twitter account, expressing his thoughts on the matter.
"I want to apologize to our players, fans, the entire Celtics organization, and my family for letting them down. I am sorry for putting the team in this difficult situation, and I accept the team's decision. Out of respect for everyone involved, I will have no further comment," he said.
It should be noted that Udoka's statement does not deny any of the reports about his actions within the organization, and more details may emerge in the coming days.
On September 21, Wojnarowski revealed that Udoka's job as head coach was safe, but that may not be the case now that the Celtics have stated that they will take a decision on his future at a later date.
Ime Udoka's job isn't believed to be in jeopardy, but a suspension is looming and a final determination on that length could come as soon as Thursday, sources tell ESPN. https://t.co/x0uWgD5URM

— Adrian Wojnarowski (@wojespn) September 22, 2022
Meanwhile, while Udoka is suspended, the Celtics will be led by assistant coach Joe Mazzulla as interim head coach.
The Celtics have made assistant coach Joe Mazzulla the interim head coach, sources tell ESPN.

— Adrian Wojnarowski (@wojespn) September 23, 2022
Could Ime Resign?
Chris Mannix of Sports Illustrated revealed that Udoka had considered resigning as head coach after Wojnarowski reported that Udoka was likely to be suspended for the season.
Ime Udoka has considered the possibility of resigning, sources told @SInow. Internally, coaches and staff members are bracing for the likelihood that Udoka will be suspended for one year for having a relationship with a female staffer.

— Chris Mannix (@SIChrisMannix) September 22, 2022
NBA Insider Chris Haynes later revealed that Udoka had not resigned as the team's head coach prior to his suspension becoming official.
With Udoka's suspension now official and Shams Charania's report detailing accusations of unwanted comments since Haynes' report was released, Udoka's willingness to stay could be influenced. If he intends to stay, and the Celtics maintain the suspension without firing him, it's difficult to see how this exploration won't follow him for the rest of his tenancy as head coach.
About Ime Udoka
Boston Celtics
Position
Head coach (suspended)
League
NBA
Personal information
Born
August 9, 1977
Portland, Oregon
Nationality
American / Nigerian
Listed height
6 ft 5 in (1.96 m)
Listed weight
220 lb (100 kg)
Career information
High school
Jefferson (Portland, Oregon)
College

Utah State Eastern (1995–1997)
San Francisco (1997–1998)
Portland State (1999–2000)

NBA draft
2000 / Undrafted
Playing career
2000–2012
Position
Small forward
Number
5, 8, 3
Coaching career
2012–present
Career history
As player:
2000–2001
Fargo-Moorhead Beez
2001
Independiente
2002–2003
North Charleston Lowgators
2003
Adirondack Wildcats
2003–2004
Charleston Lowgators
2004
Los Angeles Lakers
2004
Charleston Lowgators
2004
Gran Canaria
2005
JA Vichy
2005–2006
Fort Worth Flyers
2006
New York Knicks
2006–2007
Portland Trail Blazers
2007–2009
San Antonio Spurs
2009–2010
Sacramento Kings
2010–2011
San Antonio Spurs
2012
UCAM Murcia
As coach:
2012–2019
San Antonio Spurs (assistant)
2019–2020
Philadelphia 76ers (assistant)
2020–2021
Brooklyn Nets (assistant)
2021–present
Boston Celtics 
Career highlights and awards
As player:

All-NBA D-League First Team (2006)
All-NBDL Second Team (2004)
Jason Collier Sportsmanship Award (2006)

As assistant coach:

Career NBA statistics
Points
1,635 (5.2 ppg)
Rebounds
926 (2.9 rpg)
Assists
308 (1.0 apg)
Stats 
 at NBA.com
Stats at Basketball-Reference.com

Men's Basketball
Representing 

 

Nigeria
African Championships

2005 Algeria

Nigeria

2011 Madagascar

Nigeria