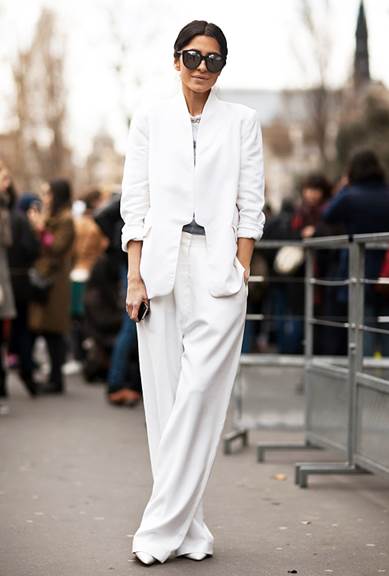 Wearing head-to-toe white has become a big fashion trend, especially for the Summer season. Seen on the Spring/Summer  catwalks at Calvin Klein, Dries Van Noten, Jil Sander, Celine and many more, this minimal and elegant trend is all about power dressing and well-structured pieces. Sharp tailoring is what makes this look stand out: so opt for a fitted jacket or coat worn over a minimal dress, top or skirt. It can be given a masculine spin, styled like a white tuxedo with coordinating white trousers – but add heels and a clutch to give it a feminine twist. Adding dark or metallic accessories can give a head-to-toe white look a sleek finish that doesn't take away from the effect.
Wearing all of one colour also allows you to pay attention to detail, as it's the finer points that people will focus on. Look for different textures and combine them: a furry sweater can look gorgeous when teamed with simple skinny jeans, white leather would be striking paired with delicate silk, or some crochet would give the trend a subtle 70s spin.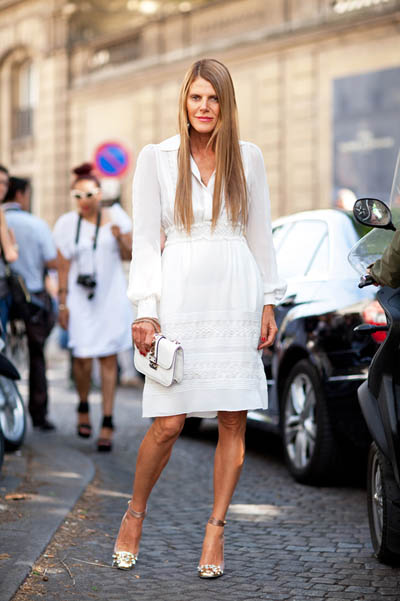 As editor Anna Dello Russo demonstrates with her chic off-duty look, the all-white trend can be womanly without looking too bridal. She teamed a crisp white shirt with a high-waisted mid-length skirt, adding a coordinating white bag and heels. Paired up with sleek hair and a glowing tan, her full white outfit is powerful yet minimal and simple, without sacrificing style. The best approach to this trend is to look as polished as possible, so opt for well-fitting pieces that skim your figure and don't be afraid to add some amazing accessories to finish off your outfit.