If you're looking for a way to help the trapped worker in The Callisto Protocol, check out this article for more information.
How to save the trapped worker in The Callisto Protocol
Friendly faces are hard to come by in survival horror games, but when you do find them, they usually fall into one of two categories: they either give you something useful or accompany you for a short time. There are no escort missions here, thankfully. As a result, you now have an added incentive to help the trapped worker in The Callisto Protocol.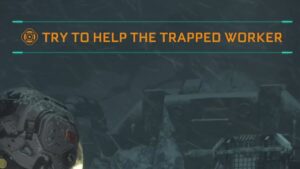 Unfortunately, there is no way to save him. It turns out that something appears on his end after you leave to find something to open the door he's trapped behind. This is unavoidable, so when you open the door, you find two bodies on the floor. The horrifying scene in front of you strongly implies that he either died during an attack or is the infected enemy who suddenly attacks you. Oh, and before you ask, the answer is no. You can't anticipate his request for something to pry open the door and save him from this grizzly fate.
About The Callisto Protocol
The story of the game follows Jacob Lee (Josh Duhamel), who is sent to a prison facility on the planet Callisto to fight against infected prisoners with an unknown disease while uncovering the facility's dark secrets. Players explore a series of levels, solving puzzles and gathering resources while battling infected prisoners.
The Callisto Protocol
Developer(s)
Striking Distance Studios
Publisher(s)
Krafton
Director(s)

Glen Schofield
Scott Whitney

Producer(s)

Jeremiah Graves
Matt Sherman

Designer(s)
Ben Walker
Programmer(s)
Artist(s)
Demetrius Leal
Writer(s)
R. Eric Lieb
Composer(s)
Finishing Move Inc.
Engine
Unreal Engine 4
Platform(s)
Release
December 2, 2022
Genre(s)
Survival horror
Mode(s)
Single-player