Posted by admin

on February 25th, 2020

Source: Pixabay
Themed parties are great fun but they also create the dilemma of what to wear. Some themes are easier than others but, whatever the party, you want to make an impact for all the right reasons.
If you are invited to a casino-themed party or event, or you are planning one of your own, you'll have the opportunity to bring some style, glitz, and glamour to the occasion. But what does a casino event involve? And what should you wear?
Casino events
As online casinos casino to grow in popularity, more people are choosing casino themes for their parties and corporate events.
There are many companies that hire out casino facilities for events with themes such as Casino Royale or Las Vegas. The games are played for fun using tokens, so you won't win or lose real money on the night. But if the party is going to feature real casino games, you should make sure you know the rules so you don't feel left out.
If you already play games such as blackjack, baccarat, and roulette online at sites such as NetBet, you'll have no problem playing the games on offer at private casino events. The only thing you will have to worry about is looking the part!
Dress codes
When someone suggests a casino-themed party, they are not talking about your local high-street casino with no dress code. They are thinking about the grand casinos of Monte Carlo, Italy, and other exotic Mediterranean destinations. Think James Bond, fast cars, glittering jewels, and expensive cocktails.
All the top casinos have a dress code which can vary depending on the time of day. In the evening, the dress code is usually the strictest. This is the time when the high rollers and celebrities hit the tables.
What should ladies wear?
For ladies, a cocktail dress with structured panels and short sleeves is always a good look. The neckline can be square-cut or curved, and the sleeves can also be ruched. The perfect length would be just below the knee but longer works too. You might be tempted to go for a black dress but bright colours such as pink or yellow are also okay. You might want to pair the dress with high heels, a clutch bag, and some subtle jewellery.
How should a man dress?
Men can't go wrong with a classic evening tuxedo or the black-tie look. But, if that feels a little stiff, go with smart slim-fitted suit with an open-necked shirt – forget the tie. Add some smart shoes and a tasteful belt. If it is summer, a light-coloured blazer over a darker linen shirt with some white chinos and a pair of deck shoes does the job. You should avoid jeans unless they are ultra-smart. Hats, trainers, t-shirts, hoodies, and any other streetwear should also be avoided.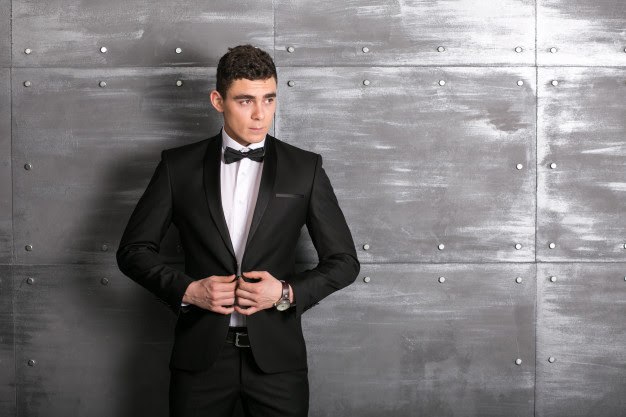 Source: Freepik
Remember, a casino-themed party is not quite fancy dress, so you don't want to go over the top. But you also want to dress up smarter than you normally would. Hopefully, with our handy tips, you'll get the balance just right!
Category:
Uncategorized