Riot Games has started sending out year-end summaries to players today, detailing their performance throughout the year. This guide will show you how to access LoL make your mark wrapped stats and obtain the League of Legends 2022 recap.
How to get your LoL 2022 recap and stats
In a nutshell, all you have to do is sign up for Ri ot Games' email list.. It's very much like the VALFlashback method used with Valorant. The steps below were taken from the Valorant year-end review and should help you get the required email from Riot Games:
Log in at https://account.riotgames.com.
On the left, you should see "COMMUNICATION PREFERENCES." Click that.
Check the "Riot Games Communications" box, and you're done.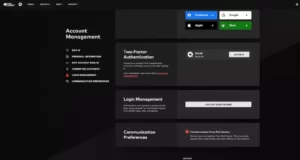 Unfortunately, not everyone with communications turned on has received their League of Legends 2022 recap. However, as Reddit users pointed out, it's a staggered release, so you could get it at any time this month. You should also regularly check your spam and junk mail folders.
LoL flashback 2022 stats
League of Legends players have started using the hashtag #makeyourmark to share their LoL 2022 wrapped recap stats on Twitter. Below are all the statistics you will receive from Riot Games:
Total Wins
Total Minions Slain
Total First Blood Kills
Total Vision Score
Longest Killing Spree
KDA
When compared to Valorant, we can see that these statistics are a little sketchy.
Most played agent
Most played role
Agent you killed the most
Aces
First blood
First blood victim
Clutches
Damage dealt vs last year
Total wins vs last year
KDA vs last year
Time played vs last year
About League of Legends
League of Legends
Developer(s)
Riot Games
Publisher(s)
Riot Games
Director(s)
Andrei van Roon
Producer(s)
Jeff Jew
Platform(s)
Release

Microsoft Windows
October 27, 2009
OS X
March 1, 2013

Genre(s)
MOBA
Mode(s)
Multiplayer