Even though the bride shines brightly on the wedding day, the groom can be as invested in his clothing as well. When your ceremony is fast approaching, you could look for a wedding suit that makes you look as good as possible, but you can also use it on some other days. Here are a few ideas on how to choose your wedding suit:
Buy, instead of renting.
Many guys go the rent-a-tux direction, but it is not your junior high prom. Rented wedding suits rarely fit properly, and they will always look tacky. Not to include the fact that so many people already used it on their big day, so it is no longer that remarkable.
Give up the business style.
It would be better if you dressed like you were getting hitched, not making a sales pitch. Suit up into something special instead of using a rental or conference room outfit. Go dark, three-piece, and fork out a little more than you are used to, as it will undoubtedly be worth it.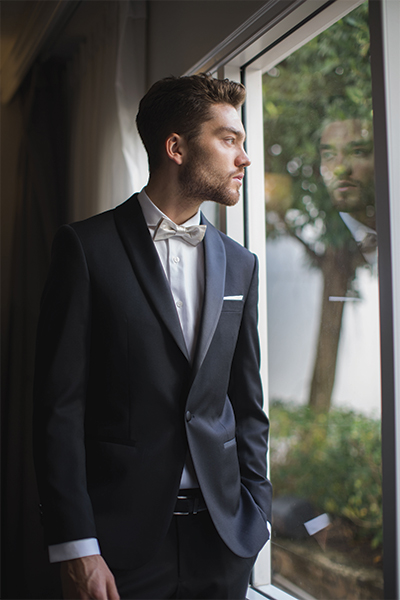 Make a statement.
It might be enticing to get out of the standard features because this day is special. However, regardless of your intentions, your time and hard-earned money are better invested in getting the suit tailored. An affordable but immaculately cut outfit will look expensive, and this is not the same for pricey but ill-fitting attire.
The shape follows the material.
A tailor's adjustments can only go so far. Without excellent material to lay the groundwork on, it will be challenging to create successful wedding suits. A loose-fitting, baggy combination will leave you feeling, well, slouched, and formless. Weighty wool is likely to do the contrary.
Here are a few additional ideas on how to wear your wedding suit after the event:
Dump the vest.
Yes, it is the best way to revamp a three-piece suit, and you will get a fresh weekday work outfit. Book it for important occasions when you have to play boss and look like you are in power. Wear it with gold, lilac or peach knit tie to soften the tone. Since the outfit is already monochrome, you do not want to feel as if you are attending another wedding, or worst, a funeral.
Incorporate the vest.
Whereas the suits can saturate your workweek, everyone will bet that your weekends are a denim and shirt mix. Put on a jacket with slender-cut dark jeans, a simple white V-neck shirt, and black sneakers. Only leave your coat open and your top tailored but not too skin tight, so you will not come across as if you are trying way too hard.
Use the jacket as a blazer.
The coat should be polished and styled enough to stand by itself. It is a concept that will help you determine the best fit for your wedding suit and one which contributes itself beautifully to a fitted style of denim jeans and a spread-collar dress shirt after the wedding day. For all those extraordinary evenings out, throw on the suit with a sleek black paisley tie and a set of suede lace-ups.
Everyone's eyes will be on your bride's wedding gown. However, there is no harm in catching a few looks for yourself on your special day and the years of happiness after. The groom needs as much attention, too.