What is the best Grand Theft Auto V cheats ?
Grand Theft Auto V cheats and corresponding GTA 5 cheat codes are a staple of any GTA game at this point, being the easiest way to get straight to the fun, which most of the time means straight to the fun. invincibility, weapons, ammunition and, of course, helicopters.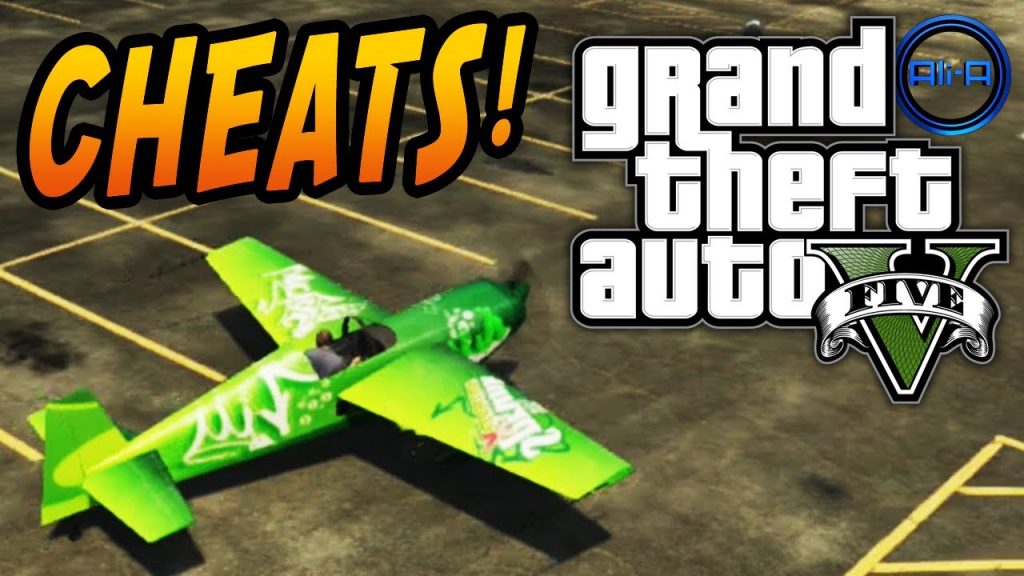 How to Enter Grand Theft Auto V Cheat Codes ?
There are two types of cheat codes: mobile phone and buttons cheats. Mobile phone cheats allow players to introduce cheats by dialing certain numbers on their mobile phone.
Button cheats are available on all gaming platforms, including PC, PS4, PS3, Xbox One, and Xbox 360. On consoles, you need to enter GTA 5 cheat codes using your controller, just like classic GTA 5 games. GTA.
Use the D-pad to enter the directional commands (LEFT, RIGHT, UP, DOWN). These codes should run fairly quickly, and if done correctly, a small confirmation will appear on the map.
Best Grand Theft Auto V cheats for PS4, Xbox, PC :
Spawn WEAPONS GTA 5 CHEAT :
PC: TOOLUP
PS4/PS3: TRIANGLE, R2, LEFT, L1, X, RIGHT, TRIANGLE, DOWN, SQUARE, L1, L1, L1
Xbox One/Xbox 360: Y, RT, LEFT, LB, A, RIGHT, Y, DOWN, X, LB, LB, LB
INVINCIBILITY GTA 5 CHEAT :
PC: PAINKILLER
PS4/PS3: RIGHT, X, RIGHT, LEFT, RIGHT, R1, RIGHT, LEFT, X, TRIANGLE
Xbox One/Xbox 360: RIGHT, A, RIGHT, LEFT, RIGHT, RB, RIGHT, LEFT, A, Y
GIVE PARACHUTE GTA 5 CHEAT :
PC: SKYDIVE
PS4/PS3: LEFT, RIGHT, L1, L2, R1, R2, R2, LEFT, LEFT, RIGHT, L1
Xbox One/Xbox 360: LEFT, RIGHT, LB, LT, RB, RT, RT, LEFT, LEFT, RIGHT, LB
LOWER WANTED LEVEL GTA 5 CHEAT :
PC: LAWYERUP
PS4/PS3: R1, R1, CIRCLE, R2, RIGHT, LEFT, RIGHT, LEFT, RIGHT, LEFT
Xbox One/Xbox 360: RB, RB, B, RT, RIGHT, LEFT, RIGHT, LEFT, RIGHT, LEFT
SPAWN BUZZARD GTA 5 CHEAT :
PC: BUZZOFF
PS4/PS3: CIRCLE, CIRCLE, L1, CIRCLE, CIRCLE, CIRCLE, L1, L2, R1, TRIANGLE, CIRCLE, TRIANGLE
Xbox One/Xbox 360: B, B, LB, B, B, B, LB, LT, RB, Y, B, Y
EXPLOSIVE BULLETS GTA 5 CHEAT :
PC: HIGHEX
PS4/PS3: RIGHT, SQUARE, X, LEFT, R1, R2, LEFT, RIGHT, RIGHT, L1, L1, L1
Xbox One/Xbox 360: RIGHT, X, A, LEFT, RB, RT, LEFT, RIGHT, RIGHT, LB, LB, LB
RECHARGE ABILITY GTA 5 CHEAT :
PC: POWERUP
PS4/PS3: X, X, SQUARE, R1, L1, X, RIGHT, LEFT, X
Xbox One/Xbox 360: A, A, X, RB, LB, A, RIGHT, LEFT, A
All Grand Theft Auto V Cheats :
Grand Theft Auto V Cheats: PS4 and PS3 :
| | |
| --- | --- |
| Cheat | Code |
| Fast Swim | LEFT, LEFT, L1, RIGHT, RIGHT, R2, LEFT, L2, RIGHT |
| Explosive Melee Attacks | RIGHT, LEFT, X, TRIANGLE, R1, CIRCLE, CIRCLE, CIRCLE, L2 |
| Drunk Mode | TRIANGLE, RIGHT, RIGHT, LEFT, RIGHT, SQUARE, CIRCLE, LEFT |
| Raise Wanted Level | R1, R1, CIRCLE, R2, LEFT, RIGHT, LEFT, RIGHT, LEFT, RIGHT |
| Lower Wanted Level | R1, R1, CIRCLE, R2, RIGHT, LEFT, RIGHT, LEFT, RIGHT, LEFT |
| Spawn Comet | R1, CIRCLE, R2, RIGHT, L1, L2, X, X, SQUARE, R1 |
| Super Jump | LEFT, LEFT, TRIANGLE, TRIANGLE, RIGHT, RIGHT, LEFT, RIGHT, SQUARE, R1, R2 |
| Spawn Buzzard Attack Helicopter | CIRCLE, CIRCLE, L1, CIRCLE, CIRCLE, CIRCLE, L1, L2, R1, TRIANGLE, CIRCLE, TRIANGLE |
| Spawn BMX | LEFT, LEFT, RIGHT, RIGHT, LEFT, RIGHT, SQUARE, CIRCLE, TRIANGLE, R1, R2 |
| Spawn Limo | R2, RIGHT, L2, LEFT, LEFT, R1, L1, CIRCLE, RIGHT |
| Spawn Caddy | CIRCLE, L1, LEFT, R1, L2, X, R1, L1, CIRCLE, X |
| Spawn Stunt Plane | CIRCLE, RIGHT, L1, L2, LEFT, R1, L1, L1, LEFT, LEFT, X, TRIANGLE |
| Slow Motion Aim | SQUARE, L2, R1, TRIANGLE, LEFT, SQUARE, L2, RIGHT, X |
| Flaming Bullets | L1, R1, SQUARE, R1, LEFT, R2, R1, LEFT, SQUARE, RIGHT, L1, L1 |
| Recharge Ability | X, X, SQUARE, R1, L1, X, RIGHT, LEFT, X |
| Spawn Duster | RIGHT, LEFT, R1, R1, R1, LEFT, TRIANGLE, TRIANGLE, X, CIRCLE, L1, L1 |
| Spawn Trashmaster | CIRCLE, R1, CIRCLE, R1, LEFT, LEFT, R1, L1, CIRCLE, RIGHT |
| Moon Gravity | LEFT, LEFT, L1, R1, L1, RIGHT, LEFT, L1, LEFT |
| Spawn Sanchez | CIRCLE, X, L1, CIRCLE, CIRCLE, L1, CIRCLE, R1, R2, L2, L1, L1 |
| Give Parachute | LEFT, RIGHT, L1, L2, R1, R2, R2, LEFT, LEFT, RIGHT, L1 |
| Give Weapons | TRIANGLE, R2, LEFT, L1, X, RIGHT, TRIANGLE, DOWN, SQUARE, L1, L1, L1 |
| Spawn Rapid GT | R2, L1, CIRCLE, RIGHT, L1, R1, RIGHT, LEFT, CIRCLE, R2 |
| Max Health and Armor | CIRCLE, L1, TRIANGLE, R2, X, SQUARE, CIRCLE, RIGHT, SQUARE, L1, L1, L1 |
| Spawn PCJ-600 Motorcycle | R1, RIGHT, LEFT, RIGHT, R2, LEFT, RIGHT, SQUARE, RIGHT, L2, L1, L1 |
| Change Weather | R2, X, L1, L1, L2, L2, L2, SQUARE |
| Fast Run | TRIANGLE, LEFT, RIGHT, RIGHT, L2, L1, SQUARE |
| Slow Motion | TRIANGLE, LEFT, RIGHT, RIGHT, SQUARE, R2, R1 |
| Slidey Cars | TRIANGLE, R1, R1, LEFT, R1, L1, R2, L1 |
| Invincibility | RIGHT, X, RIGHT, LEFT, RIGHT, R1, RIGHT, LEFT, X, TRIANGLE |
| Bang Bang (Explosive Bullets) | RIGHT, SQUARE, X, LEFT, R1, R2, LEFT, RIGHT, RIGHT, L1, L1, L1 |
| Skyfall | L1, L2, R1, R2, LEFT, RIGHT, LEFT, RIGHT, L1, L2, R1, R2, LEFT, RIGHT, LEFT, RIGHT |
Grand Theft Auto V Cheats: Xbox One and Xbox 360 :
| | |
| --- | --- |
| Cheat | Code |
| Drunk Mode | Y, RIGHT, RIGHT, LEFT, RIGHT, X, B, LEFT |
| Moon Gravity | LEFT, LEFT, LB, RB, LB, RIGHT, LEFT, LB, LEFT |
| Raise Wanted Level | RB, RB, B, RT, LEFT, RIGHT, LEFT, RIGHT, LEFT, RIGHT |
| Give Weapons | Y, RT, LEFT, LB, A, RIGHT, Y, DOWN, X, LB, LB, LB |
| Spawn Sanchez | B, A, LB, B, B, LB, B, RB, RT, LT, LB, LB |
| Bang Bang (Explosive Bullets) | RIGHT, X, A, LEFT, RB, RT, LEFT, RIGHT, RIGHT, LB, LB, LB |
| Slow Motion Aim | X, LT, RB, Y, LEFT, X, LT, RIGHT, A |
| Spawn Duster | RIGHT, LEFT, RB, RB, RB, LEFT, Y, Y, A, B, LB, LB |
| Spawn Comet | RB, B, RT, RIGHT, LB, LT, A, A, X, RB |
| Super Jump | LEFT, LEFT, Y, Y, RIGHT, RIGHT, LEFT, RIGHT, X, RB, RT |
| Spawn Stunt Plane | B, RIGHT, LB, LT, LEFT, RB, LB, LB, LEFT, LEFT, A, Y |
| Spawn Rapid GT | RT, LB, B, RIGHT, LB, RB, RIGHT, LEFT, B, RT |
| Lower Wanted Level | RB, RB, B, RT, RIGHT, LEFT, RIGHT, LEFT, RIGHT, LEFT |
| Spawn Trashmaster | B, RB, B, RB, LEFT, LEFT, RB, LB, B, RIGHT |
| Give Parachute | LEFT, RIGHT, LB, LT, RB, RT, RT, LEFT, LEFT, RIGHT, LB |
| Change Weather | RT, A, LB, LB, LT, LT, LT, X |
| Flaming Bullets | LB, RB, X, RB, LEFT, RT, RB, LEFT, X, RIGHT, LB, LB |
| Slidey Cars | Y, RB, RB, LEFT, RB, LB, RT, LB |
| Spawn Limo | RT, RIGHT, LT, LEFT, LEFT, RB, LB, B, RIGHT |
| Max Health and Armor | B, LB, Y, RT, A, X, B, RIGHT, X, LB, LB, LB |
| Skyfall (Spawn in the sky) | LB, LT, RB, RT, LEFT, RIGHT, LEFT, RIGHT, LB, LT, RB, RT, LEFT, RIGHT, LEFT, RIGHT |
| Invincibility | RIGHT, A, RIGHT, LEFT, RIGHT, RB, RIGHT, LEFT, A, Y |
| Slow Motion | Y, LEFT, RIGHT, RIGHT, X, RT, RB |
| Spawn Caddy | B, LB, LEFT, RB, LT, A, RB, LB, B, A |
| Spawn BMX | LEFT, LEFT, RIGHT, RIGHT, LEFT, RIGHT, X, B, Y, RB, RT |
| Fast Swim | LEFT LEFT LB RIGHT RIGHT RT LEFT LT RIGHT |
| Recharge Ability | A, A, X, RB, LB, A, RIGHT, LEFT, A |
| Spawn Buzzard Attack Helicopter | B, B, LB, B, B, B, LB, LT, RB, Y, B, Y |
| Fast Run | Y, LEFT, RIGHT, RIGHT, LT, LB, X |
| Explosive Melee Attacks | RIGHT, LEFT, A, Y, RB, B, B, B, LT |
| Spawn PCJ-600 Motorcycle | RB, RIGHT, LEFT, RIGHT, RT, LEFT, RIGHT, X, RIGHT, LT, LB, LB |