Shikanoin Heizou, a 4-star anemo character, has been included in Genshin Impact Patch 2.8. With his distinct play style, the Detective of the Tenryou Commission make assembling and forming the right team around him challenging.  This guide explains everything you need to know about Genshin Impact Heizou, including his best talents and ideal team composition.
Genshin Impact Heizou – Best Talents
Elemental Skill Heartstopper Strike: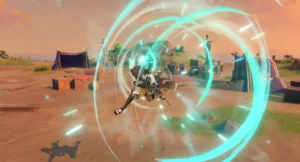 Tap: Uses one normal-powered Heartstopper Strike to inflict Anemo damage
Hold: Charges the Heartstopper Strike, gaining the Declension effect and increasing the Strike's power. After charging or when you release the button, the Strike is activated.
Declension: Heartstopper Strike's power is increased. When Heizo stacks it four times, the conviction effect is obtained, and the power and range of Heartstopper Strike are increased.
Elemental Burst Windmuster Kick: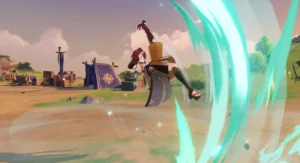 Heizou jumps into the air and uses the Fudou Style Vacuum Slugger to deliver an explosive kick that deals Anemo damage with a wide range of effects. When the Slugger connects to an enemy affected by Electro, Pyro, Cryo or Hydro, the Windmuster Iris effect is applied.

After a short period of time, the Iris will explode, dealing additional damage of that element to up to four opponents at once.
The goal with Heizou is to keep the punches and kicks coming, accumulating a flurry of hits. First and foremost, he must improve his Elemental Ability. Heizou's Elemental Burst is the next priority, followed by his Normal Attack. However, by improving his Ability, Travelers essentially improve his combat rate and allow him to do more damage while remaining in the battle for longer.
Genshin Impact Heizou – Best Team Composition
The goal is essentially to buff Heizou and use off-site Elemental Ability or Bursts that deal damage even if the character is swapped. He should then Swirl all of the Elemental Damage to exponentially increase his offensive output.
Heizou is best suited for Taser team builds if the Travelers use him as the main DPS or secondary DPS. Heizou as primary DPS, Raiden Shogun covering sub-DPS, and Xingqui serving as support alongside Bennet would probably make up the ideal Taser team.
Travelers can use Heizou as the primary DPS and Xiangling, Beidou, Yelan, or another DPS as the secondary DPS. Heizou works exceptionally well with Bennet, Fischl, Raiden Shogun, or Xingqui for support.
Genshin Impact Wiki
Genshin Impact
Developer(s)
miHoYo
Publisher(s)
miHoYo

Producer(s)
Cai Haoyu
Composer(s)
Yu-Peng Chen
Dimeng Yuan
Yijun Jiang
Qian Ding
Xin Zhao
Engine
Unity
Platform(s)

Android
iOS
Microsoft Windows
PlayStation 4
PlayStation 5
Nintendo Switch

Release

Android, iOS, Windows, PS4
September 28, 2020
PlayStation 5
April 28, 2021
Nintendo Switch
TBA

Genre(s)
Action role-playing
Mode(s)
Single-player, multiplayer