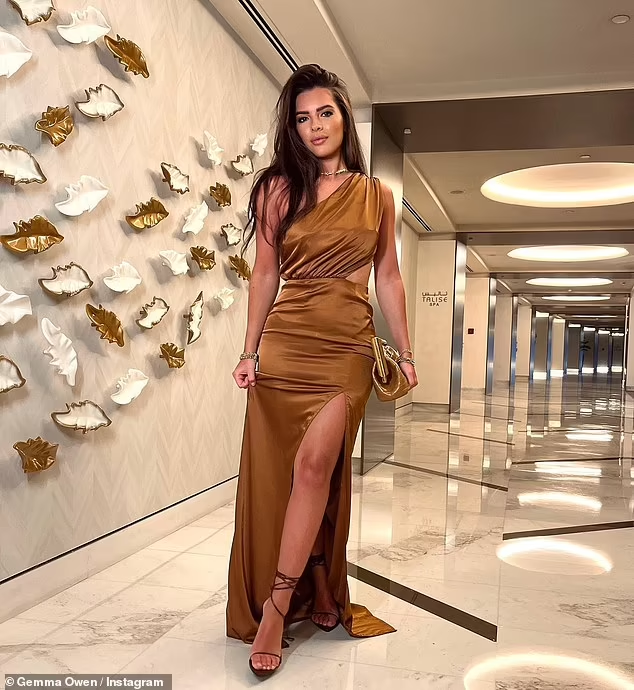 The 19-year-old ex-Love Island star posed in a floor-length, one-shoulder, bronze dress with cutout design and a thigh-high split, attracting the attention of her 2 million followers.
Gemma Owen stuns in a cutout floor-length bronze dress with a thigh-high split while on vacation in Dubai
On Saturday, Gemma Owen posted some photos from her recent vacation to Dubai on Instagram, and she looked amazing in every one of them.
Daughter of former footballer Michael Owen and his wife Louise, international dressage rider Gemma showed off her long, lean legs in a pair of black heels with ankle wrap straps.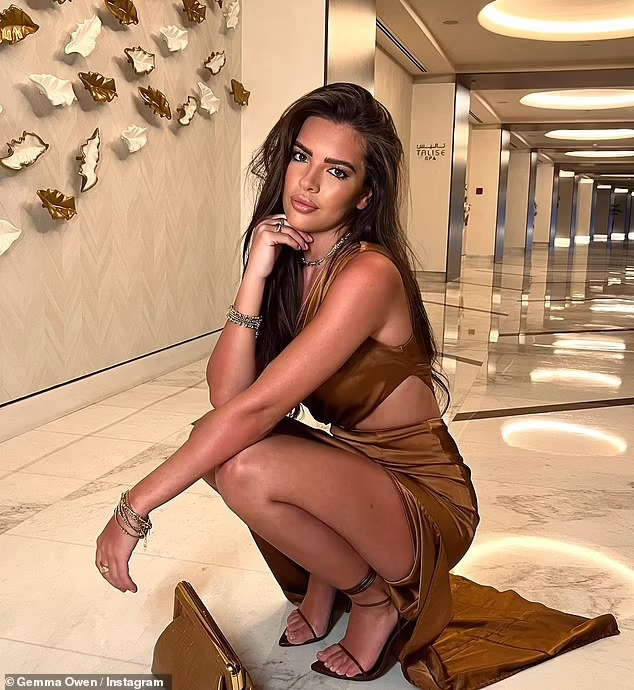 She carried a clutch purse with gold metal detailing across the top, matching the color of her elegant outfit.
The TV star went out wearing silver jewelry and lots of makeup to accentuate her attractive features.
She wrote, "a dress for dressy nights" as the caption for her photo.
The day before, Gemma posted a photo of herself on Dubai's beach.
She was dressed in a bright yellow bikini that cinched at the waist and featured bows at the hips.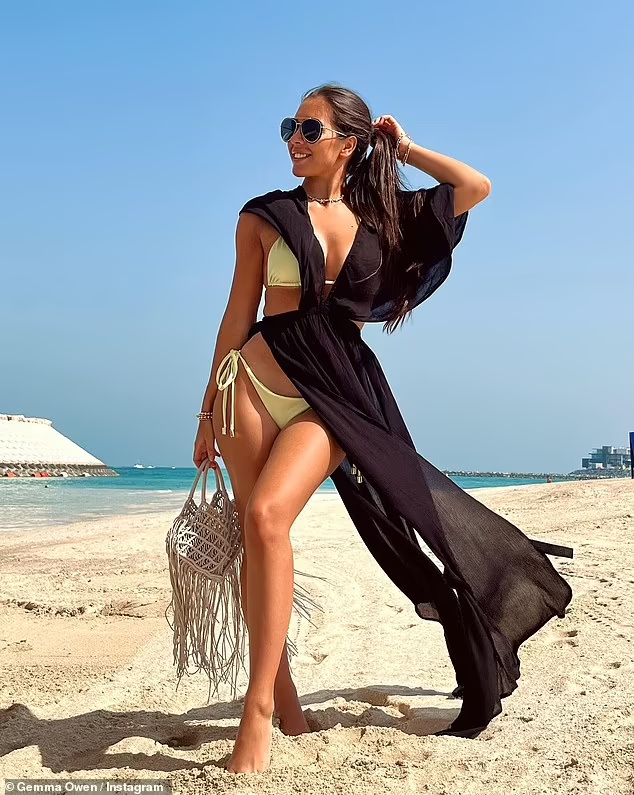 The celebrity was dressed in a deep-v chocolate-brown cover-up that went all the way to the floor.
Gemma stood on the golden sand with the tranquil turquoise ocean of the Persian Gulf in the background, toting a white beach bag with tasseled accent.
She wore heavy shades to protect her eyes from the bright, warm rays of the sun while she relaxed on the beach.
To add to the drama, Gemma captioned her photo: "The breeze arrived to make it more dramatic."
Earlier this month, Gemma posted more photos from her trip to the United Arab Emirates on Instagram, and she looked chic as ever in a blue collared wrap-around dress by PrettyLittleThing.
She wore several beaded bracelets with her stylish outfit and carried aviator sunglasses in one hand.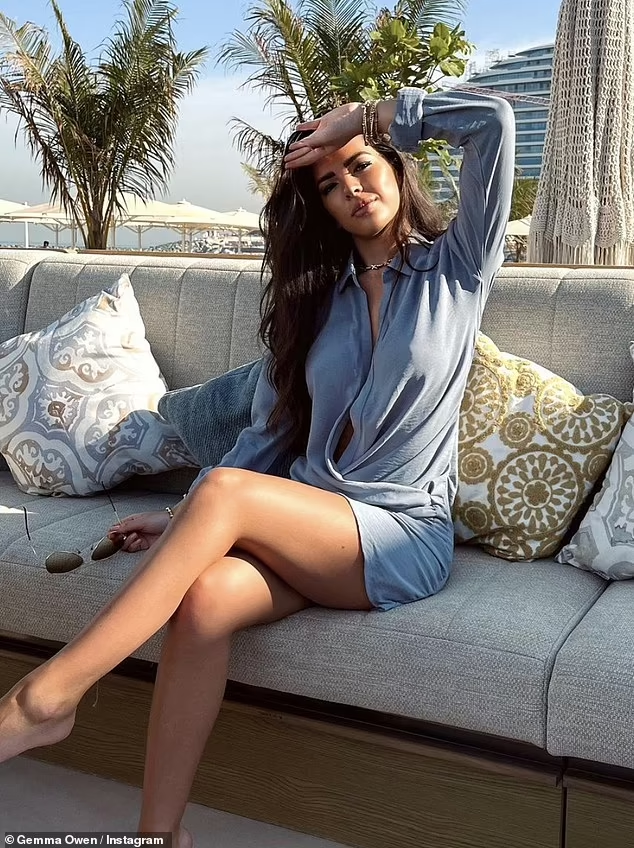 Gemma wore her straight, shiny brown hair brushed to one side.
She used a gorgeous, full-coverage makeup pallet to highlight her striking features as she relaxed on an outside seat.
In addition to the steamy photos, she captioned them, "dreamy blue dress @prettylittlething ad."
Gemma was not bashful about posting numerous photos from her vacation, many of which had her revealing a skimpy swimwear.
She posted the steamy photo to Instagram while modeling the one-piece from her own line of OG Beachwear.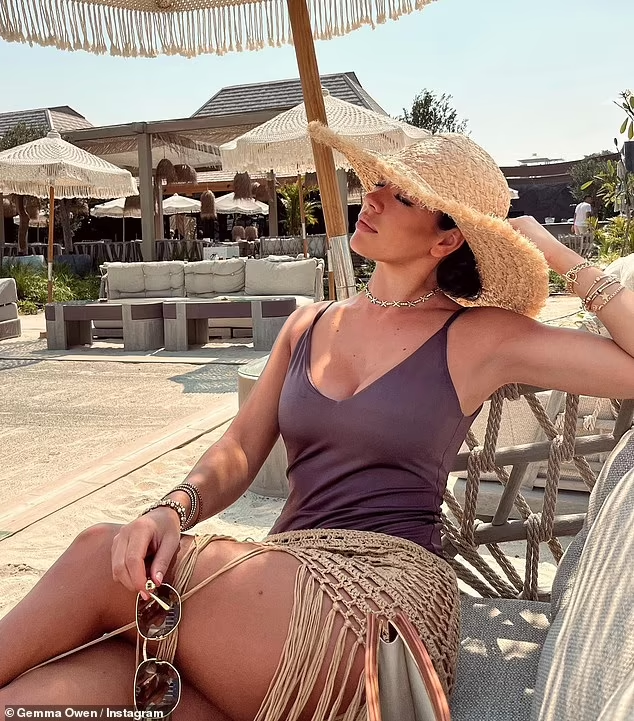 The lovely girl completed the outfit with a brown woven beach skirt featuring long tassels.
She sat on a beach sofa, completely made up, and flaunted her tan while wearing a wide woven sun hat.
Earlier on Saturday, Gemma posted some photos on her Stories from when she and her dog were out enjoying the warm spring weather.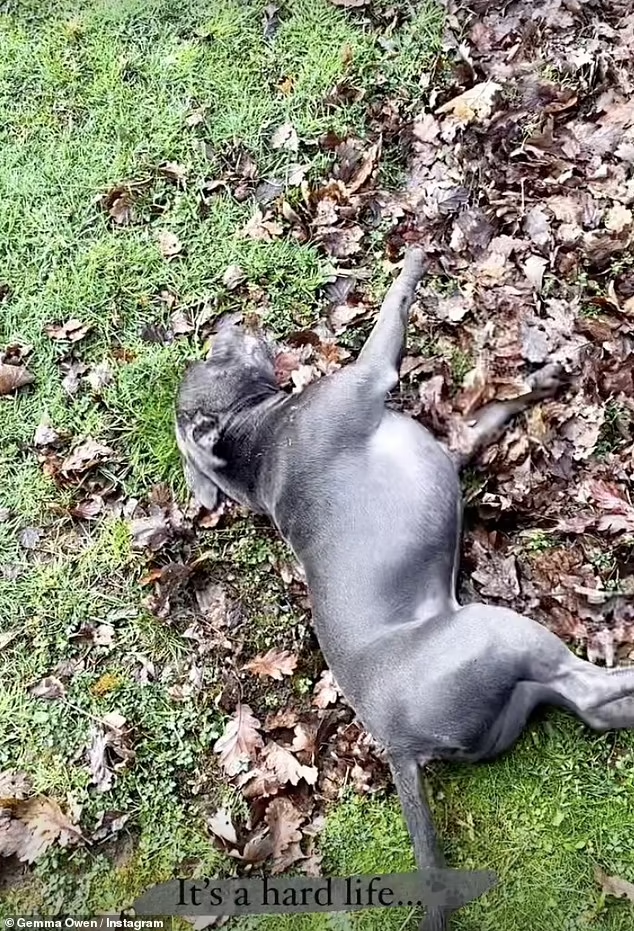 After wishing her fans a happy morning, the celebrity shared photos of her dog playing in the leaves as evidence that she was once again in the United Kingdom.
She lamented the hardships endured by her dog in a poem.