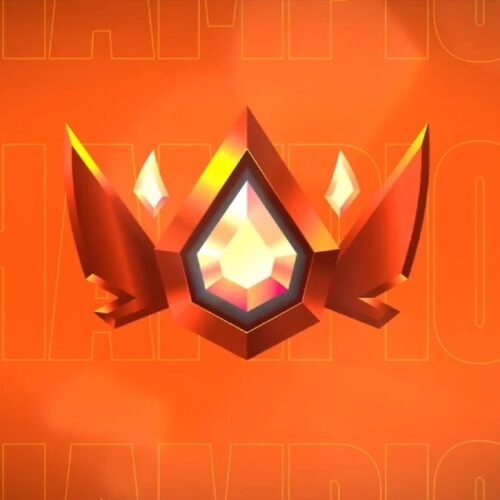 After years of players requesting it, Epic Games has finally added ranked modes to Fortnite in Chapter 4 Season 3. From basics to advanced tactics, this breakdown arms you with the critical knowledge you need to triumph in Fortnite's intense new ranking system and take your rightful place at the top.
Fortnite Ranked Modes – Diverse Array of Fortnite Ranked Modes
Fortnite now offers players the chance to partake in four distinct ranked modes, catering to different preferences. The Battle Royale category boasts three ranked modes: Solo, Duos, and Squads, while the Zero Build mode has its own ranked Duos mode.
Interestingly, there's no noticeable gameplay difference between ranked and unranked matches. By simply toggling the "Ranked" option in the Lobby, players can dive into the intense competitive experience.
For those just beginning their Fortnite journey, completing the "Outlast 500 opponents" quest is a prerequisite before embarking on the ranked adventure.
Fortnite Ranked Modes – Ranks and Progression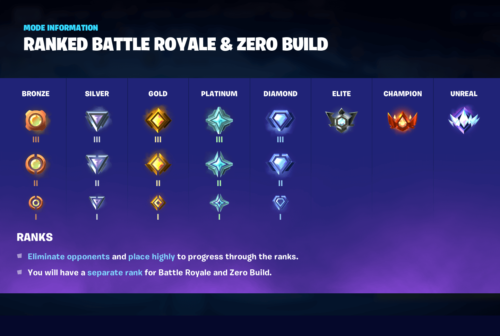 Fortnite's ranked mode offers a total of eight ranks for you to conquer. Your initial rank will be determined by your performance in your first ranked match, based on your performance in your most recent match. Each rank comprises three levels you must overcome before progressing to the next one, except for Elite, Champion, and Unreal ranks.
Here's the sequential list of all Fortnite ranks:
Bronze
Silver
Gold
Platinum
Diamond
Elite
Champion
Unreal
Upon achieving the esteemed Unreal rank, you're shielded from any potential deranking for the remainder of the season.
Fortnite Ranked Modes – Rules & Strategies
Your rank progression is influenced by your match placement and the number of eliminations you secure. Late-game eliminations, particularly when there are only eight to ten players remaining, carry significant weight in the rank calculation.
In this regard, training your aiming skills and actively seeking eliminations may increase the risk of exposure, but it's a strategy that accelerates your rank progression. After all, dominance in ranked play demands boldness, not hiding in the shadows.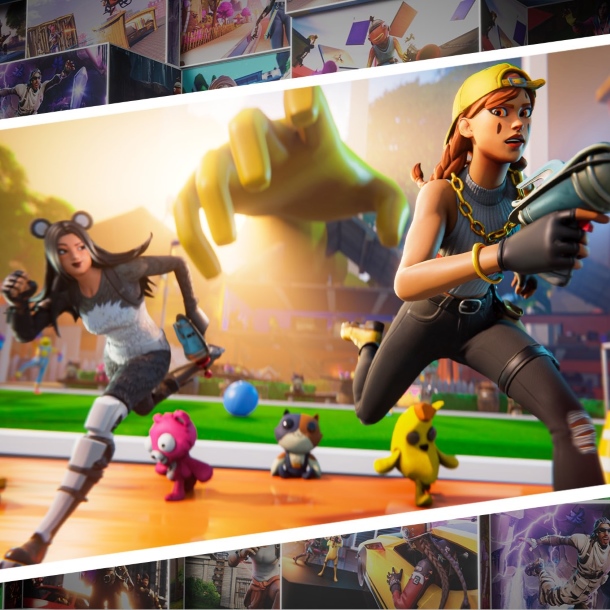 In the realm of Duos and Squads, teamwork reigns supreme. While the team's rank is determined by its highest-ranked player, individual players retain their respective ranks. This factor influences matchmaking, making team composition a crucial consideration.
Fortnite Ranked Modes –
Gameplay Differences
When you play Fortnite ranked, you will only play against other ranked players.  The features will remain unchanged, with the exception of some balancing caps:
There is a material limit of 500.
Farming rate competitive (increased).
When a player is eliminated, they lose 50 of each material.
There is no siphon on elimination.
As Fortnite's ranked modes bring a fresh competitive fervor to the game, players can seize the opportunity to showcase their abilities, climb the ranks, and etch their names into the annals of Fortnite's competitive history. Whether battling it out in Battle Royale or embracing the unique challenges of Zero Build, the road to the top is paved with calculated risks, strategic eliminations, and a thirst for victory.
Related: