What Time Does The Fortnite Chapter 3 Season 3 Release ?
We are nearing the end of Chapter 3 Season 2. Fortnite new season is set to be released on June 5, 2022, signaling the end of this season. However, a possible battle pass for Fortnite Chapter 3 Season 3 has been leaked just days before its release. Continue reading to learn about the most recent Fortnite leak or click this link for Fortnite related news.
Battle Pass and June Crew Pack
At this point, the official sites have not provided much information related to the new Season. However, thanks to the leaks, we can actually have a look at Fortnite Chapter 3 Season 3 Battle Pass and June Crew Pack a bit early.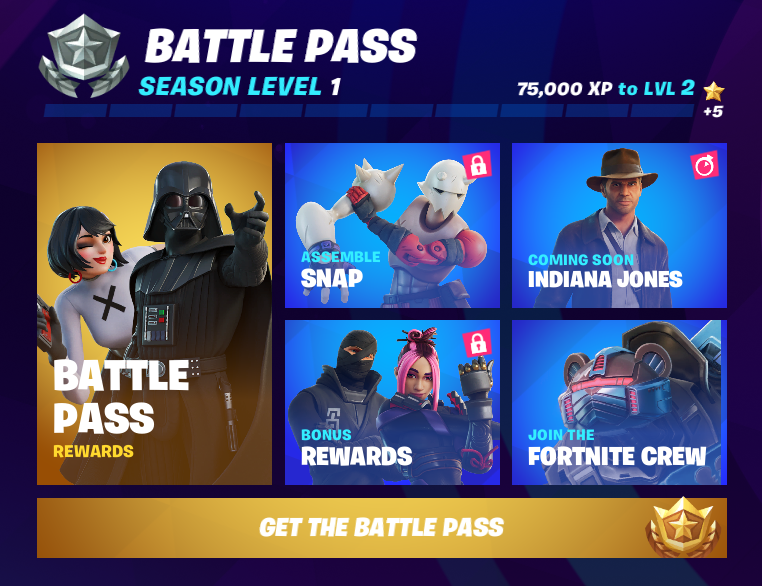 The picture above shows a few of the Season 3 Battle Pass skins, including the secret skin. Additionally, images from the possible Crew Pack skin for the month of June can be seen.
Darth Vader and Indiana Jones, as seen above, will be available in this battle pass, along with a number of original Fortnite characters, including three that were previously leaked. The female character in the white top is possibly a Tier 1 skin. About the pink-haired skin, we still don't know anything.
Surprisingly, it appears that the Battle Pass will include a one-of-a-kind Outfit called 'Snap,' which allows players to replace its parts. The arms, head, legs, and torso all appear to be customized, as evidenced by their mismatched designs in the character's render.
HYPEX, a popular Fortnite leak source, recently shared an image of the leaked Battle Pass skins on Twitter.
Conclusion
In case you missed it, the Fortnite Chapter 3 Season 3 Battle Pass and June Crew Pack Leaked Battle Pass image first appeared on 4Chan, a website known for its leaks. On a more interesting note, the leak has since been removed.
It's difficult to say whether the leaked battle pass image is genuine or a forgery. Fortunately, Fortnite fans will not have to wait long to learn the truth. In any case, we'll keep you updated.