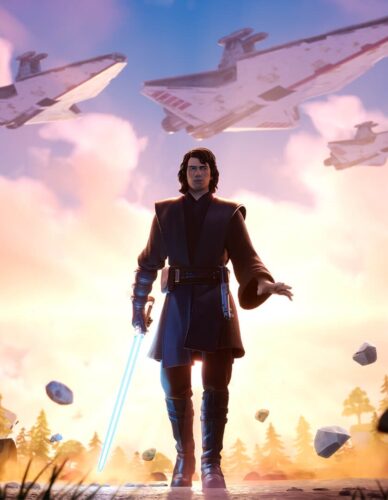 As the release date of the Fortnite 24.30 update approaches, we thought we'd give you a heads up on what to anticipate.
Fortnite 24.30 update – Release date
Find the Force went live in Fortnite on May 2, 2023. The event will conclude on May 23, 2023 at 9 a.m. ET.
Fortnite 24.30 update – Possible return of Darth Vader
Popular Fortnite dataminer iFireMonkey announced on Twitter that Darth Vader will return to the game as part of the Find the Force event. They combed through the game files and discovered that as part of a quest, players will be required to assist in defeating Darth Vader, who will be returning as a Boss NPC.
The Darth Vader Boss NPC is set to return around May 13th and will be grouped with 501st Troopers.

It also appears that Clone Trooper checkpoints are set to be enabled on the island around May 7th. pic.twitter.com/zotM8PnpBn

— iFireMonkey (@iFireMonkey) May 2, 2023
This quest is rumored to be coming on May 13, 2023, and players who want to get the freeloading screen at the end of the event will have no choice but to successfully complete it. However, players should not be concerned because they are not required to defeat the evil Sith Lord alone, but only to assist in his defeat. This means that hitting him a few times will suffice and they will complete this quest.
Fortnite 24.30 update – Patch notes
Lightsabers

A Lightsaber can only be obtained by conversing with and training with one of the Star Wars character holograms now available on Battle Royale Island: Obi-Wan Kenobi, Anakin Skywalker, or Darth Maul. Your Force Skills and Lightsaber color will differ depending on which character you train with!
Obi-Wan Kenboi Lightsaber: Green Jedi Padawan Lightsaber
Anakin Skywalker Lightsaber: Blue Jedi Padawan Lightsaber
Darth Maul Lightsaber: Red Sith Apprentice Lightsaber
Force Skills
Here is a list of all the Force Skills you can obtain by training with Star Wars characters during Find the Force:
Use the Force to sprint faster and double jump
Use the Force to push objects and players away
Anakin Skywalker Force Skills
Use the Force to sprint faster and double jump
Use the Force to pull objects and players towards you
Darth Maul Force Skills
Use the Force to sprint faster and double jump
Use the Force to lift objects from the environment and hurl them at players
Find the Force Quests
Start time
The Force Within Quests: Available May 2 at 9 AM ET
Begun the Clone Wars Have Quests: Available May 7 at 9 AM ET
Fall of the Republic Quests: Available May 12 at 9 AM ET
The First Galactic Empire Quests: Available May 17 at 9 AM ET
When you complete a quest, you'll earn Galactic Reputation, which can be used to acquire various benefits in both the Free and Premium tracks of the Find the Force rewards progression tracker.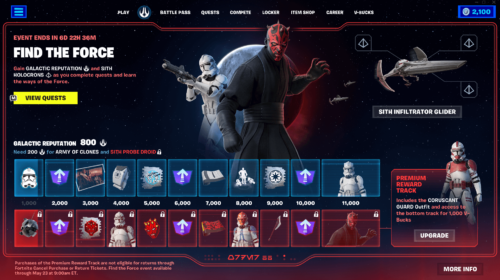 Complete Find the Force Quests along the Free Track to earn the Clone Trooper Outfit as your final reward. Upgrade to the Premium Reward Track for 1,000 V-Bucks and you will receive the Darth Maul Outfit as a final reward, as well as the Wolf Pack Trooper, Ahsoka's Clone Trooper, and Coruscant Guard Outfits.
Each week during the event, a new set of Find the Force Quests will be available in Fortnite, providing more opportunities to earn Galactic Reputation and Star Wars-themed rewards. Complete all twelve Quests in one set to obtain the Sith Holocron. Collect three Sith Holocrons to unlock the Sith Infiltrator Glider.
DC-15 Blasters & Republic Loot Chests
You can only find Star Wars-themed loot on Battle Royale Island during the Fortnite Find the Force event. Locate Republic Chests as you explore the island, and you might just get the DC-15 Blaster, a favorite weapon of Clones. The DC-15 Blaster is an Assault Rifle that executes at medium-to-long range combat with high accuracy.
Reality Augments
Tracker's Armory Reality Augment: Grants a Flare Gun and Shadow Tracker Pistol.
Desperate Reload Reality Augment: Your Pistols will reload faster when reloaded with an empty clip.
Steady Hands Reality Augment: Your Marksman Rifles will have reduced recoil.
SMG Sign Off Reality Augment: The last three bullets of your SMG magazines will deal bonus damage.
Auto Confirm Edits
In v24.30, an Auto Confirm Edits setting has been added to Fortnite's "Game" settings and replaced "Confirm Edit on Release." With this new setting toggled to "Both," you'll be able to confirm edits and reset edits automatically as opposed to manually confirming edit selections.
Mobile Improvements
New Weapon settings for touch enable mobile players to do more with fewer fingers or button presses:
Combined ADS + Fire: The main Fire + Look button will also aim down sights. Firing begins once the transition into ADS is complete. Other fire buttons will still work as normal.
Release to Fire: When using scoped semi-automatic or single shot weapons, the main Fire + Look button will fire when released instead of when pressed. This means players can aim down their scope, line up their shot, and fire their weapon all with one button press. Other fire buttons will still work as normal.
Continuous Fire: Semi-automatic weapons will fire repeatedly while any fire button is held.
Balance changes
In case you missed it, we've recently made the following balance changes:
Storm Circles 6 and 7 now move further into the Storm as the safe zone shrinks. Storm Circles 8 and 9 now begin moving earlier and travel further. Storm Circle 12 takes longer to close.
We've vaulted the Game Time Reality Augment and reduced the probability of Chug Splash loot.
We will continue to monitor the impact of healing items and matches that end in "heal-offs."
Competitive notes
Force abilities, Jedi Padawan and Sith Apprentice Lightsabers, and DC-15 Blasters are currently not included in Arena or tournaments. We're investigating possibly including these abilities and items in Arena and tournaments after FNCS Major 2 concludes.
Major bug fixes
Fixed an issue where large rocks on the Island were not providing as many materials as intended when harvested.
Fixed an issue where using ODM Gear would sometimes cause a player to fly even if no longer using the item.
Back Blings no longer appear detached on the Highwire Outfit.
Fixed an issue where the Starter Island timer did not go down properly.
Fixed an issue that caused a long load time to occur when entering a match with the DirectX 12 rendering mode enabled.
Trunks and tree branches no longer appear to move erratically when playing Fortnite on mobile or PC Performance Mode.
The majorest bug fix: the Infinite Dab Emote wasn't looping for 15 hours when performed in the Lobby. This is fixed and it now loops for 16 hours.
That's all we know about the Fortnite 24.30 "Find the Force" update.
Related: