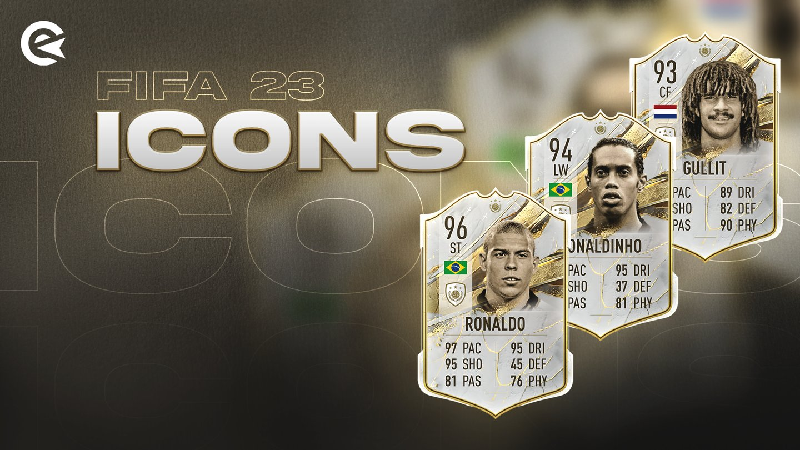 What Are FUT Icons?
Icons are some of the strongest cards in FIFA Ultimate Team, not only because of their amazing stats, but also because they push your chemistry to the limit.
What ratings will World Cup ICONs be?
EA has answered this query very directly. They say:
"FIFA World Cup™ ICONs will have an OVR in-between their Mid & Prime version"
FIFA 23 World Cup Icons release date & How to get them ?
The World Cup ICONS Team 1 will be released on November 25, which means those players will be available in FUT packs.
While most will be available in bundles and on the Transfer Market, some World Cup Symbols will only be available through  Objectives and SBC.
Additionally, until January 4, players will also have an additional opportunity to redeem World Cup Icons through the Swap program. For example, football legends Patrick Vieira and Cafu will win 40 and 30 World Cup Swap Tokens, respectively.
All ICONs confirmed in FIFA 23
Luis Hernandez (ST, 85/ ST, 87/ ST, 90/ ST 91)
Miroslav Klose (ST, 87/ ST, 89/ ST, 91/ ST 92)
Hernan Crespo (ST, 85/ ST, 87/ ST, 90/ ST 91)
Gary Lineker (ST, 87/ ST, 89/ ST, 92/ ST 93)
Steven Gerrad (CDM, 86/ CM, 89/ CM, 91/ CM 92)
Ruud Gullit (CM, 86/ CM, 90/ CF, 93/ CF 94)
Juan Sebastian Veron (CM, 86/ CM, 88/ CM, 90/ CM 91)
Wayne Rooney (CAM, 86/ CF, 88/ ST, 91/ ST 93)
Michael Essien (CDM, 85/ CDM, 87/ CDM, 90/ CDM 91)
Didier Drogba (ST, 87/ ST, 89/ ST, 91/ ST 92)
Kaká (CAM, 87/ CAM, 89/ CAM, 91/ CAM 92)
Emilio Butragueno (ST, 87/ ST, 90/ ST, 92/ ST 93)
Andrea Pirlo (CM, 88/ CM, 90/ CM, 92/ CM 93)
Zinedine Zidane (CM, 91/ CAM, 94/ CAM, 96, CAM 97)
Ryan Giggs (LM, 87/ LM, 89/ LM, 92/ LM 93)
Ronald Koeman (CB, 85/ CB, 88/ CB, 91/ CB 93)
Johan Cruyff (CF, 89/ CF, 91/ ST, 94/ CF 95)
Rivaldo (CAM, 87/ CF, 90/ LW, 92/ CAM 93)
Filipo Inzaghi (ST, 85/ ST, 87/, ST, 90/ ST 91)
Gennaro Gattuso (CM, 85/ CDM, 87/ CDM, 89/ CDM 90)
Sol Campbell (CB, 85/ CB, 87/ CB, 89/ CB 90)
Rui Costa (CAM, 85/ CAM, 88/ CAM, 90/ CAM 91)
Xavi (CM, 88/ CM, 90/ CM, 93/ CM 94)
Xabi Alonso (CDM, 87/CDM, 89/CDM, 90)
Fernando Torres (ST, 85/ ST, 88/ ST, 91/ ST 92)
Roberto Pires (CAM, 85/ LM, 88/ LM, 91/ LM 92)
Javier Zanetti (LB, 87/ RB, 88/ RB, 92/ RB 93)
Lewy Yashin (89/ 91/ 94/ 95)
Michael Laudrup (CF, 85/ LW, 89/ CAM, 91/ CAM 92)
Jari Litmanen (CF, 85/ CAM, 88/ CAM, 90/ CAM 91)
Cafu (RB, 88/ RB, 90/ RWB, 93/ RWB 94)
Eric Cantona (CF, 88/ CF, 90/ ST, 93/ CF 94)
Pavel Nedved (LM, 86/ LM, 89/ LM, 91/ CAM 92)
Ashley Cole (LB, 85/ LB, 87/ LB, 89/ LB 90)
Roberto Carlos (LB, 86/ LB, 88/ LB, 91/ LB 92)
Pele (CF, 91/ CF, 95/ CAM, 98/ CAM 99)
John Barnes (CAM, 86/ LW, 87/ LW, 89/ LM 90)
Michael Ballack (CM, 86/ CM, 89/ CM, 91/ CM 92)
Jay-Jay Okocha (RM, 85/ CAM, 87/ RM, 90/ CAM 91)
David Trezeguet (ST, 86/ ST, 89/ST, 91/ ST 92)
Thierry Henry (LW, 87/ LW, 90/ ST, 93/ ST 94)
Lothar Matthäus (CB, 88/ CDM, 91/ CM, 93/ CM 94)
Nemanja Vidic (CB, 85/ RB, 88/ RB, 90/ CB 91)
Dennis Bergkamp (CF, 87/ CAM, 90/ ST, 92/ CF 93)
Rio Ferdinand (CB, 85/ CB, 88/ CB, 90/ CB 91)
Juan Roman Riquelme (CAM, 87/ CAM, 89/ CAM, 91/ CAM 93)
Raúl (CF, 86/ CF, 88/ ST, 92/ CF 93)
Ian Rush (ST, 87/ ST, 89/ ST, 91/ ST 92)
Andrij Schewtschenko (ST, 86/ ST, 88/ ST, 91/ ST 92)
Edwin Van der Sar (87/ 89/ 91/ 92)
Alessandro Del Piero (CF, 87/ CF 90/ ST, 92/ CF 93)
Emmanuel Petit (LB, 85/ CDM, 88/ CDM, 90/ CDM 91)
Garrincha (RW, 90/ RW, 92/ RW, 94/ RW 95)
Fabio Cannavaro (CB, 87/ CB, 89/ CB, 91/ CB 93)
Frank Rijkaard (CDM, 86/ CB, 88/ CDM, 90/ CDM 91)
Hugo Sanchez (ST, 87/ ST, 89/ ST, 92/ ST 93)
Robin Van Persie (ST, 87/ ST, 89/ ST, 91/ ST 92)
Gheorghe Hagi (CAM, 85/ CAM, 89/ CAM, 91/ LM 92)
Carles Puyol (RB, 86/ CB, 90/ CB, 92/ CB 94)
Alan Shearer (ST, 87/ ST, 89/ ST, 91/ ST 92)
Ruud van Nistelrooy (ST, 86/ ST, 90/ ST, 92/ ST 93)
Patrick Vieira (CM, 86/ CM, 88/ CM, 91/ CM 92)
Gianfranco Zola (CF, 85/ CF, 87/ ST, 90/ CF 91)
Marcel Desailly (CB, 87/ CB, 88/ CB, 91/ CB 92)
Carlos Alberto (CB, 87/ RB, 90/ RB, 93/ RB 94)
Fernando Hierro (CB, 86/ CB, 89/ CB, 91/ CB 92)
Clarence Seedorf (CM, 85/ CM, 88/ CAM, 91/ CM 93)
Kenny Dalglish (ST, 87/ CF, 90/ ST, 92/ ST 93)
Frank Lampard (CM, 86/ CM, 88/ CM, 90/ CM 91)
Ian Wright (ST, 85/ ST, 87/ ST, 89/ ST 90)
Alessandro Nesta (CB, 88/ CB, 90/ CB, 92/ CB 93)
Iker Casillas (87/ 89/ 92/ 93)
David Beckham (CM, 87/ RM, 89/ RM, 92/ RM 94)
Hidetoshi Nakata (CAM, 85/ CAM, 86/ CAM, 88/ CAM 89)
Eusebio (CF, 89/ CF, 91/ ST, 93/ CF 94)
Philipp Lahm (LB, 87/ RB, 89/ CDM, 91/ CDM 92)
Petr Cech (86/ 88/ 91/ 92)
Socrates (CAM, 87/ CAM, 89/ CAM, 91/ CAM 92)
Gerd Müller (ST, 89/ST, 92/ST, 94)
Samuel Eto'o (ST, 87/ ST, 90/ ST, 92/ ST 93)
Pep Guardiola (CDM, 85/ CDM, 87/ CDM, 90/ CDM 91)
Davor Suker (ST, 85/ ST, 87/ ST, 90/ ST 91)
Franco Baresi (CB, 88/ CB, 91/ CB, 93/ CB 94)
Marco Van Basten (ST, 89/ ST, 91/ ST, 93/ ST 94)
Bobby Moore (CB, 87/ CB, 89/ CB, 92/ CB 93)
Christian Vieri (ST, 86/ ST, 88/ ST, 90/ ST 92)
Patrick Kluivert (ST, 86/ ST, 88/ ST, 91/ ST 92)
Paolo Maldini (LB, 88/ CB, 92/ CB, 94/ CB 95)
Peter Schmeichel (86/ 90/ 92/ 93)
Ronaldinho (CAM, 89/ CAM, 91/ LW, 94/ LW 95)
Deco (CAM, 85/ CAM, 87/ CM, 90/ LM 91)
Ronaldo (ST, 90/ ST, 94/ ST, 96, ST 97)
Gianluca Zambrotta (RWB, 86/ LB, 87/ RB, 89/ RB 91)
Roy Keane (CM, 86/ CM, 88/ CM, 90/ CM 91)
Roberto Baggio (CF, 89/ CAM, 91/ CAM, 93/ CAM 94)
George Best (RW, 88/ RW, 90/ RW, 93/ RW 94)
Bastian Schweinsteiger (LM, 87/ CM, 89/ CM, 91/ RM 93)
Ferenc Puskas (CF, 91/ ST, 92/ ST, 94, ST 95)
Laurent Blanc (CAM, 85/ CB, 89/ CB, 91/ CB 92)
Paul Scholes (CM, 87/ CM, 89/ CM, 91/ CM 92)
Christo Stoichkov (ST, 87/ LW, 90/ ST, 92/ ST 93)
Michael Owen (ST, 86/ ST, 88/ ST, 91/ ST 92)
Luis Figo (CAM, 88/ RW, 90/ RW, 92/ RM 93)
Henrik Larsson (ST, 86/ ST, 87/ ST, 90/ ST 91)
Claude Makélélé (RM, 85/ CDM, 87/ CDM, 90/ CDM 91)