The Queen was dead on Thursday, September 8th and Fern Britton posted on twitter about the line to see her staying in state at Westminster Hall and Phillip Schofield's queue-jumping scandal.
Fern Britton hints at Phillip Schofield's queue-jumping scandal

Fern Britton made a subtle dig at ex co-star Phillip Schofield regarding the falsified Queen queue fury.
She posted on Twitter to report about the long line to see the Queen lying in state at Westminster Hall.
She said: "There's a VIP queue?" That could be linked to Holly and Phil were actually in the media line and they are being suspected of slashing before the line.
Fans assumed Fern was referring to her former co-host, with whom she co-hosted This Morning for seven years.
Fern and Phil have been rumored to be feuding for years, but her twitter post seemed to confirm this.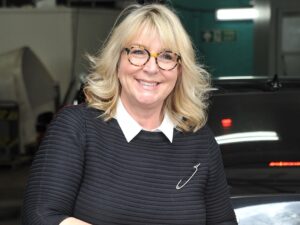 Some people commented on the tweet about Fern and Phillip's apparent feud.
One person said: "I hope when they are next on This Morning, they both have the decency to apologies to the thousands of people young and old, some with disabilities who have queued and explain why they think it is necessary to film a segment for their program. They are disgraceful."
The second one said: "Smacks of privilege…read the room Phil and Holly! @susannareid100 queued with her mum. Thats what you do …."
While another wrote: "I hope friendships are forged, and you keep in touch. Should this not be the case – then you shared a very special time together that you will never forget."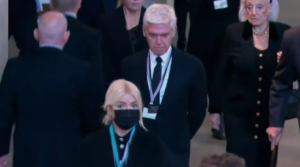 Many non-working celebs waited in the regular line, which took up to 24 hours for some.
David Beckham waited in line with the general public for 13 hours, while Susanna Reid waited with her mother for 8 hours.
Holly and Phil were waiting in the media line because they were filming a segment for Tuesday's This Morning.
This Morning has since issued a statement on social media, writing: "Hello everyone, we would like to clarify something. We asked Phillip and Holly to be part of a film for this Tuesday's programme."
"They did not jump the queue, have VIP access or file past the Queen lying in state – but instead were there in a professional capacity as part of the world's media to report on the event."
About Fern Britton
Fern Britton

Born
17 July 1957

Ealing, London, England

Nationality
British
Occupation
Author, television presenter
Years active
1980–present
Employer(s)
BBC
(1994–2000, 2009—)
ITV
(1999–2010, 2017–)
Channel 4
(2009, 2011, 2016)
Channel 5
(2021–)
Spouse(s)
Children
4
Parent(s)
Tony Britton
Ruth Hawkins
(1924-2018)
Relatives
Cherry Britton (sister)
Jasper Britton
(half-brother)