The health of these fantasy-relevant runners will play a significant role in Week 8 fantasy RB rankings and start/sit decisions, so having the most up-to-date information before making roster moves is critical.
Fantasy Injury Week 8 Report: James Conner, D'Andre Swift, and Cam Akers
We'll give you the most up-to-date information on these running backs and explain how their injuries may affect your Week 8 fantasy lineup.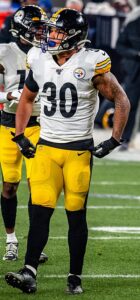 Conner (ribs) was listed as a "game-time decision" for the Cardinals' Thursday night game against the Saints, but he did not play. He could return to the field in Week 8 against Minnesota, as Arizona has a bye week after playing this past Thursday.
Conner did not practice last week in preparation for their TNF matchup, but as a six-year veteran, his practice status is irrelevant. Even if he plays this Sunday, the emergence of backup Eno Benjamin limits his upside to a high-end flex. Conner, who led all running backs in touchdowns with 18, has only scored once in five games this season. If Conner is unable to play, Benjamin has cemented himself as an RB2.
Read also: The Chargers Mike Williams suffered an ankle injury and will be out multiples weeks
Despite limited practice from Wednesday to Friday, Swift (shoulder) missed his third straight game this week.
Detroit is clearly cautious with their star running back, but assuming he practices every day this week (potentially as a full participant), his Week 8 prospects look promising.
Swift will face a tough matchup against a solid Dolphins run defense if he returns, but his ability to contribute in the passing game raises his floor in PPR formats. If he misses his fourth straight game, the Lions will rely on Jamaal Williams, Craig Reynolds, and Justin Jackson in the running game, with Williams the only fantasy-relevant player.
When the Detroit Lions release their initial injury report on Wednesday, we'll know more about his Week 8 status.
Akers (personal) is unlikely to play in Week 8 against the 49ers.
Los Angeles is still trying to move Akers before the trade deadline despite a disagreement with management.
Read also: Buffalo Bills Trade Rumors: Rams Cam Akers In, Zack Moss Out ?
Darrell Henderson, Malcolm Brown, and Ronnie Rivers top the team's new RB depth chart, but rookie Kyren Williams (ankle) is expected to return soon to bolster the backfield.
Given the possibility of a trade, it's still worthwhile to hold on to Akers, as a new location may lead to more opportunities.