We'll keep you updated on the latest injuries to Benny Snell, Aaron Jones, AJ Dillon, and Najee Harris as teams return to practice ahead of games on Sunday and Monday.
Injury Status of Benny Snell, Aaron Jones, AJ Dillon and Najee Harris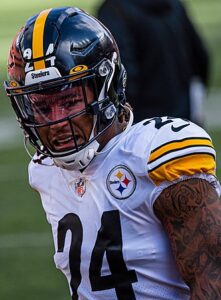 Read also: Week 13 Fantasy Injury Reports: Christian McCaffrey, Travis Etienne Jr., Josh Jacobs and Jaylen Warren
Update: Snell was a full participant for the Steelers on Friday and was not listed as injured.
It's worth noting that Snell was listed as out with a knee injury on the Steelers' injury report on Thursday. With Harris seemingly trending towards missing Week 13, Snell would have been expected to be the main foil for Warren. However, if Snell also misses the game, Anthony McFarland could fill in for Warren this week.
Aaron Jones appears to be a weekly tradition of being listed as a limited participant on the Green Bay Packers injury report.
He was limited all week and then carried no designation into the weekend. Until we hear otherwise, this is nothing to worry about for fantasy managers.
It was a bit of a surprise to see AJ Dillon listed as a limited participant for Wednesday's first practice. Dillon starting the week limited is a good sign that he should play on Sunday, but it complicates an already complicated picture when it comes to his fantasy value this week.
Update: On Friday, he was removed from the injury report.
"He is good and will play against the Falcons," Najee Harris told reporters.
It's no surprise that Najee Harris has started the week as a non-participant after being ruled out on Monday with an abdomen injury. The Steelers' practice on Wednesday was a "glorified walkthrough," so this was a foregone conclusion, but it does mean we need to keep an eye on things this week.
NFL Schedule 2022 – NFL Week 13
Sunday, Dec. 4
Pittsburgh Steelers at Atlanta Falcons, 1 p.m., CBS
Denver Broncos at Baltimore Ravens, 1 p.m., CBS
Green Bay Packers at Chicago Bears, 1 p.m., Fox
Jacksonville Jaguars at Detroit Lions, 1 p.m., Fox
Cleveland Browns at Houston Texans, 1 p.m., CBS
New York Jets at Minnesota Vikings, 1 p.m., CBS
Washington Commanders at New York Giants, 1 p.m., Fox
Tennessee Titans at Philadelphia Eagles, 1 p.m., Fox
Seattle Seahawks at Los Angeles Rams, 4:05 p.m., Fox
Miami Dolphins at San Francisco 49ers, 4:05 p.m., Fox
Kansas City Chiefs at Cincinnati Bengals, 4:25 p.m., CBS
Los Angeles Chargers at Las Vegas Raiders, 4:25 p.m., CBS
Indianapolis Colts at Dallas Cowboys, 8:20 p.m., NBC
Monday, Dec. 5
New Orleans Saints at Tampa Bay Buccaneers, 8:15 p.m., ESPN