A Fallout New Vegas modder created a new menace called The Crash Man, who will pursue you across the Mojave and try to crash the game before you complete it.
Fallout New Vegas Mod – Avoid The Crash Man
The mod that introduces the menacing new enemu is called "Avoid The Crash Man" and was created by modder KMFALLOUT, whose previous work includes making Fallout 3's Dad a potential companion and changing his in-game name to that of voice actor Liam Neeson. This time, they've created a mod that will have you begging your parents to come and save you, as a new NPC will be dispatched to chase you down as soon as the game starts and will not stop until you beat it.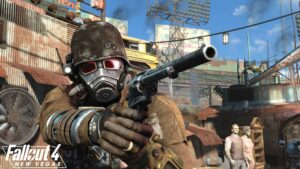 Beginning his journey in the northwest corner of the map, at Jacobstown, he'll try to accomplish his goal with the kind of tenacity usually reserved for anime characters and real-life serial killers.
Naturally, your courier's goal is to escape and evade him at every turn, employing all of the tricks of a professional hide and seek player in order to make it to the endgame unscathed, which will not be easy. If you don't, don't worry too much because the crash man is marked as essential, allowing you to temporarily disable him to put some distance between the two of you before attempting your task again.
Who knows, maybe you'll start treating his appearances as welcome reminders that you need to take a break from chatting with Mr House or trying to bankrupt casinos, rather than rushing through the game in one sitting.
Fallout New Vegas Wiki
Fallout: New Vegas
Developer(s)
Obsidian Entertainment
Publisher(s)
Bethesda Softworks
Director(s)
Josh Sawyer
Producer(s)

Mikey Dowling
Jason Fader
Matt Singh
Tess Treadwell

Designer(s)
Josh Sawyer
Programmer(s)
Frank Kowalkowski
Artist(s)
Joe Sanabria
Writer(s)
John Gonzalez
Composer(s)
Inon Zur
Series
Fallout
Engine
Gamebryo
Platform(s)

PlayStation 3
Windows
Xbox 360

Release

NA: October 19, 2010
AU: October 21, 2010
EU: October 22, 2010

Genre(s)
Action role-playing
Mode(s)
Single-player